May 14, 2020. Shanghai – CEIBS Career Development Centre (CDC) and CEIBS Alumni Association today hosted the third segment of the ongoing series of C-Suite Alumni Career Sharing Session webinars. Following the first session on finance and investment and the second session on consulting, today's session focused on technology.
During the webinar, Fred XING (EMBA2005), Senior VP from Mininglamp Technology Group, and Billy ZHANG (MBA2007), General Manager of Sale and Operation, Tencent Market Solution, shared their insights on the technology industry and offered suggestions and advice on career development.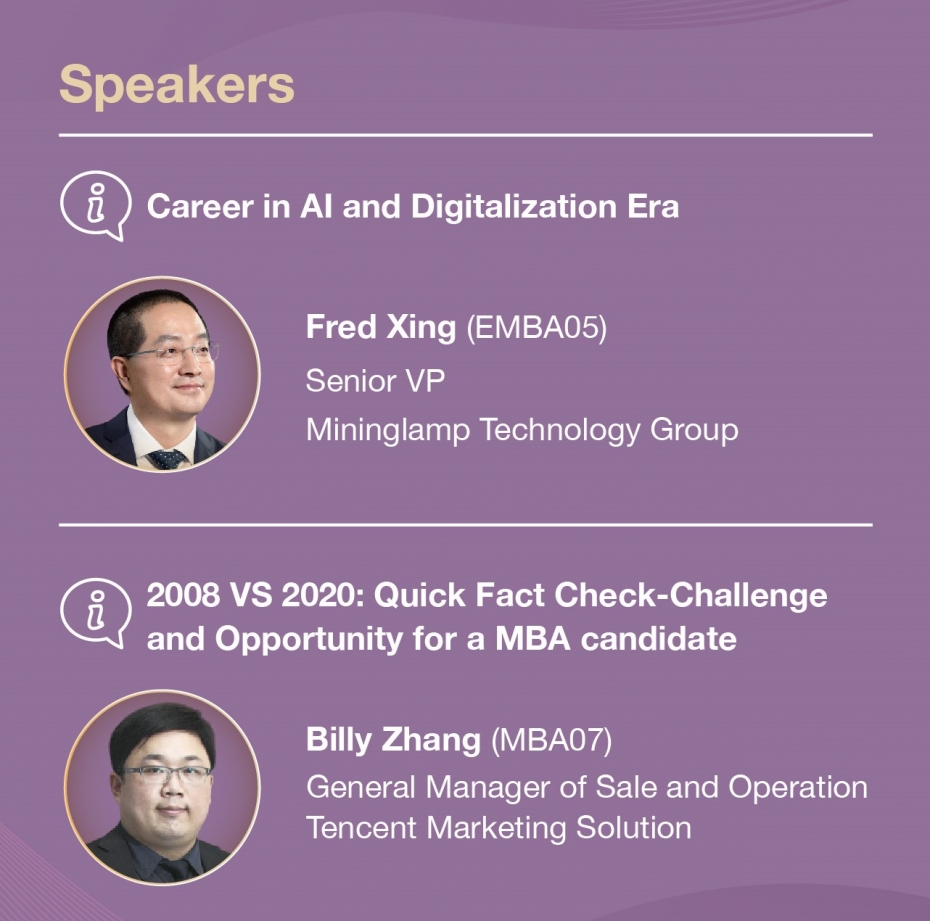 In the past 12 years, the global financial crisis, the economic downturn and the COVID-19 pandemic have all had a huge impact on the job market. Through his experience, Fred shared his insights on trends in technology development and tips on how to understand the industry and job opportunities under crisis.
In Fred's view, the technology industry has evolved from an era of manual work and personal computers to the 'Internet of things', and has now gradually entered a phase of the 'Internet of everything' – where rapid iteration serves as the underlying reason behind a significant 'Matthew effect' (i.e., accumulated advantage) in the market.
Fred also pointed out that company size should not be the major factor for career choice. Nowadays, large companies with strong momentum would slow down their development once they stop iterative innovation. In that sense, MBA graduates should focus on future technology trends and choose an organisation with far stronger iteration capabilities.
He added that MBA students often expect to get a dream job with "high position, decent salary, less responsibility and a short distance from home" upon graduation. However, as Fred pointed out, employers are only willing to pay for the value of the candidate. In a crisis period, companies prefer experienced candidates to career switchers, so candidates need to be prepared to put in extra effort.
Billy decided to leave his hometown Shanghai for Tencent in Shenzhen about 10 years ago. "Firstly, select industry, then select company," he suggested.
Billy was also consistently recognised as one of the most diligent students in his MBA cohort at CEIBS. "The CEIBS MBA programme now ranks fifth in the world," he noted. "The school's reputation brings more opportunities for our MBA students, but you still need to have a down-to-earth attitude, and demonstrate your strengths, as well as your strong work ethic, to recruiters."
For those MBA students who want to enter into the technology industry, Billy suggested that, on the one hand, they should maintain curiosity about technology and study it and, on the other hand, they should understand consumer needs and cultivate a broader perspective and stronger business analysis capabilities. He further emphasised that a quick-learning capability is crucial and, in addition, that being more diligent and determined than others is required to achieve long-term career development post-MBA.