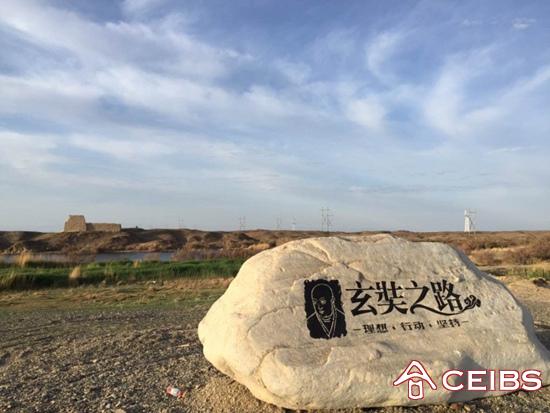 April 29, 2015. Xinjiang&Gansu – Ye Lun (AMP 21 Class) and Wang Wei (AMP 23 Class) led the 11-member CEIBS team on a three-day 112 kilometer trek through extreme weather conditions in the Gobi Desert to complete the First Gongshangdadao Chinese Businessmen's Gobi Challenge. The CEIBS team showed great courage and team spirit and won the competition's Shackleton Medal and the team title for their outstanding performance. Chen Changguo won three silver medals for his outstanding performance each day of the competition.
"After crossing the Gobi, through salt flats and the barren desert, we are about to collapse from the torturous sandstorms and scorching sun," recalled Peng Bo (AMP 21 Class). Pengbo suffered pain in his knees on the second day of the competition which was so excruciating he felt like quitting. Teammate Ye Lun helped pull Pengbo onward by tying a rope around their waists to keep them together. Ye Lun's selfless action cost him the competition's individual award title for that day, but ensured that the entire team completed the course.
"I will treasure this for the rest of my life," said Cai Hui (AMP 23 Class), the only female member of the CEIBS team, who burst into tears when they crossed the finish line.