Perfecting your Business Plan
Wednesday, November 8, 2017
Perfecting your Business Plan
~ Prof. Chang leads eLab Boot Camp Business Model Innovation Workshop
November 2, 2017. Shanghai - Every start-up begins with a great idea. You may think yours is big, disruptive, and world changing. Or maybe you recognize that while your idea may not impact everyone, it will be extremely meaningful to your niche target.
It is not enough that you think your idea is great. How do you also convince others that it is what your customers want and that it will be successful? Of course, a starting point is that excellent, one minute elevator pitch that you were taught to perfect. But the selling doesn't stop once the elevator ride ends and you've been invited into the office of your dream angel investor, in fact - it's only just begun.
Before you arrive at this stage you have hopefully formed a comprehensive, infallible business plan, but if you haven't, then session 4 of the eLab Boot Camp provided a guide.
During this session on how to perfect a business plan, eLab boot campers were all challenged to improve on their existing business plans - in particular, to be more specific and quantifiable. Director of the eLab, Adjunct Professor of Entrepreneurship Vincent Chang, encouraged all teams to think deeper about their target customers, the market and their product fit. To help students do this, he introduced two tools that can be used to better evaluate this - the Value Proposition canvas and the Business Model canvas (strategyzer.com).
Presenting a comprehensive, well thought out business plan will not only impress future investors, it will also help a start-up focus on the customer's core needs, design a product to better address those needs, and avoid some common pitfalls along the way.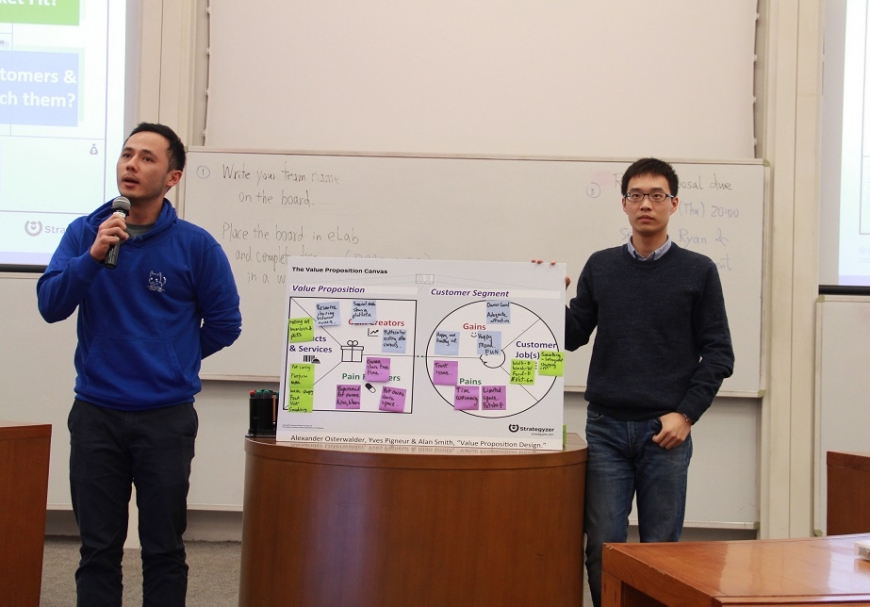 These tools should not only be used in the planning stage, they are also metrics that can be used on an ongoing basis as checks to ensure that the business is still on the right path and the company is still delivering value to customers.
Finally, to thoroughly evaluate whether you really understand your market, have thought out your business plan, and whether your idea is viable and sustainable, the following three questions must be asked and definitively answered:
Have you found the market-product fit?
Who are your customers and how do you reach them?
Can you make money and grow the company?
If you do not have clear answers to all these questions it's time to get to back work and to go out there and find them.