Learning to Love the Mobile Internet
Friday, June 12, 2015
Learning to Love the Mobile Internet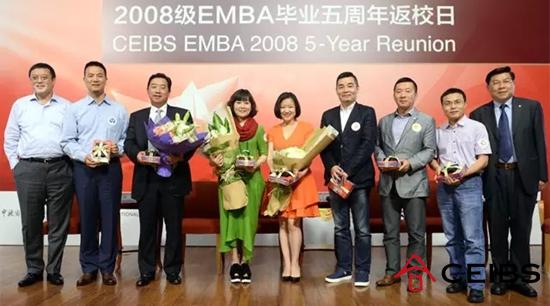 June 12, 2015. Shanghai – "Instead of being afraid of the Internet, we should learn to use it as a tool," said Professor of Marketing Wang Gao today as he addressed a gathering of CEIBS EMBA2008 alumni who had gathered to discuss how traditional enterprises can harness the power of the mobile Internet.
In addition to Prof. Wang Gao, speakers included two EMBA 2008 alumni, the CEO of Fangdd.com Mr. Duan Yi and the General Manger of Shanghai Shida Catering Management, Mr. Ying Wuwei who described their experiences in transforming their traditional business models in the face of Internet competitors.
"We are striving for +Internet rather than Internet+," said Mr. Ying Wuwei "We are a franchisee of DQ and we are faced with fierce competition. To stand out from competitors such as 85°C, Honeymoon Dessert, it's essential for us to provide convenience and high-quality products to our consumers." He explained that his company had gone through four stages. The first was to build their official website, then they established accounts on both Sina and Tencent Weibo. Third, they introduced an APP called IDQ, and finally they introduced an e-card system called EMC which utilizes WeChat to help build a customer network.
"The Internet has become an infrastructure and will be as common as water and other utilities. Traditional industries should build their online presence and start to see the Internet as a tool," advised Prof. Wang Gao.