INNOVATEChina 2015 Roadshow Wraps Up at CEIBS
Sunday, January 18, 2015
INNOVATEChina 2015 Roadshow Wraps Up at CEIBS
January 18, 2015. Shanghai – Today's CEIBS-hosted final leg of the INNOVATEChina 2015 roadshow didn't disappoint, with Tencent's VP xiaokang and senior executives from his WeChat team painting a vivid picture of their plans to make the platform even more relevant for its 438 million users around the globe while moving ahead with efforts to tap into its commercial potential. Part of those plans will likely include ideas generated by business school teams participating in the WeWinwithWeChat INNOVATEChina 2015 contest being organised by CEIBS MBA 2016 students and the mobile app. Today's event was the final leg of a roadshow that saw stops at Stanford and Harvard in the U.S, a market WeChat is aggressively courting.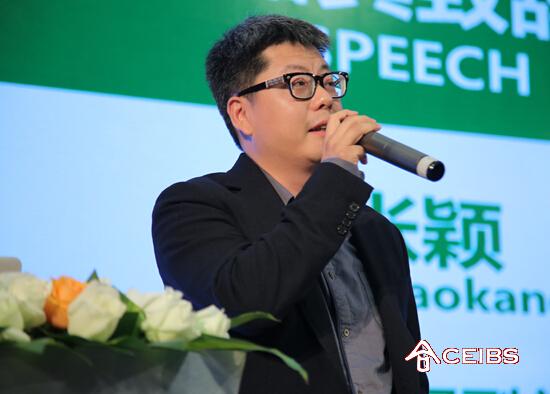 Tencent's VP xiaokang
"The key to innovation is always to create value for users," xiaokang stressed. WeChat plans to help users find stores near their current location and chat instantly with owners, and there will also be a wide variety of paperless coupons available via the app. "Through the [INNOVATEChina 2015] competition, I hope to see how combinations of the functions mentioned above and the innovations in vertical platforms will create a future world," said Lake Zeng, Vice General Manager of WeChat Open Platform. He stressed that WeChat intends to fully tap into its commercial potential in the years ahead.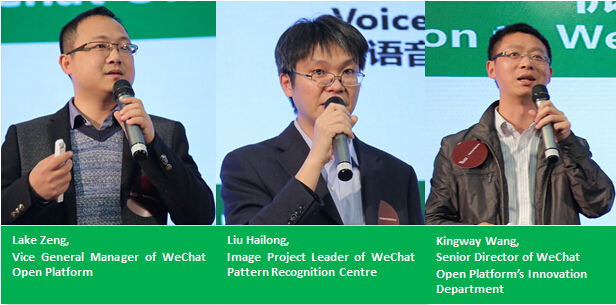 In terms of innovations that will enhance the user experience, Liu Hailong, Image Project Leader of WeChat Pattern Recognition Centre, painted a picture of a world in which viewers will be able to interact live with programme hosts simply by scanning the TV screen; by scanning the cover of a book you can find it online; and users can verbally provide information and the app will be able to help with tasks such as buying train tickets. WeChat is also developing a customer service robot through which companies can have internal data at their fingertips by easily accessing specific statistics culled from the companies' own databases.  WeChat is also working on its own Internet of Things Platform. According to Kingway Wang, Senior Director of WeChat Open Platform's Innovation Department, one tap of an icon will provide users with control over in-home electrical appliances, healthcare devices, wearables and more.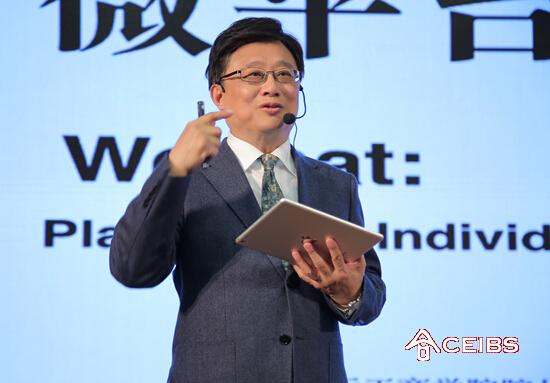 CEIBS Executive President Prof Zhu Xiaoming
CEIBS Executive President Professor Zhu Xiaoming, who is hoping the school will be able to collaborate with WeChat in the years ahead, is hoping to see some "big innovation on the micro platform". A forum that followed the roadshow explored this aspect of the company's future as well as its efforts to monetize a platform that is now intricately intertwined with the Chinese lifestyle. WeChat Marketing Head Juliet Zhu is banking on the WeWinwithWeChat INNOVATEChina 2015 competition, which has already placed WeChat on the radar of business school students in the US, playing a role in this. The contest was officially launched today by CEIBS MBA Director Professor Chen Shimin who said more than 80 schools have participated in INNOVATEChina over the last seven years. "The CEIBS MBA programme not only provides academic knowledge that boosts our students' abilities, but we also allow our students to organise events and competitions so they can learn from these experiences. Those are the two most important aspects of the CEIBS MBA programme," he said. Of course participating in the contest, regardless of which school you attend, is also a huge benefit. Winning is even better, based on the update provide today by Dustin Jefferson and Brian Lin from HKUST, Winners of 2014 INNOVATEChina, who spoke about what's happening now with their startup.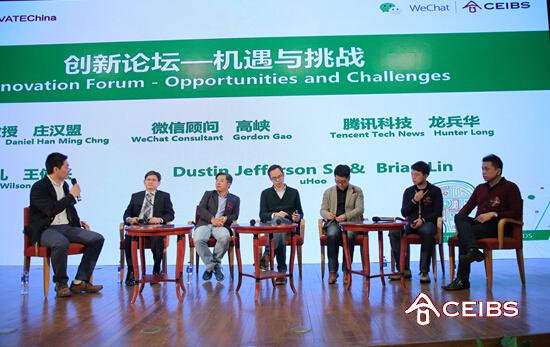 For this year's contest, finalists will travel to Shanghai at the end of March to present their idea and business plan to a panel of judges. The deadline for entries is January 25, and details are available at www.wewinwithwechat.com. The organising team will also reply, within 24 hours, to questions emailed to them at innovatechina@ceibs.edu.