Huang Nubo Tells CEIBS Alumni About Entrepreneurship
Friday, July 24, 2015
Huang Nubo Tells CEIBS Alumni About Entrepreneurship
July 24, 2015. Shanghai - A packed lecture hall of more than 150 CEIBS alumni and students gathered this evening to hear EMBA 1996 alumnus, Chairman of Zhongkun Group Huang Nubo speak on "Entrepreneurship Spirit and Dilemma of Wolf Totem" at CEIBS Alumni Forum. The event was organised by CEIBS Alumni Relations Office and sponsored by Future Land. Director of the Alumni Relations Office Mr. Wang Qingjiang moderated throughout the event.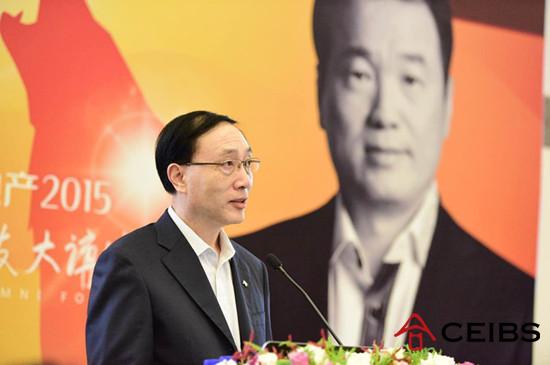 CEIBS President Prof. Li Mingjun
In welcoming Mr. Huang Nubo to the podium, CEIBS President Prof. Li Mingjun praised him as an excellent businessman and outstanding alumnus, and expressed his thanks for his great contribution to the alma mater. He also said the school has kept helping alumni with their life-long learning by building various platforms, including today's CEIBS Alumni Forum where alumni can learn from each other. Excellent alumni are important assets to the school, and their experiences are a treasure that should be shared, said President Li.

President Li presented the first CEIBS gold coin to Mr. Huang Nubo
On behalf of the school, President Li presented the first CEIBS gold coin – called the "CEIBS Yuan" – to Mr. Huang as a token of gratitude, and in recognition of his excellent contribution to the conservation of cultural heritage and his philanthropy.
Mr. Huang started his speech by explaining his understanding of entrepreneurship: the entrepreneurial spirit means disruptive innovation, and the only way for China to achieve a successful reform is for entrepreneurs to open their minds and release this spirit, he said. He believes businessmen should be wise, bold, kind and strong. By looking back at China's history of business, he made a distinction between "businessmen" and entrepreneurs by saying that entrepreneurs innovate but businessmen don't. He said China should express their gratitude to CEIBS, which has introduced western business theories and market-oriented economic concepts, which has opened a new era for the country. "Most of our classmates started their business after study at CEIBS," Huang said. "In the Chinese Entrepreneur Club, where one can find the most excellent Chinese entrepreneurs, more than half of the members are from CEIBS."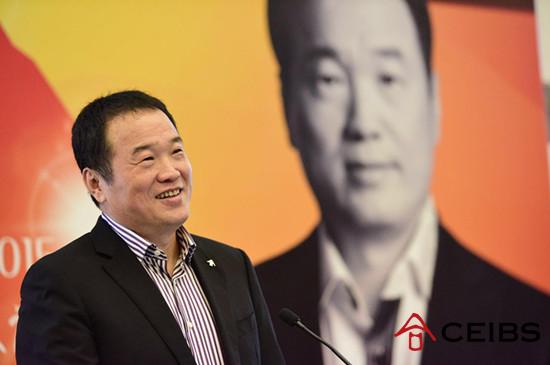 Mr. Huang Nubo
He talked further about the mission of businessmen by quoting Max Weber and Nietzsche, Joseph Schumpeter and Peter Drucker. He stressed that entrepreneurs should be innovative. "No innovation, no entrepreneur," he said.
Huang regards himself as a man of four components. He loves the wilderness, and he has never stopped exploring nature; he is a modern man who has been experiencing the third modernization wave led by China, which is another kind of reform and opening up; he is a contributor, who has done much to protect world heritage sites; and a legend, who evolved from a tramp wandering along the Huang River to the man standing in front of CEIBS entrepreneurs, delivering a speech.
While he thinks highly of the entrepreneurial spirit, he also spoke of its dark side. When a business is launched, one has to be somehow "ruthless" and hold on to the ambition to expand his business.  Mr. Huang compared this tenacity to the nature of a wolf, but warned that if this ambition goes too far, or people who are not ready for entrepreneurship rush to launch a start-up, it could be dangerous. Some people have the ambition to start a business, he said, but there must be others more capable than them, and they are doomed to one day stepping down from the stage. Huang pointed out that this is the dilemma of the Wolf Totem (a bestselling Chinese novel recently adapted to a movie). To solve this problem, he explored the possibility of the Chinese entrepreneurial spirit combining with Confucianism and Buddhism since both these belief systems stress the importance of doing good for others.
Mr. Huang concluded his remarks by noting that wealth cannot be the only thing one should pursue, and everyone needs to think more about the value he places on life. He also shared with the audience a video of himself – on the top of Mount Everest – reading the poem Farewell to the Everest in Tears.
About "CEIBS Yuan" gold coin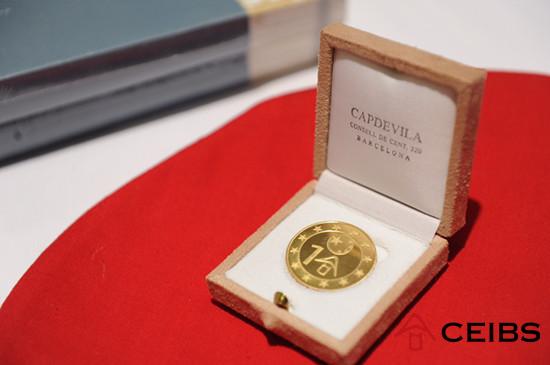 The CEIBS Gold Coin is CEIBS President Pedro Nueno's personal donation to the school. He designed and ordered this limited edition, tailor-made CEIBS Gold Coins. They are made of pure gold, and are also known as the "CEIBS Yuan".
The coin's centre is engraved with the characters "1 合" . The Chinese character "合", which means cohesiveness, is also included in the CEIBS logo. Surrounded by 5 stars from China's national flag and 12 stars from the EU flag, it conveys the message that CEIBS is a joint venture between China and the EU. On the back of the coin are CEIBS' Chinese and English names in full.
On one hand, the value of the "CEIBS Yuan", depends on the percentage of gold and its limited amount; on the other hand, it is more influenced by CEIBS' ever-increasing brand appeal, the growing alumni network, teaching and research capabilities and other core competitiveness. A number of "CEIBS Yuan" gold coins will be presented to CEIBS alumni who are influential in certain industries, willing to shoulder social responsibility, and who will make exceptional contributions to the school.
About Huang Nubo and his Zhongkun Group
Huang Nubo, poet, entrepreneur, Chairman of Beijing Zhongkun Group, CEIBS EMBA 1996 alumnus
Zhongkun Group has long been devoted to protecting traditional Chinese culture, has successfully preserved the ancient villages in South Anhui Province and in 2000successfully helped ensure their inclusion on the UNESCO World Heritage List. As the only private company operating and managing World Heritage in China, Zhongkun has been adhering to a corporate principle of "Let's do more for our community", and has gained recognition and respect.
Since 2003, Zhongkun has been making efforts in philanthropy, and so far it has donated 376 million yuan to all walks of life including areas of medicine, education, culture, environmental protection, and has helped many disadvantaged groups.
Huang Nubo is the Councilor of the Nature Conservancy and the Chairman of WildAid China Board. Huang has launched his "21st Century Human Facebook Action" project that has a target of visiting all of the globe's world heritage sites, within 10-15 years, on foot. It also calls for people's understanding and willingness to protect these heritage sites. The strategic partnership between UNESCO and Zhongkun Group on sustainable tourism is aimed at boosting the all-round development in education, science, and culture all around the world by establishing a strategic partnership between private companies and international organisations.
Huang Nubo has spared no effort to support his alma mater in its development. As a member of CEIBS International Advisory Board, he has made valuable suggestions to the school. Zhongkun Group has invested RMB 20 million in the school to establish two chair professorships, the only company that has invested in two chair professorships. On May 20, 2011 Huang Nubo took the CEIBS flag on a successful climb to the peak of Mount Everest.  At the time, he said: "Studying at CEIBS has turned my dream into reality. The school's motto 'Consciousness, Innovation and Excellence' has kept encouraging me. I hope my alma mater – China Europe International Business School – and I will always remember this unforgettable moment, and share the same feelings."