Exploring China's Entertainment Business
Sunday, May 24, 2015
Exploring China's Entertainment Business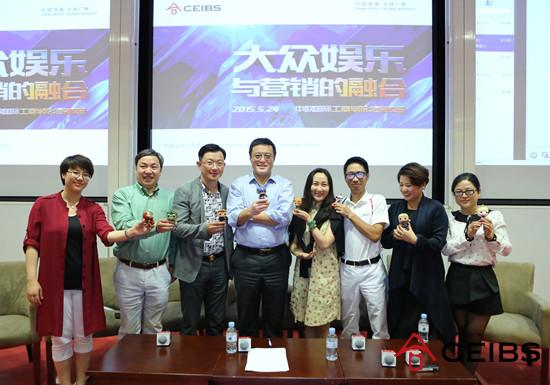 May 24, 2015. Beijing – Why do some films and television reality programmes strike a chord with viewers? How can brands leverage product placement opportunities in entertainment programming? These were among the topics discussed today at the first CEIBS Micro Forum held at the school's Beijing Campus. Moderated by Associate Dean (Executive Education) and Co-Director of the CEIBS Centre for Globalization of Chinese Companies Prof. of Marketing Wang Gao, the forum featured a panel of six CEIBS alumni who are senior executives in entertainment and marketing. More than 100 participants attended in person, while 1,400 viewers joined online. Panelists included:
President of Herun Media, Wang Qian (EMBA 2010);
CEO of Brain Media, Li Qing (EMBA 2013);
CEO of Orange Sky Entertainment Group Yi Jianmei (EMBA 2013);
Vice President of Beijing HualuBaina Film & TV Company Hu Gang (EMBA 06);
CEO of STAR Group Tian Ming (EMBA 2007);
CEO and Executive Director of Energize Group, Director of CEIBS Marketing Club, Zhang Guisen (EMBA2006).