Wednesday, May 27, 2015
CEIBS Nanjing Forum
May 27, 2015. Nanjing – The business challenges of the online era was the focus of today's CEIBS Nanjing Forum, which featured a keynote lecture titled "Using Platform Strategy to Promote Innovation and Transformation of Enterprises" by CEIBS Associate Professor of Strategy Chen Weiru.
Author of the bestselling book "Platform Strategy: A Business Model in Revolution", Prof. Chen explained how enterprises can use the platform strategy business model to stay competitive in the face of rapid changes in digital technology. He also shared some successful case studies of businesses who are using this model.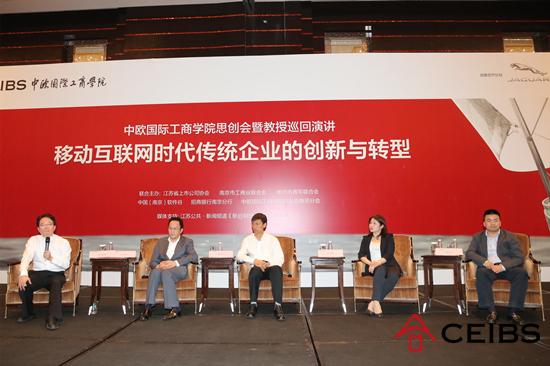 Another highlight of the event was a talk by Mr. Chen Jun, Chairman of Eastide Group, who shared some of his company's success stories. Prof. Chen then moderated a panel discussion which featured:
- Founder, Chairman and General Manager of Yuwell, Mr. Wu Guangming;
- General Manager of ALCT Supply Chain Platform Mr. Chen Xingyuan;
- Chairwoman and CEO of Hongkun Group Ms. Sun Xiaoqing;
- Founder of Wugehuozhan.com, Mr. Pan Dingguo.