CEIBS Education Foundation holds Board Meeting
Friday, January 16, 2015
CEIBS Education Foundation holds Board Meeting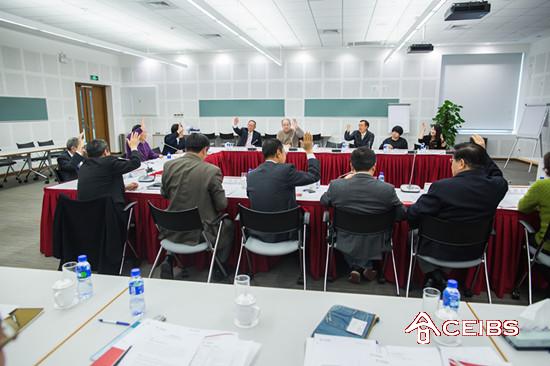 January 16, 2015. Shanghai – CEIBS Assistant President and Secretary General of the CEIBS Foundation Mr. Ge Jun reported on the Foundation's 2014 fund-raising achievements and laid out its roadmap for 2015 during the Foundation's Board of Director's meeting today at the CEIBS Shanghai Campus. CEIBS Honorary President and Chairman of the CEIBS Education Foundation Mr. Liu Ji hosted.
CEIBS celebrated its 20th anniversary in 2014, and during last year investment by alumni reached its highest amount yet. The Foundation received about RMB 55 million in 2014. By year-end, the Foundation's endowment fund had more than RMB 100 million to support CEIBS' long-term development.
The Foundation's 2014 work report was approved by the board during the meeting. The board also welcomed two new members, Chairman of Essilor Holding Company (China) Mr. He Yi (CEO 2008) and Chairman of Shenzhen Mindray Bio-Medical Electronics Mr. Xu Hang (EMBA2002/CEO 2008).