CEIBS Alumni Association Nigeria Chapter Launched
Sunday, September 13, 2015
CEIBS Alumni Association Nigeria Chapter Launched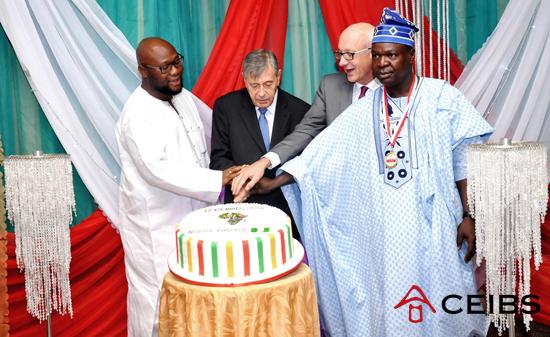 From left: Mr. David Amoo-Osae, Prof. Pedro Nueno, Mr. Victor Rutgers, Mr. Adewale Talabi
September 13, 2015. Lagos, Nigeria - The growing CEIBS Africa alumni family added a second chapter today with the launch of the CEIBS Alumni Association Nigeria Chapter in Lagos, Nigeria. An important milestone in the development of the CEIBS Africa Programme, it underscores the importance of the Nigeria market. CEIBS Africa Executive Director, Business, Mr. Victor Rutgers travelled from Accra, Ghana to attend the launch ceremony.
Chapter President Mr. Adewale Talabi and the Executive Committee were introduced during the launch event, and the chapter's new members were formally inducted into the association and presented with a certificate and medallion. Several alumni were recognized for their significant contributions to the development of the CEIBS Alumni Association Nigeria Chapter and Mr. Okon Udo Akpan received the Alumnus of the Year Award. Mr. David Amoo-Osae, the President of the CEIBS Alumni Association Ghana Chapter, led a fund-raising pledge drive which raised over $30,000 during evening.
CEIBS President, Chengwei Ventures Chair Professor of Entrepreneurship Pedro Nueno gave a presentation on Entrepreneurship in which he shared the emerging trends in today's increasingly globalized world and highlighted opportunities in Africa. He also gave an overview of the history of CEIBS and encouraged alumni to appreciate the value of building useful networks and to stay connected to each other and to CEIBS.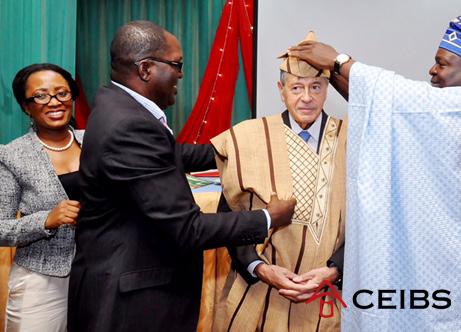 From left: Ms. Celestine Kumahor, Mr. Folajimi Fadenipo, Prof. Pedro Nueno, Mr. Adewale Talabi
The new alumni chapter members presented President Nueno with a traditional Nigerian costume worn only on festive occasions. Attendees also enjoyed a performance by a traditional dance troupe that performed a dance from the South of Nigeria.