CEIBS' Gobi Challenge Team Ready to Compete!
Sunday, April 26, 2015
CEIBS' Gobi Challenge Team Ready to Compete!
April 24, 2015. Shanghai – The team that will represent CEIBS in the 10th Xuanzang Road International Business School Gobi Challenge got a big morale boost today as they were honoured with a Departure Ceremony. CEIBS' leaders, faculty and family members of the team gathered at the Shanghai Campus Petrochemical Auditorium to wish them well on the arduous journey ahead. The Gobi Challenge has become a valuable cultural event and test of physical endurance for EMBA students from China and global business schools. The trek retraces Monk Xuan Zang's arduous Tang Dynasty pilgrimage through the Gobi Desert 1,300 year ago.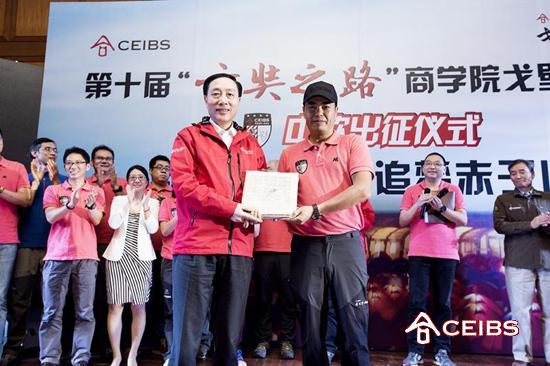 Associate Dean and EMBA Programme Director Zhongkun Group Chair of Accounting Professor Charles Chen and Michelin Chair Professor in Leadership and HR Jean Lee shared their experiences of participating in the Gobi Challenge, and offered some insights on how senior executives can apply the challenges of the journey to the challenges of the fast-evolving business environment. Previous Gobi Challenge participants from CEIBS were also on hand to share how the competition changed their lives and their approach to management and strategy in their enterprises.
"I feel like a newborn whenever I stand at the starting point," said Gobi Challenge veteran and Associate Dean and Essilor Chair of Accounting Professor Xu Dingbo, who is head of the Gobi Challenge Alumni Club. CEIBS President Dr. Li Mingjun wished the CEIBS team success. The ceremony concluded with the release of The Ninth Gobi Challenge Journal.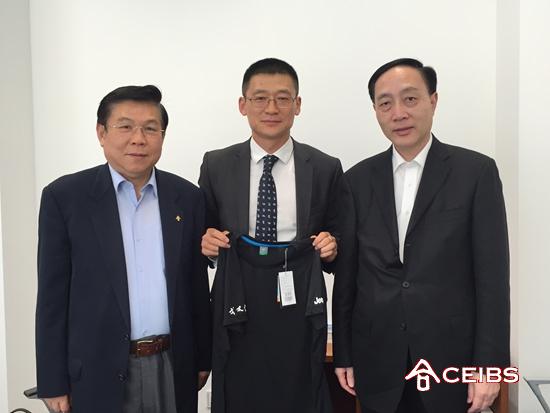 The CEIBS Gobi Challenge Alumni Club now boasts more than 700 members, and the number of participants from CEIBS has grown from eight in 2007 to 250 in 2015, said Club director Mr. Wang Xiaohui in a meeting with CEIBS President Dr. Li Mingjun and Director of the CEIBS Alumni Association Wang Qingjiang two days prior to the Departure Ceremony. CEIBS has won the Gobi Challenge four consecutive times, and placed second three times.