Zhang Silu
by Lei Na
Birth of DreaMaker
The birth of DreaMaker is linked to a few key moments in Zhang Silu's life. First, he did his EMBA at CEIBS between 2007 and 2009; then his son, Zhang Jiajun, appeared in After Shock, a Feng Xiaogang film; and the final piece of the puzzle was when he met Ying Tong (then co-director of the movie and later his partner).  Over the years Zhang had been in high-tech industries, he was a shareholder of multiple companies, but he had no links to business education until he met Ying. "CEIBS sharpened my business acumen. When Ying found me and talked about dreams of starting a new business, at first I was only going to provide him with some help in business planning and some networking; but as we talked more, I began to incorporate what I learnt at CEIBS into how I looked at the problem. Finally I decided to work with him to create an English-language drama training centre for children," says Zhang.
He was very clear about his long-term goal. He didn't want to create an incubator for child stars, "because the chance for a child to become a star is really slim, and we must focus on all the children, not just the handful that may become stars." He was also convinced that he shouldn't spend a lot of time trying to reinvent the wheel by developing new courses for the Centre.  "That would require a whole long process of experimentation, of sketching, practicing, improving and theorising," he explains. He was determined to leverage existing domestic and foreign courses and, after consulting many channels, Helen O'Grady Drama Academy caught his eye. Founded in 1979, with its headquarters in England, the Academy has over 1,500 branches in 27 countries and regions, and has trained 6,000,000 kids over the years.
"Helen O'Grady Drama Academy satisfies customers' needs," notes Zhang. "This brand has a few key characteristics: first, it has history, which means value and credibility; second, it operates in so many countries, testament to its ability to work across cultures and boundaries. In the process of project planning, I used Porter's Five Forces Model which I learnt at CEIBS, carefully weighed the risks of potential competitors and replacement products. From this analysis I insisted on being the sole agency for Helen O'Grady in China. That was the precondition of the talks then. If what I learnt at CEIBS hadn't helped me sort out my train of thought, I wouldn't have been able to think through that entire process."
In 2010, Zhang's entrepreneurial project in education officially started. He gave it a catchy name: DreaMaker.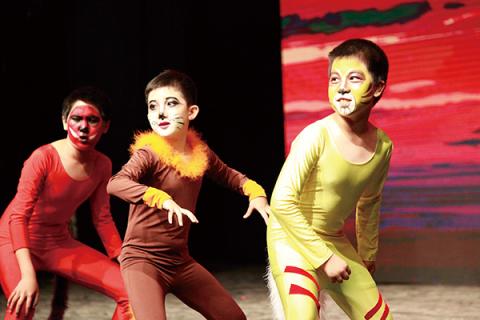 Letting Children Direct Their Own Lives
In DreaMaker classes, imagination is a big deal. It's not unusual for teachers to have students act out scenes as they imagine them. They picture themselves, for example, playing on the beach, the waves splashing their bodies, and their imagination is so vivid they can smell the saltiness of sea water. Then they must act out these scenes. "This is a kind of warm-up activity, and an exploration of nature through acting," explains Zhang. "Children are very happy in class, like they're playing house."
DreaMaker trains children aged 4 to 18. They're subdivided into pre-school workshops for 4 to 6 year olds, junior primary courses for those aged 7 to 9, senior primary courses for the ones between 10 and 12, and acting courses for those aged 13 to 18. Each lesson includes two drama classes and a stage art class. Stage art classes teach prop making, costume design, vocals, dancing, and chorus – usually to support plays being put on. Drama classes are made up of six parts. In addition to the basics, there's 1) speech which includes exercises for standard English pronunciation and speech skills; 2) movement which involves training the children in areas such as being focused, observation skills, and imagination through physical actions; 3) improvisation which includes comprehensive exercises including acting, English listening and speaking as well as teamwork; 4) scene starter, which involves training of oral expression, imagination, creativity, and communicative ability; and 5) an overall course that pulls all these together.
At the end of the term there's a performance of short plays during which each child's role is equally important. "This is not a grand play presenting the final results, but a process of subtle learning, which is more important," explains Zhang. "For a long time, we Chinese have tended to interpret quality-oriented education as art education. In fact that's not necessarily the case. DreaMaker's philosophy on education is to make children more confident through the learning of drama, and they should have good communication skills, boundless imagination and ample creativity. We are an agency that teaches English, but our courses are designed to help children become the directors of their own lives by teaching them how to know and conduct themselves better in the future."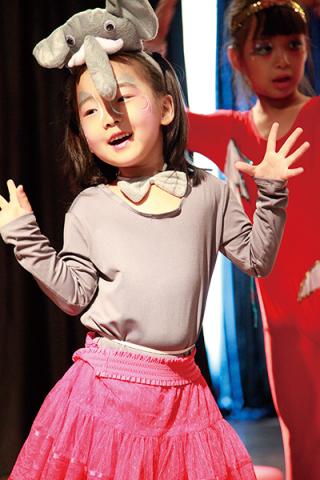 Businessman & Educator
It's clear that Zhang has his own firm beliefs in education through drama, and that his studies at CEIBS helped to shape his pragmatic business style. "The transformation of my career has everything to do with my studies at CEIBS. When I began planning DreaMaker, I was beginning my CEIBS EMBA. The lessons I learned in class helped me sort out my entrepreneurial experience, gave me systematic and theoretical training in business matters, and changed my way of thinking and planning from an entrepreneurial perspective," he says.
"Now I have two roles: I founded DreaMaker and, as a businessman, have been nurturing its development. I have to analyse the profit model for our products, and ensure that our company enjoys strong growth. At the same time, I'm an educator, and in the process of promoting our school I earned a lot of respect. Because of DreaMaker, many children have grown from being timid kids to confident and graceful actors standing on the stage, and the transformation has been really moving."
So what's next for the company?
"In the years ahead I will develop DreaMaker step by step. First I will cultivate the Beijing market, and then enter other cities. I'm making other business plans as well. Now I'm planning to build a children's theme-experience-centre with a famous children's TV host. This is a very promising development project in commercial real estate, and DreaMaker's training centres can move in there." At this point, he pauses and adds with a laugh, "See? This shows you that I'm not an idealistic educator, but a practical businessman. Yet, at the back of my mind is the thought that if DreaMaker becomes more successful, more people will come to realise that drama is good for children, and the kids will thank DreaMaker when they grow up."
Read on for more.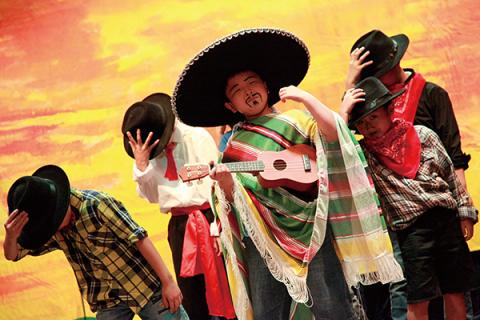 TheLINK: DreaMaker's lessons are now all delivered in English. Are there any plans to teach the courses in Chinese?
Zhang: We're now teaching solely in English to ensure that Helen O'Grady Drama Academy's courses can be presented in their original form. But DreaMaker has made certain changes in the curriculum for Asian kids, particularly Chinese kids, making it less difficult without compromising the integrity of the course. In fact, many children have a good command of English, and language learning is just part of our courses. Our main objective is, after all, to enhance kids' overall qualities through learning drama. Of course, drama is a good way of learning English. It teaches through entertainment, and is vivid and lively. Many parents have this aim in mind when they send their children to our centre.
As for courses in Chinese, they have these courses in Taiwan and in the future, when demand is greater, we'll consider developing them. We won't simply translate English courses into Chinese, but will develop courses most suitable for Chinese kids, and we'll invite Chinese teachers for them. However, I feel we haven't reached that level of demand yet.
TheLINK: DreaMaker's philosophy of drama education, as I see it, is an "import". But in recent years, mainstream Chinese education has seen a trend towards neo-national-studies, such as the encouragement of the recitation of Di Zi Gui and Lun Yu, among other traditional Chinese classics, by children. What's your opinion of this trend, and will it have an adverse effect on DreaMaker's development?
There's a lot in national studies that's good for the cultivation of admirable qualities, and is worth passing on to future generations. Learning traditional Chinese classics and learning Western drama are different approaches in education, but their aims are the same: to guide children in their growth towards being better persons. So they have the same aim in mind, though they may take different paths. I think national studies education and DreaMaker's drama education do not contradict one another. It's only a matter of choice on the part of parents. Over the years that I've been in the education business, I've seen some national studies training agencies that have done it quite well. I think national studies are positive for children's development.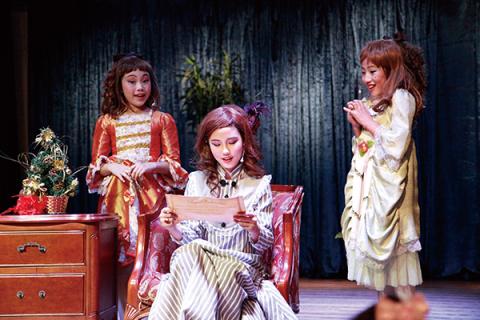 TheLINK: There are really only a few teachers who know foreign languages and how to act at the same time. What measures have DreaMaker taken to attract such talents?
In mainstream Chinese education, truly outstanding teachers are still scarce. For our industry, it's really difficult to find talents that know foreign languages, and also have mastery over management and drama. That's been one of the challenges for DreaMaker over the past few years. Luckily, our foreign partner gave us staunch support in this, providing comprehensive training and guidance for courses and teachers. At present what we need most is marketing personnel that can position our products in precise locations and reach our target customers.
At the same time, my experience has grown over the years and now I'm more confident in talent cultivation. Next year we're opening our tenth training centre in Beijing. I believe that as time goes by, more and more people will join DreaMaker and the talent shortage problem will be solved.
TheLINK: In 2012, DreaMaker received an investment from famous director Feng Xiaogang. What do you think motivated him to do this?
Feng is a wise man, with rich life experience and a profound understanding of drama that led him to approve of DreaMaker's philosophy on education and believe in its viability. He once said that everyone needs to play his own part well in different stages of life, so it's good for kids to learn something about acting and drama. In 2012, when I explained DreaMaker's philosophy on education and gave him a few examples of our successful cases, he immediately decided to invest. More than that, he sent his own young daughter here to study at DreaMaker, and his wife Xu Fan often recommends us to her friends.
TheLINK: What's ahead for DreaMaker?
Now we're planning to dig deep into the Beijing market. We're going to incorporate the city into our overall market plan, constructing a comprehensive framework, which both lowers market costs and is beneficial to our overall operations. Yet a focus on the Beijing market does not mean we won't consider other potential markets. For example, the Shanghai market is just as promising as Beijing, and if we have a reasonable market plan, and if there are enough talents, we'll get ready to enter Shanghai.