By Kelly Chen & Stella Hou
It was his CEIBS study experience that gave Jiang Qinjun (EMBA 2002) the courage to take the leap into entrepreneurship a second time. In a vivid example of "putting theory into practice", after graduation Jiang and his CEIBS classmates raised the money to acquire the almost-defunct state-owned factory that had been the subject of his team's graduation paper. Within ten years, Jiang Qinjun and the team at Yoloo had transformed the factory's management system, built an innovative research and development (R&D) department, patented more than 100 products, entered international markets, and Beijing Yoloo Biological Science Company Limited is well on its way to becoming one of the leading companies in the global bio-pesticide sector.
Its marketing network has deep roots throughout China's key agricultural areas, and has made Yoloo a trusted brand among domestic farmers. The company has also expanded into the South American and Southeastern Asian markets. As the company has steadily progressed, it has enjoyed help from the CEIBS community: presidents, professors, alumni and alumni enterprises. In 2012, Yoloo received a boost with an investment from Cathay Capital PE, an investment fund managed by CEIBS alumnus Cai Mingpo (EMBA 2004).
This is the second start-up for Jiang Qinjun. He founded his first company, Beijing Comens New Materials Company Limited, in 1999 together with a few university classmates and it went on to be listed on ChiNext, the GEM Board of Shenzhen Stock Exchange in 2011. 
This year, Jiang Qinjun has returned to his alma mater to attend the 2nd CEIBS Entrepreneurial Leadership Camp, where he is looking forward to sharing his entrepreneurship experiences and learning from his classmates and the CEIBS faculty. Yoloo is planning for a stock market listing and hopes to submit its IPO application next year. The company's vision is to share with the world "the joy of a good harvest", and it aims to play a bigger role in the global agricultural chemical sector.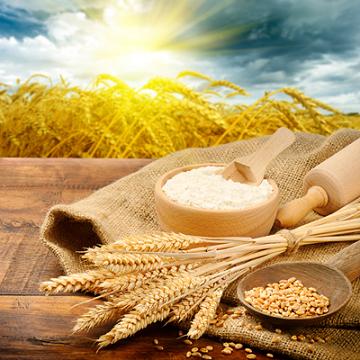 TheLINK: Why did you decide to take on Yoloo?
Jiang Qinjun: At the end of 2003, I teamed up with six classmates who had also worked in the chemical sector. We "chemical guys" were discussing the subject of our graduation paper. I had a friend working for Beijing Yongle Farm Chemical Factory, which at that time was nearly defunct. I suggested that we do some research into the agricultural chemical business by looking at that factory as a model, and then we began discussing the development strategies for a new agricultural chemical enterprise. This is how the factory became the subject of our team's graduation paper.
While doing the background analysis, we found that the agricultural chemical business had great promise because the most important issue concerning the well-being of Chinese people – food – depends on it. However back then there were no noteworthy local enterprises in this sector in China. The largest Chinese agricultural chemical enterprise had an annual output of just over RMB 1 billion, not to mention the looming threat of foreign competitors. Meanwhile, the agricultural chemical industry was facing revolutionary changes. Products were being upgraded, old and highly toxic agricultural chemicals were gradually being taken off the market and new, environmentally-friendly products had to be developed as quickly as possible. Our team was discussing detailed plans for the factory's corporate strategies, product line-up and marketing approach.
When we graduated from the CEIBS EMBA Programme in 2004, our graduation paper received the highest score; this inspired and emboldened us. I began to entertain the idea of "putting theory into practice". I thought: Why not raise some money and take over the factory? When I shared my idea with my classmates, they were very enthusiastic about the project and responded with various forms of investment. We eventually raised RMB 13 million – which included RMB 5 million from more than 80 CEIBS classmates who invested through direct or indirect share-holding – and acquired the factory. We then restructured it into what is today, Beijing Yoloo Biological Science Company Ltd.
At that time, I was still working at Beijing Comens New Materials Company Ltd. However, my classmates' enthusiasm about the new project made me realise where my responsibilities lay and I began to shift my attention to Yoloo.
TheLINK: Can you tell us how you went about re-engineering the Beijing Yongle factory to build the Beijing Yoloo Biological Science Company?
  
First of all, it had to be transformed from a state-owned system to a market-oriented one. It had to focus on market demand in order to prevail among its competitors in the market. This can be seen in our approach to R&D, as we choose to develop high-efficiency, low-toxicity products, and specialise in the area of biological agricultural chemicals.
The development of an agricultural chemical is a long and rigorous process that requires a lot of time and investment, along with a forward-looking view of market demand. Each time we develop an agricultural chemical, we must do one to two years of preliminary testing that includes factors such as season and location. Once we file the patent application, the relevant government offices then conduct their own required tests at multiple locations for another two years. Therefore, we must devise a package of product strategies and design their R&D orientations from the start.
We are on the way to becoming the sector-leader in terms of R&D. Our core R&D strengths in the area of bio-pesticides are based on the technologies we use for genetic bacterial cultivation, fermentation and chemical preparation. We have established R&D protocols for these three procedures and have had much success. Today, the company boasts over 100 patents, and by the end of this year we'll have more than 10 patents in genetic technologies – an impressive feat by any means. In addition to doing independent R&D, we collaborate with scientific institutions, such as the Chinese Academy of Sciences, the Chinese Academy of Agriculture and some universities, to develop cutting-edge technologies.
TheLINK: How did you establish and build the Yoloo brand in the marketplace?
We have worked from the start to create a good brand image. We instil in the minds of our consumers a positive perception of our products. Agricultural chemicals are a wonderful thing for farmers. For example, herbicides remove the weeds from farmland without harming the crops. Bactericides help to restore an ailing crop to health, and plant growth regulators make adjustments to the crop's growing stages. The scientific reasons behind these magical effects are incomprehensible to most farmers, so when purchasing agricultural chemicals they trust a strong brand. They are willing to pay more for better quality, because their choice may mean a year's income and livelihood, which are not to be trifled with. That is why the brand represents the sum of farmers' faiths and hopes.
These strategies have helped Yoloo grow and prosper. In terms of balance sheet performance, we started from scratch but are now among the top 10 in China. The business for bio-pesticides, which is our priority area of development, has seen an annual growth rate of around 50% in recent years.
TheLINK: China's domestic pesticide industry is now facing the predicament of "large sales versus small profits", while multinational corporations (MNCs) are gradually establishing a monopoly in the Chinese market. How can domestic companies like Yoloo compete? 
When I first entered this industry, foreign companies occupied only about 20% of the market share in China. By 2012, their market share had almost doubled, to nearly 39%. Foreign companies have obvious competitive advantages. Their R&D investment is huge. For example, Bayer invests nearly US$ 600 million into pesticide R&D every year, which is equivalent to the annual sales of the biggest Chinese pesticide company. Foreign companies such as Bayer are gaining market share with their excellent patents and superior products. 
However, it's not that domestic pesticide companies have no opportunities. A look at the global pesticide market tells us that non-patented products make up 75% of the entire market, while patented products make up only 25%. That means, despite the leading role foreign companies currently have in the area of patented products thanks to their huge R&D investments, domestic companies can do better in the remaining 75% of the market.
To compete with the MNCs, Yoloo has focused on utilising sales channels as its breakthrough point while also making sure that our products are of superior quality, and making sure the Yoloo brand image is known at the grassroots level. One of our important strategies is to promote awareness of our brand among farmers. We can do this better than the MNCs.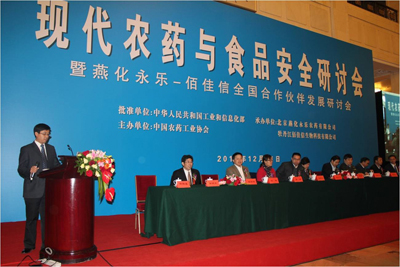 Yoloo hosted a seminar at the Great Hall of the People in December 2011.
TheLINK: What are some of the innovative ways you have utilised your domestic sales channels to compete with the MNCs?
We have taken advantage of our domestic base and developed our nationwide DYKR (Distributor Yoloo Key Retailer) system. Since 2006, we have established over 10,000 DYKRs, covering all provinces and municipalities across China except Tibet and Taiwan. We have offices in over 1,000 counties, and chose 500 of these counties to be our key areas. We have set up more than 20 DYKRs in each key area. The DYKR system is our trump card. Our typical salesperson is a man who wears a suit, tie and glasses, along with galoshes and trouser cuffs that are caked with mud. They are professionals who get along well with farmers.
MNCs price their products rather high, which leaves little profit margin for the sales channels. We try our best to develop our sales channels by sharing our profits and striving to develop win-win partnerships with them. Utilising our DYKR system, we often provide trial products to farmers, invite them to participate in our experiments, and organise frequent promotion and demonstration events and training sessions. We organise various activities to teach them about pesticides, planting technology, farmland management and crop selling.
  
Thanks to our extensive sales channels and good brand image, our new products have rapidly gained traction in many markets soon after launch. In the past few years, some of our best products have enjoyed a 10% market share by their second or third year after launch, something other local companies have not yet achieved in the non-patented product segment. Some well-known domestic companies have more than 2,000 products and over RMB 1 billion in annual sales, but they have only an average sale per product of RMB 500,000 to 600,000. We have only a dozen or so key products, each of which has average annual sales of between RMB 10 to 90 million, and some single products have annual sales nearing RMB 200 million. Once we get scale in our product sales, we can more effectively control costs, thus solving the problem of "large sales versus small profits".
TheLINK: Would Yoloo consider entering into a strategic cooperation with any of its MNC competitors? 
Facing these foreign companies, our strategy is to "dance with the wolves", working with them while competing with them. In fact, MNCs don't enter the Chinese market intending to defeat domestic companies or to do harm to China's agricultural sector. Basically, their superior products are helpful to the development of agriculture in China.
Some foreign companies don't have strong manufacturing capabilities in China, so we help them arrange OEM manufacturing. Through this process, foreign companies' management, quality control, security and environmental protection awareness, will help influence our company. Some of the foreign companies' products don't sell well in China, and we can take advantage of our sales channels to combine these products with ours. This not only brings us profits but also, more importantly, gets our sales team to grow through communication with the MNCs. We collaborate with foreign companies in R&D as well. They have innovative technology in new chemical compounds, while we have good localisation techniques and application recipe technology, and we can effectively combine these.
So, in fact, we can do quite a lot to cooperate, and we try to grow together during our cooperation and competition.

Invited by Dow to participate in activities at the US Pavilion during World Expo 2010.
TheLINK: What are Yoloo's plans for the future? What are the major challenges ahead for the company?
We're preparing for our IPO, and if everything goes well, we hope to submit our application and related filings next year. When we were starting out, we could meet our capital demands through investment from our shareholders, but as the company grows, we need to raise funds through the capital market.
We face many challenges. A bigger team brings new demands for management, a richer product line poses new challenges to sales, and the increasing public attention being paid to food safety puts our technology and R&D capability to the test. Our biggest challenge is that we need to become a player in the global market in order to have a global influence in the bio-pesticide sector.
Our international development faces two challenges. First, we want to produce truly outstanding products, like the iPhone, which will be welcomed by many countries. Second, many countries strictly regulate the pesticide industry and this, along with the different languages and environments, presents a huge challenge to us. For each new market we enter, we must spend a few years going through the required local registration processes and collecting many kinds of experimental data. This requires both capital and energy.
Now our international business has total sales of more than RMB 100 million, and our first overseas markets include South America and Southeast Asia. We will expand our international business step by step.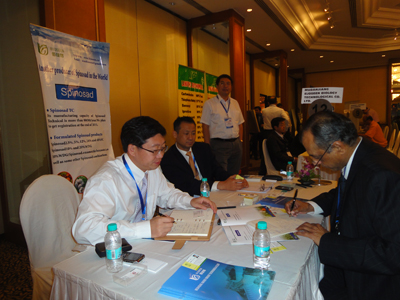 At an exhibition in India.
TheLINK: What do you think you gained most from your studies at CEIBS?
Apart from the management skills that I learned at CEIBS, I also gained modesty and confidence. I learned modesty because many alumni were more knowledgeable than I am, while I gained confidence because I thought I performed really well. Professors at CEIBS explained profound things in simply ways. I benefited a lot from their lectures, and I was rewarded quite generously when I put what I studied into practice.
Yoloo is tightly bound to our alma mater, and I received a lot of help from the CEIBS community when starting my business. CEIBS Executive President Professor Zhu Xiaoming has paid attention to Yoloo's development, while Professor Wu Jinglian even came to visit our factory. In April 2012, Yoloo accepted the investment of another CEIBS alumni enterprise, Cathay Capital, and our signing ceremony was held at the school's Beijing campus, with Associate Dean and member of the Management Committee Professor Xu Dingbo and Assistant President and Secretary of the CEIBS Foundation Ge Jun attending as special guests. All this support adds to our investors' and our partners' confidence in our company. I think CEIBS is like a big family, where we develop deep affection for one another, and our cooperation is really smooth and pleasant.
I recently joined the second session of the CEIBS Entrepreneurial Leadership Camp. I am looking forward to giving myself another opportunity to learn and reflect after a decade of work. I am eager to return to my alma mater to listen to the faculty, and get to know entrepreneurs from various fields and learn about their new ideas.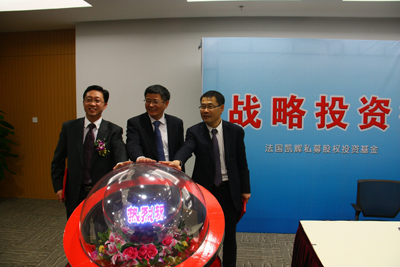 Yoloo and Cathay Capital participated in a signing ceremony
at CEIBS Beijing Campus in April 2012.