By Lei Na & Cece Liu
Renowned Chinese scholar of culture Yu Qiuyu once commented that the mountains and rivers that envelope Chongqing make it the Chinese city that best embodies the traditional feel of "Jiangshan" (rivers and mountains). Nestled in the country's Southwest, Chongqing is rich in both natural resources and human talent, and it's home to many CEIBS alumni. During CEIBS Annual Alumni Association Meeting 2014 held in Shenzhen earlier this year, TheLINK caught up with Xiong Fan (EMBA 2003), Director of the CEIBS Alumni Association Chongqing Chapter and Chairman of TOM (Chongqing) Outdoor Media Group.
TOM's main business is outdoor advertising; however Xiong Fan carries himself with an honesty and nobility that belies his profession as an 'ad man'. During our interview, I found his humble nature to be genuine, and I found myself thinking that perhaps in the world of advertising, which is usually flashy and known for its glamour and grandiosity, someone with Xiong Fan's candour and simplicity has real value. He made me think of renowned advertising guru David Ogilvy's comment in his book Confessions of An Advertising Man, "I spend my life on ads that say good things about products: I hope you get as much pleasure out of buying these products as I get from advertising them."
In our interview, I was struck by the empathy that Xiong Fan has for employees, customers, and fellow CEIBS alumni. His motto is "I'm for everyone, and everyone's for me". When a senior business executive wants the same growth and happiness for employees, customers and friends, the results are usually long-lasting and mutually rewarding. Read on for more: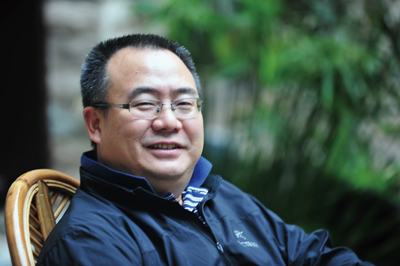 TheLINK: Since you've been here in Shenzhen for this year's CEIBS Annual Alumni Association Meeting, what's been your impression of the outdoor advertising business here?
Xiong Fan: Shenzhen has been at the forefront of China's economic reform, and the outdoors ads here seem to be high-end, graceful and classical. The ads in the airport are good examples: they are well crafted, most are about national industries. There are also many for private, high-tech companies. By comparison, Beijing and Shanghai may have more international content in their outdoor advertisements. Looking at the outdoor advertisements in Shenzhen, we can see how the city has invested in national industries, and we can also see the industries' desire to rise to the top of their sectors. People in our business can usually see the character and development of a city through its outdoor advertising.
TheLINK: How has the arrival of the mobile Internet era affected outdoor media? What challenges does it bring for your business?
Outdoor media exists in public spaces, mostly in the form of roadside billboards, neon lights, electronic screens, and ads carried on buses, trains, etc. The same disruptions that the Internet economy has brought to many industries has impacted outdoor media as well. Traditional media is content-oriented and therefore feels the influence of the mobile Internet more keenly; when you have content, you have advertising. Mobile Internet multiplies the channels available for content, which diverts clients away from traditional media. However, outdoor media is different. The format is still the same, and outdoor media are always present. This, of course, does not mean that we can be complacent. Outdoor media are truly a public carrier of messages; people will see outdoor advertisements during their commute and in entertainment spaces. The impact that the Internet era has had on us is to push innovation in technology and ideas. For example you can collect more information on consumers by having them scan 2-D codes. You can also enhance user experience through photographic interactions. Both these techniques are popular practices now.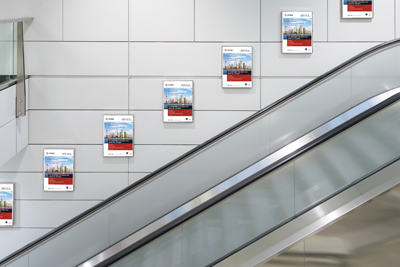 TheLINK: TOM Media's mission statement is "To Be a Media Provider with the Greatest Value". What do you mean by "the greatest value"?
There are four aspects to this idea: First, our company must be of value to customers. The key to our development is not price competition, but to provide solutions for publicity outdoors. We hope to create genuine value for customers, and hope they recognise this.
Second, our company should provide value to society. As an outdoor advertisement provider, we should contribute towards developing beautiful cities, and should be in harmony with the city. Adding beauty to the city is our value to society.
Third, our company should help our employees fulfil their value. Helping employees grow is one of the company's missions. No one comes to us with perfect thinking and all the skills needed. We hope employees can feel their own significance to the company, to their families and to society, and that they will continually learn, develop and grow.
Finally, we should realise our company's own value. Whether it is the value of our products and services, or the training and development of our employees, both depend on the value of the company itself. This is the basis for all the aspects of value we provide. Value here does not just mean profit, but it also means that every employee should love their job and want to contribute whatever they can to the company.
TheLINK: How important is innovation to outdoor media? How do you think employees can be inspired to have a spirit of innovation?
Innovation is the most crucial factor for the success of outdoor media, because now we are living in an "eye-ball economy", we have to try our best to catch the attention of customers and advertising clients. Though I think it's difficult for anyone to be continuously innovative, we stress that everyone should create and realise value in their jobs. This process will surely generate innovation. We hope our employees can first identify their own value, then they can be of value to our company and society.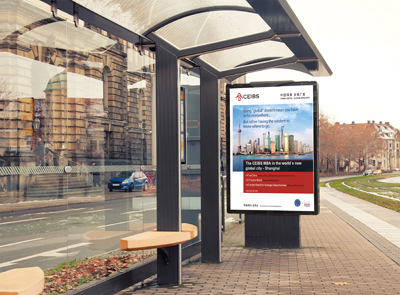 TheLINK: Perhaps it was this philosophy of respecting employees' value that earned you the 2005 CCTV Annual Employer Survey Popularity Ranking of the "Top 10 Chongqing Employers". Can you tell us something about how you manage your employees?
My basic idea in employee management is "humans first", as I hope that our employees will improve themselves every day. They have to be responsible for themselves before they can be responsible for their families, the company and society. I encourage them to reflect on where their responsibilities lie, and my efforts at employee management are mostly focused on this area.
TheLINK: Why did you choose the CEIBS EMBA programme? What did you gain from your study at CEIBS?
In 2000 I did my MBA programme at another university, and afterwards I wanted to have a more systematic review of what I had learned. I'd heard that CEIBS was the most academically rigorous business school in China, so I began its EMBA programme in 2003. My biggest gain at CEIBS was to develop good habits for critical thinking. CEIBS taught me to think more reasonably and systematically in both life and work.
TheLINK: You were the winner of the CEIBS EMBA Golden Torch Award in 2012, and you donated RMB 25 million worth of media resources to help CEIBS' branding and programme promotion in southwest China. What inspired you to invest in your alma mater in this way?
Compared to the donations made by other alumni, mine is small in its significance. I just contributed what I could, and I hope that my donation will inspire more of our alumni to contribute resources they have in their respective industries. CEIBS is still a young business school and could use more support from alumni donations and other alumni resources. I hope in the future CEIBS will be able to see more investments from alumni resources to help it continue to develop further.
TheLINK: As director of the Chongqing Alumni Chapter, can you tell us about its regular activities?
People from Chongqing are forthright and outgoing, so our Chongqing Chapter is like a huge family. When there is an alumni gathering or there are friends coming from afar, people like to get together, regardless of whether they have a tight schedule. We have seasonally-themed activities, but more often our events centre around visits and interactions with other alumni chapters and with CEIBS. These activities don't always help to further my career.  Sometimes they are time- and energy-consuming, but I think everyone should have a bit of the "I'm for everyone and everyone's for me" spirit. This is necessary for all of us if we want to take a step forward. In addition, we all say what we want to say and communicate very openly at alumni meetings. This is a very good feeling.