What's The Next Big Thing in Research? - CEIBS Hosts Global Faculty for Day-long Talks
Monday, January 12, 2015
What's The Next Big Thing in Research? - CEIBS Hosts Global Faculty for Day-long Talks
January 12, 2015. Shanghai – A select group of faculty from Asia, Europe and North America gathered at CEIBS Shanghai Campus today to present their latest research and brainstorm to generate ideas for upcoming projects. They were attending the CEIBS Mini-Conference, a forum for faculty in Chinese Management and Strategy who are on the cutting-edge of research in their field and whose work represents creative and high-quality scholarship.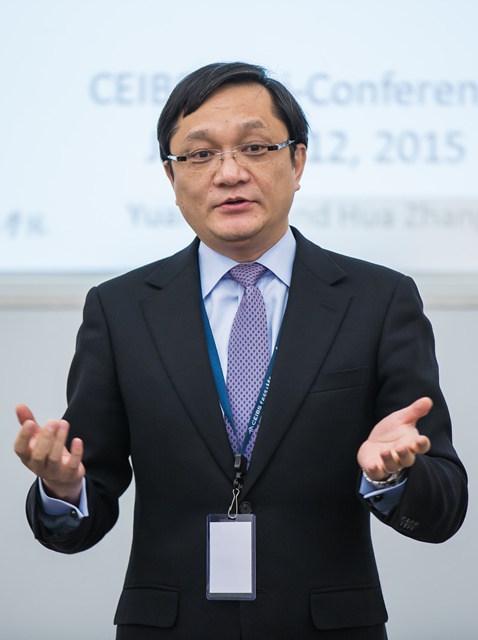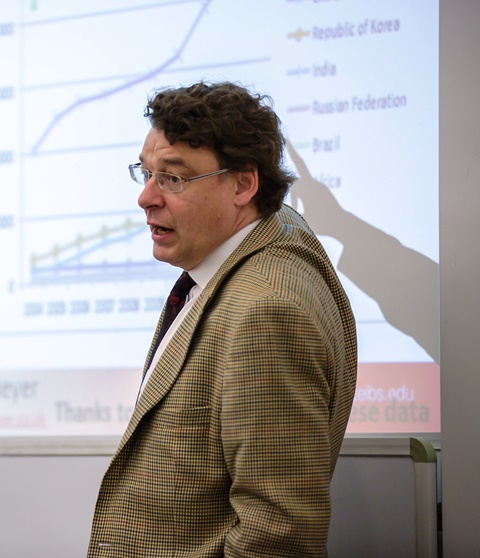 Profs Ding Yuan and Klaus Meyer
Throughout the day, there were presentations and spirited discussions on issues related to family business, entrepreneurship and the performance of government-run firms – all within the context of emerging economies. Presentations included CUHK Prof. Shige Makino's look at how passion, which drives innovation within organisations and is transferred across borders, looks a lot like the way physical heat is conducted.  CEIBS Profs Ding Yuan and Zhang Hua shared their research on the role diplomatic relations between countries plays on MNEs location choices. And NUS' Prof. Chi-Nien Chung looked at the importance of family when business groups are making decisions about how to diversify family businesses.

University of Cambridge's Prof. Peter Williamson gave his assessment of whether or not Chinese overseas acquisitions are actually creating value, while CEIBS Prof. Klaus Meyer looked at how Chinese companies, sorely lacking experience in managing overseas, run the businesses they acquire abroad. Warwick University's Prof. Kamel Mellahi's presentation looked at how Indian multinationals learn from their overseas acquisitions, University of Toronto's Prof. Becky Reuber looked at how family firms go global, while CUHK's Kevin Au honed in on the internationalisation efforts of Chinese family businesses from the mainland.  The day's final presentation by CEIBS Prof. Jean Lee provided insight on how the leadership style, particularly benevolence, of family business founders impacts their successors' decisions and readiness to take over the firm.   
This year's event was co-organised by two influential centres at CEIBS, the Research Center for Emerging Market Studies (RCEMS) and the Centre for Family Heritage (CFH). It was chaired by CEIBS Profs. Meyer and Lee who respectively head the RCEMS and CFH. CEIBS Dean Prof. Hellmut Schutte made opening remarks while CEIBS faculty who moderated the various discussions included Profs. Chen Weiru, Ramakrishna Velamuri and Oliver Rui.