By June Zhu
Three months ago, Vijay Nadipineni moved into a service apartment nestled in the heart of bustling Shanghai. Not far away from his 18th floor balcony is one of the city's most well-known landmarks, Xintiandi. In the distance, an overpass that battles sleek buildings for attention transports cars, like toys, in a slow-moving line. Their headlights pierce the darkness in a city that never seems to sleep. The din doesn't reach Vijay's balcony, transforming the hustle and bustle below into a beautiful but silent show. "I like this place," he says.
Then, he was still a student, still President of CEIBS MBA 2014 Student Committee. He graduated in April and he's now Director of Property Management at DongDu International Leisure. So these days, at 6:30 in the morning when many people are still asleep, Vijay is up doing yoga and meditating. This attention to his physical and spiritual health has been combined with reading a book on ancient Indian philosophy. The book has had a profound effect on him, leaving him with the certainty that "there's no good or evil; everything has two sides." This has shaped the way he tackles interpersonal relationships and his perspective of the difficulties and opportunities encountered during his adventures around the world.
A long way from home
Born and raised in India, Vijay immersed himself in the country's culture during his teenage years. Then, at 18, after earning a bachelor's degree in hospitality management, he worked briefly with one of the biggest hotel chains in India. However, as a young boy with a passion for the unknown, he hungered for an adventure in a foreign land. "Most people where I'm from either went to the US or the UK, but I wanted to go to someplace not many people had been," he says. It happened that he knew someone in Tanzania and, when he was 19, Vijay embarked on a journey to Africa.
"The best part of being in Africa was that I had nothing to lose, and I didn't have a lot of responsibilities," he explains. But the proud young man wasn't totally carefree. His biggest fear was of going back home as a loser. In his first five months in Africa, he had four different jobs. Then his luck changed. He landed a job in a hotel and this turned into a three-year stint as restaurant manager. It was also the beginning of his 13-year career managing restaurants. He grew up during those years, from a boy who shied away from making eye contact with strangers to a man who could effortlessly engage his customers. He also developed his own style of management. "The beauty of nature as well as the generosity of the people in Africa impressed me and I started to understand that life was not about wealth, but about our natural instinct to pursue happiness," he says.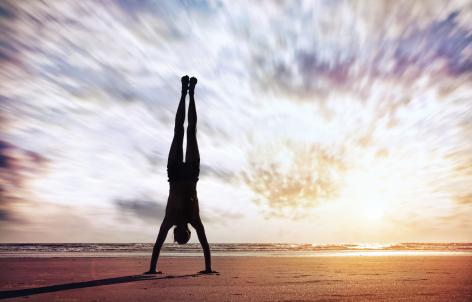 Building a delayed dream in the UK
His goal had always been to do an MBA after working for three years. In fact it took him 13 years to fulfil his dream. After five years in Africa Vijay flew to the UK, eager to begin studying. It was only then that he realized he didn't have enough experience to get into the top universities. He had to change his plan. He did a postgraduate diploma at Greenwich School of Management, then later worked as a restaurant manager in Bolton. After completing a mandatory five-year stint as a restaurant manager as stipulated under the terms of his immigration status, he became a permanent resident and was free to do any job he liked. But while waiting for his residency papers he joined his former boss to open a modest specialty restaurant. They called it Flavours. "At the beginning, it ran brilliantly. As the partner and manager, I had more opportunity to make my own mark on business, and within the first eight months we successfully recovered our investment," he remembers. But, it didn't last long. The recession of 2008 took its toll on the business, and Vijay and his partner had to trim costs. "It was stressful, our revenue dropped sharply," he explains. But it was also an opportunity to learn. "My investor was much older and more experienced than I was, and I learnt business strategies such as cost saving and how to move on with minimum loss."
Struggling to keep the business afloat, he remembered his original idea of doing an MBA. But he still felt that his CV wasn't impressive enough. "I needed to find a job in a top multinational, a well-known company," he says. The first offer came from Queensway Hospitality, a lead franchisee for KFC, and he left Flavours. This was a huge change from managing specialty restaurants to the fast food industry. Even though it meant he would have to take a pay cut and that he would be managing a much smaller operation, he knew he could learn a lot. Within six months of taking the job, he knew he had made the right decision. With Vijay at the helm, the KFC restaurant that had been racking up losses for three consecutive years finally turned a profit. He had simply applied the cost-management skills he had learnt from running Flavours. He was soon rewarded with a transfer to a high-revenue-generating KFC franchise. However, even though it was profitable, the new location had its own problems – for 33 consecutive times it had failed to meet the company's operational standards. "The local staff were not easy to work with. They just didn't follow standards. The first three months were hell!" recalls Vijay. He had to learn how to be tough, and how to keep safe even when irate employees slashed his tyres or scratched his car. "Sometimes I drove to the restaurant and didn't have the courage to get in; so I drove around it, and then went in," he says. Despite the stress and constant challenges, Vijay led the restaurant to meet operational standards three consecutive times, and received the "Champions Club Award" for his overall accomplishments.
This was in November 2011, eight years after he had first arrived in the UK.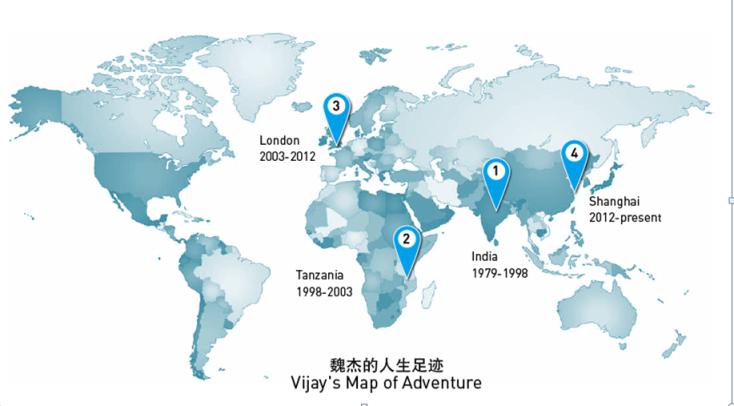 Next stop: MBA
He had gained a lot of experience as an entrepreneur, as well as an employee at both small and large organisations. Next he conquered the GMAT and began applying to MBA programmes. As an Indian who had lived abroad for more than a decade, he wished he could go back to his homeland, and his first choice then was the best business school in the country – India School of Business (ISB). He failed the recruitment interview the first year, and the next year he drove to London to attend MBA fairs, hoping to talk to ISB recruiters. However, this time he was fascinated by a business school located in China – CEIBS.
"CEIBS was among the top 20, and it's located in China; everyone wanted to go to China. I had the feeling that my strength is international exposure, and China would definitely add to that. Though there were negative media comments about the country, I had met and liked Chinese people over the years. Unlike Indians who were willing to stay in the UK because they thought it offered more opportunities, many Chinese preferred to go back home since there were even more opportunities in China," says Vijay. He had also been impressed by Chinese investment in Africa during his time in Tanzania. "Just before I left Tanzania, I heard about Chinese companies investing in a nearby town. That was about 13 years ago, and it had just begun. But after several years, when I visited the country again, I saw that Chinese companies were overtaking the Europeans and South Africans in investing in the country." All of these factors shaped his decision to pursue his delayed MBA dream at CEIBS.
In 2012 Vijay and more than 200 classmates from various countries began their CEIBS MBA. Thanks to strong interpersonal skills honed over years, he was elected Student Committee President of MBA 2014. "Before the school officially opened, I participated in the pre-course. Within two months, I got to know 80% of my classmates, earning their respect and trust," he says. In his two years of service, Vijay was devoted to boosting pride in their class – and in CEIBS. He's still working on strengthening the bonds between groups of students not only from different cultures but also different industries. Just before graduation in April, Vijay proposed the idea of an Alumni Liaison Community, which means there will be at least 10 students working to keep their entire class together even though they are scattered all across the world. They have agreed to interact with and pass information among members of the community by using social media and emails. The aim is for students in various regions, for example Europe, to meet every three months. Vijay sees the Alumni Liaison Community as a great platform through which classmates can explore professional and business opportunities as well as give back to their alma mater.
Looking back at his time at CEIBS, Vijay has fond memories and a lot of gratitude. "Some professors such as Prof Bala Ramasamy, Prof Xu Bin, and Prof Nikos Tsikriktsis, just sitting in their classes was fun and insightful," he says. His Chinese classmates were also a pleasant surprise. "Their soft skills, the way they deal with other people, opened my eyes. I always thought I was the smartest guy before coming to CEIBS, but most CEIBS students were actually smarter than I am," he says. At CEIBS, he also learnt how to dance. "I never danced before CEIBS. Maybe it was because I was back in school, maybe it was because of the friends I made here; I was able to dance for the first time in my life," he says with a smile.
When he wasn't in class, studying, or leading his fellow classmates, Vijay was mentoring three university freshmen as part of his commitment to the CSR alumni club's CEDAR programme. The sessions took place every three months and the students were always from outside Shanghai. "I enjoyed passing on what I had learned from being exposed to the wider world," he says. Today, he uses these same skills on the job. "I think employees find it easy to talk to me. Some people look to me for advice."
He still has a lot to learn as an Indian working for a Chinese company, but he's ready for anything. "In my eyes, there are no challenges – only opportunities. They are just two sides of the same coin. I just need to flip the coin and look at the positive side," he says. He will rely on his strengths in cross cultural communication, his ability to interact with people one-on-one, and his understanding of both the eastern and western ways of thinking. "If you are able to demonstrate that you are open, people are happy to explain things to you and teach you," he says. This eagerness to learn should come in handy for his long-term goals. "I will stay in China until my Mandarin improves, it may take me another two to three years. After that, I'm open to being anywhere. My goal is to contribute to humanity." He adds, "Ultimately I hope I don't have to work just to earn a living, but actually do something that I truly want to do, something that makes it possible for me to give back to society. I started late, so if I can get there before 50, I would be happy."
Fast Facts
Age: 35
Education: 
Bachelor in Hospitality Management, Hospitality Administration/Management 1995 – 2008
PG Diploma in Management Studies, Business Administration and Management, General, Greenwich School of Management 2003 – 2003
China Europe International Business School 2012 – 2014
Favourite food: Anything home-made 
Hobbies: Reading, meditation, fitness
The person he most admires: His father who did his MBA in his 50s, then a PhD, and is now in law school. 
Favourite scenic site: The view of Pudong from the Bund
Motto: Live and learn