CEIBS Alumni Association USA Chapter (CAA-USA) was launched in New York City on July 28 with more than 120 alumni registered, making it the largest of CEIBS' 14 overseas Alumni Associations. The new Chapter pushes the number to 54 across China, Europe, Africa and North America. European Chapters include the UK (London), France, Switzerland, Germany and Spain; the Singapore, Korea (Seoul), India and Philippines Chapters are in Asia; while the Ghana Chapter is in Africa and the Canada (Toronto & Vancouver) and USA Chapters are in North America.
Said CEIBS President Professor Pedro Nueno during the launch of the CAA-USA, which also included a seminar on how Chinese companies can go global, "It's our pleasure to attend the CAA-USA inauguration ceremony which extends our Alumni Association network further to the USA. We believe the CAA-USA will continue to follow the CEIBS mission, China Depth, Global Breadth, and build a strong connection between the US and China in both the economic and cultural arenas." He added, "At CEIBS, our alumni are our most valuable asset and are permanent members of our big family. The Alumni Association is an important channel to both serve these stakeholders and tap into this resource."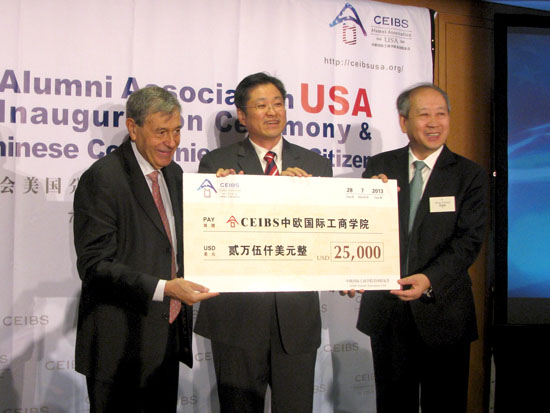 CEIBS boasts the largest alumni network among business schools in mainland China. After 19 years of development and growth, the school's Alumni Association now represents over 13,000 alumni of CEIBS and its predecessor CEMI, and increases its roster by roughly 1,500 fresh graduates yearly.
"Serving our alumni and developing alumni organizations has always been one of our top priorities," said CEIBS Vice President and Co-Dean Professor Zhang Weijiong. "We believe that CAA-USA will provide great support to our alumni, enabling them to become deeply involved with the local business community, effectively communicate with local government & industry leaders, optimize their resources and build a solid reputation for the CEIBS brand in the US."
The CAA-USA covers the entire continental USA. It brings together graduates and industry leaders who will participate in organizing seminars, workshops, clubs, and reunions. Activities organized by the Association will allow alumni to update their management knowledge, share experiences and insight, create business opportunities, maintain friendships, and pursue career development.
For more information about the CAA-USA and/or its upcoming events please contact Feifei Zhang at info@ceibsusa.org or by calling +518-779-4896.