SIEMENS Cup China MBA Healthcare Industry Business Innovation Competition
Sunday, April 13, 2014
SIEMENS Cup China MBA Healthcare Industry Business Innovation Competition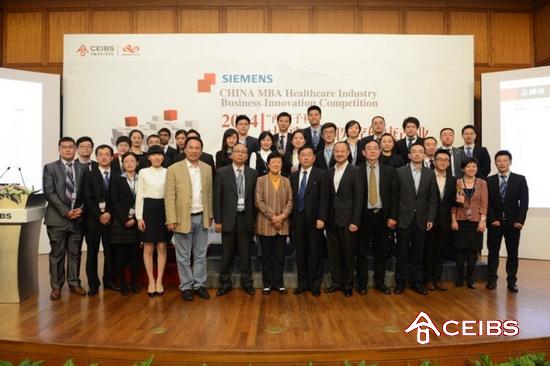 April 13, 2014. Shanghai – Eight teams from leading business schools across China demonstrated their abilities at research, analysis and innovation today as they competed in the final round of the "SIEMENS Cup" China MBA Healthcare Industry Business Innovation Competition at the CEIBS Shanghai Campus. Organized by CEIBS MBA students with assistance from the CEIBS Centre for Healthcare Management and Policy and the CEIBS MBA Healthcare Club, the overall theme of the competition was "Innovation of Non-public Medical Services". Teams were required to prepare in-depth case studies on a variety of areas, such as medical insurance, big data applications for R&D of new pharmaceuticals, private hospital management, chain medical services, pensions and mobile medical services. 
After a fierce competition, first place was awarded to the team from Peking University, who prepared a case study on Beijing Sanbo Brain Hospital. The CEIBS team tied for second place with Zhejiang University.
The SIEMENS China MBA Healthcare Industry Business Innovation Competition is the first MBA competition in China focussed on innovation in the healthcare industry. It aims to help improve the development of China's healthcare industry as well as deepen the reform of China's healthcare system. This year, 38 teams from 15 schools entered the competition. The eight teams who made it to the final round are: 
- CEIBS;
- Peking University;
- Zhongshan University;
- Qinghua University;
- CKGSB;
- Shanghai Jiaotong University;
- Zhejiang University; and
- Manchester University.