By Kelly Chen & Shawn Shen
With Wang Jianhua (EMBA 2011) at the helm, the large state-owned enterprise Shandong Gold Group fought off a take-over attempt six years ago and went on to transform itself into a nationwide industry leader. Today, Shandong Gold is ranked #1 in China in both gold production and gold reserves. The stock of its subsidiary, Shandong Gold Mineral Holding Co Ltd, increased in value more than 34 times in the last 10 years and in 2012 Shandong Gold Group was cited by various domestic media as one of the companies whose stock had grown 10 times within 10 years. Wang Jianhua's inspirational leadership has played a major role in the company's success.
His unique and highly effective management style embraces the concepts of creating value for all stakeholders, recognizing employees' efforts and operating a socially responsible enterprise, all within the framework of a clearly defined corporate culture and core values. Having worked his way up from the grass roots level, Wang knows the vital role played by production line workers and ensures that they share in the benefits of corporate growth. He's also a huge fan of continuous learning and professional development, which led him to enrol in CEIBS' EMBA programme in 2011.
Now, convinced that his management team – and the company as a whole – would benefit greatly from studying at CEIBS, he has invited CEIBS to run a one-year Company Specific Programme for Shandong Gold Group. This is a vital step in the company's journey to become an internationally-recognised, globally competitive enterprise. 
TheLINK: Shandong Gold Group owes its steady development to your shrewd management skills. What strategies have you used to grow the company since you took over in 2006?
Wang Jianhua: There has been a three-pronged approach to the company's development in recent years.
First, we realised the importance of establishing our own corporate culture and identifying core values. This involved getting input from all stakeholders. Our ultimate goal is for Shandong Gold Group to provide the most possible benefit to the largest number of people. We are the first company in the Chinese mining industry to adopt the concept of "ecological mining". This approach embodies harmonious, environment-friendly development which benefits not only our shareholders and employees but also the people who live near the mines – and their relatives for generations to come.
Second, we devised and implemented the principle of leveraging internal and external resources to strengthen our operations and provide a solid foundation for future growth.   Third, we decided to publicly acknowledge our employees' role in helping to grow the company. Within the framework of our corporate values, we try to inspire a certain level of awareness of, and among, production workers. For example, we always have their pictures within the first pages of our corporate brochures, and we conceptualised China's first miners' festival, featuring our employees instead of celebrities. Our employees took pride in and actively participated during the event. The ordinary miners are the core of our corporate culture, an indicator of our commitment to people-focused scientific development. These are the sources of Shandong Gold Group's core strength as it emerged from obscurity to its current role as an industry leader.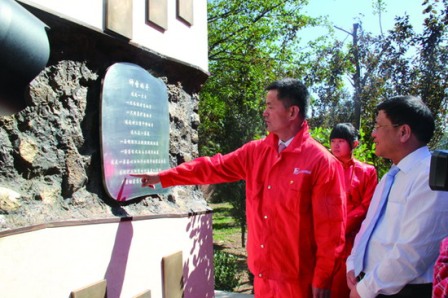 TheLINK: What concrete measures have been taken to leverage the company's resources to strengthen operations and ensure future growth?
Wang: In terms of leveraging our resources, we integrated some small, scattered mines into our wider operations. These are mines which, because of restrictions in terms of their scale, rarely had any breakthrough or any prospects for long-term development. We set a common goal for them and unified their management and support systems. The positive results were instantaneous. 
As the same time, we went ahead with reforming other areas such as overhauling our organizational structure. We had transparent, open discussions and established a group-wide method of assessing our goals. We clearly outlined targets for cost reduction, boosting profits, etc, and these were complemented by a scientifically-based salary system and an effective method of performance assessment. Each stage of the discussion was open and transparent. The entire team, not just the leaders, knows what the company's goals are and our plans to achieve them.
For gold producers, 'resources' is king. So in terms of strengthening our operations to provide a solid foundation for future growth, we focused on beefing up our resources.
During the 11th Five-Year period, we have invested more than RMB 16 billion to merge 22 mines. Now our group has the rights to 177 domestic and overseas mines, with a total exploration rights area of 2,600 square kilometres, involving more than 10 types of mineral resources such as gold, iron, molybdenum, etc. Our resources are valued in excess of RMB 1,000 billion.
One of the key issues that large, state-owned enterprises need to explore is how to position mining production as a virtuous circle of resource exploration, construction, production and capitalization? We've made a bold step, converting resources into solid assets and generating earnings, enlarging financing capability through the capital market, then entering the next phase of the circle. This approach has been effective. Now we are planning to establish a Gold Centre along the Huangpu River in Shanghai and to become involved in the financial economy.
TheLINK: What is the group's goal for the next 5 to 10 years?
Wang: "Let the labourers become rich!" That's the slogan I proposed in our 12th Five-Year Plan, and it's also eagerly anticipated by frontline employees. We are doing our best to improve their skills with the hope that our blue-collar workers can move up to be gray-collars, even white-collars. In the past, we have had some mining teams led by employees with bachelor's and master's degrees, and it is our vision that every miner in the company has a bachelor's degree. This is the direction being taken in the future development of digitized mining.
In the next 5 years, our non-ferrous metal business should have a niche in China, even in Canada and London. Our goal is to create an internationally recognized, globally competitive Chinese brand.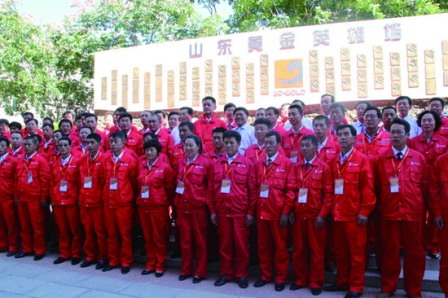 TheLINK: You have already acquired strong management skills and years of practical experience. Why did you choose to enrol at CEIBS?
Wang: I spend about one-third of my time reading, learning and writing. Every qualified manager should spend time studying. My most important reason for enrolling at CEIBS was to place myself in a 'whirlpool' that represents contemporary economic development and management trends; a multi-faceted and open atmosphere. Presidents of China's Top 500 companies, who are my age, tend to formulate our business models based on tried and true methods that have been effective in the past.
However, these models often hinder the companies' further development. I want to carefully assess Shandong Gold's current development strategies, review what we did in the past, revise plans for the future as needed, and compare my own approach to others' ideas on how we can improve.
The other reason I enrolled at CEIBS: I want to keep thinking. In my company, employees usually follow my directions and rarely question my requirements. But, at CEIBS I was no longer in control. I had to attend lectures, do homework, communicate with classmates and I always had to keep thinking. Also, my opinions were often questioned by others. In this regard, CEIBS provides a platform for senior executives to grow.
For those who think their age, seniority on the job, their high level of technical or professional proficiency is all they need, I'd like to urge them to seriously think about going back to school. Go back to the basics. In gold industry terms, they should accept 'forging' all over again to increase their 'gold content' and then return to their posts better than they were before.
TheLINK: How will Shandong Gold benefit from the training projects it has already initiated with CEIBS?
Wang: We attach great importance to employee training and so we are doing a one-year CSP at CEIBS. There are a number of different goals:
We want to provide our management team with a shared "language". For example, when someone mentions management modules, others will immediately understand what he is talking about. This will improve our efficiency.
Our managers – who work at mines scattered in various provinces and even different countries – would come from all around the world to study at CEIBS, communicate with each other and share information about various markets.
I also hope participants will make learning part of their work, and part of their life in general. Some managers treat on-the-job training as an opportunity to rest. They tend to relax when they attend classes. I attended three to four other schools' management courses before I went to CEIBS. CEIBS' course is more professional, it's rigorous. There are also opportunities to interact with many outstanding entrepreneurs.
TheLINK: You have been doing the EMBA course for more than a year. What is the most important lesson learned so far?
Wang: Chinese companies are enormously influenced by social culture. Their organizations are normally hierarchical and managers pay very little attention to employees. But the education we received at CEIBS can change our management style.
I also learned that the key for companies to go abroad is the internationalization of talent. For a traditional state-owned company, the diversity of CEIBS' faculty and the school's multi-cultural atmosphere can provide a broader field of vision and rich perspectives for our managers.
Finally, when we designed the training curriculum with CEIBS, we intentionally selected courses such as business strategy and corporate culture. In the mining industry, we traditionally emphasize process management; it is more stylized and systematic. We hope to add more people-focused elements into the system and challenge the existing mindset with international cases. I think it will be rather beneficial for our managers.