Servimex CEO Talks with MBA Students on Brand Building in China
Wednesday, April 30, 2014
Servimex CEO Talks with MBA Students on Brand Building in China
April 30, 2014. Shanghai – The dual challenge of creating a new home furnishings and accessories brand and using it to enter the Chinese market was the topic of a talk today by Servimex CEO Mr. Pascal Schneidinger. His visit with CEIBS MBA students was organized by the MBA Entrepreneur Club and the CEIBS Career Development Centre.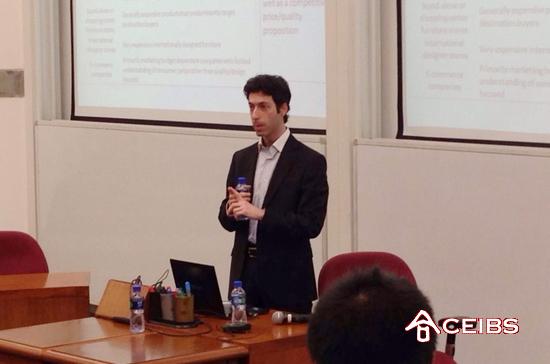 Servimex CEO Mr. Pascal Schneidinger
Mr. Schneidinger is among the third generation leading the Schneidinger Group, a Swiss-based family business that has been known in Europe for its 90-year history of supplying high quality and fashionable fabrics to garment companies and departments stores. As Mr. Schneidinger explained, when his generation took over the company, they decided to expand its product line to include furniture, and they wanted to enter the Chinese market. The company created the Servimex brand of affordably priced European-designed, quality furniture, home textiles and accessories specifically for the Chinese market. He discussed with the students the many challenges the company faces in launching a new brand and business model in a new market, which he said include brand positioning, and selecting and managing retail locations.  
He also spoke to the students about his career path – which began in the private equity industry. He encouraged CEIBS MBA students who are interested in the retail industry to explore internship and employment opportunities with Servimex.