Renowned Psychologist David G. Myers Lectures on Happiness
Saturday, October 11, 2014
Renowned Psychologist David G. Myers Lectures on Happiness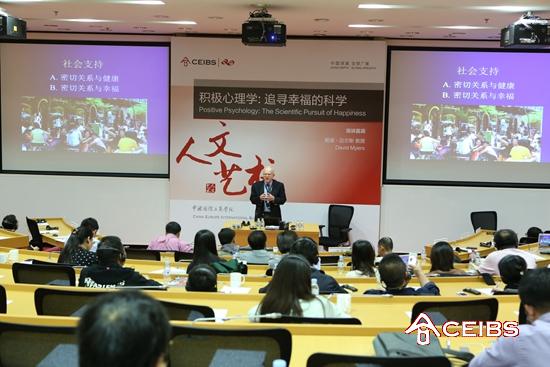 October 11, 2014. Beijing – More than 100 alumni turned out today to hear renowned psychologist and author Professor David G. Myers lecture on "Positive Psychology: The Scientific Pursuit of Happiness" at the school's Beijing Campus.
Money and religious beliefs are closely related to one's sense of satisfaction, said Prof. Myers in his lecture. Other factors such as age, marriage, gender and location also come into play. According to Prof. Myers, after one's salary reaches a basic level, one's sense of happiness doesn't move proportionately with the growth of personal wealth. He suggested that rather than focussing on wealth accumulation it is better to pay attention to things such as family, friends and community, which are more likely to bring happiness.
He also shared suggestions on how to attain happiness. These include proper time management, regular physical exercise and having an optimistic attitude towards life, he said. Visiting Professor and Director of the Department of Psychology at Tsinghua University, Peng Kaiping attended the lecture and introduced Prof. Myers to the audience.