I enrolled in the China Europe Management Institute (CEMI) in 1986 after passing the examination given by the State Economic Commission. It was a three-year MBA programme at that time. The first half-year was spent on English-language study, followed by two years of studying management, and the last half-year we studied abroad.  When I entered university in 1978 I majored in management and I had taught some management courses, so the CEMI programme was of great interest to me.  It was conducted in English and the faculty included renowned professors from Europe. There was a great deal of pressure on us students, partly because of the language.
The overseas internship in the final six months of the programme played an important role in my life. It broadened my perspective and values, and gave me a deeper understanding of foreign management practices. Even more importantly, it enabled me to meet someone who would become my close, lifelong friend Nowl Dendoncker.
Through the CEMI programme I had an internship in Belgium at Bekaert, a multinational focused on steel wire transformation and coatings. Assistant Director of the East Asia Division, Mr Dendoncker, was assigned as my mentor. Well-dressed and of average height, his black hair and square-jawed face gave him an East Asian appearance although he was European. Mr Dendoncker prepared a detailed training plan for my six-month internship, which included introducing me to the operations of various departments such as supply, sales and R&D. He required that I write weekly reports and I benefitted greatly from his strictness.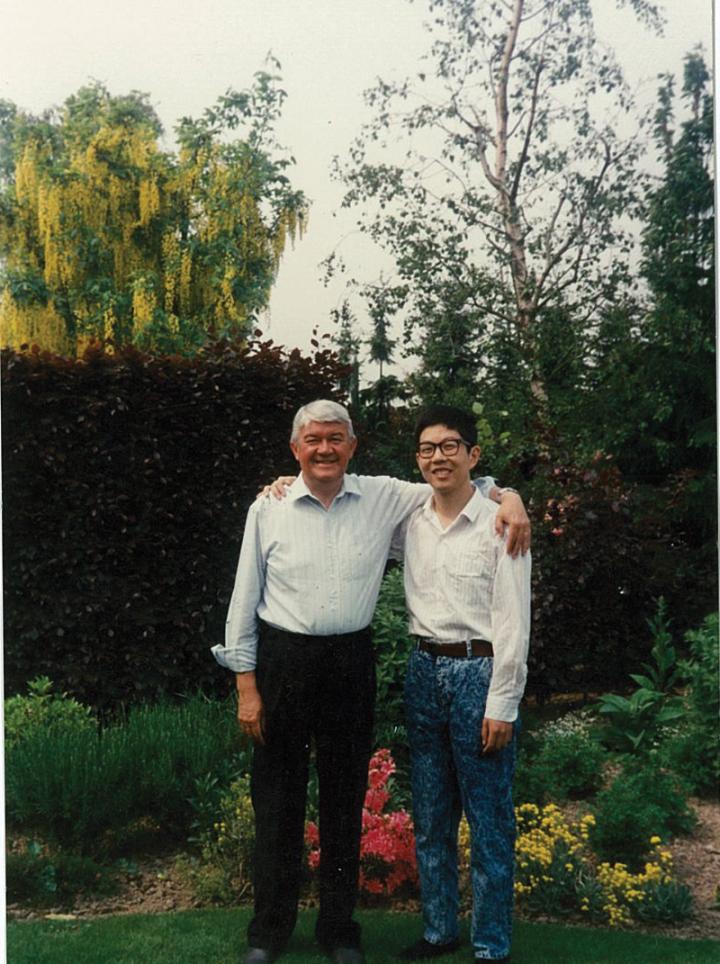 My office was just next to his. When time permitted we would chat, and China was usually the focus of our discussions. Like CEMI Director Jan Borgonjon, Mr Dendoncker had a deep interest in China. He also took great care of me. Almost every week he would invite me to his home for a meal, and he would take me sightseeing around Belgium. We became very close friends.
When my internship ended, the company chairman asked me if I wanted to stay. But I chose to return to China. My wife had just had a baby, and I was already in my 30s, so I was not able to completely identify with the European worldview and values. Though I had to say farewell to Mr  Dendoncker, our friendship remained strong, despite the huge distance between us.
When I returned to China my monthly salary was only around RMB 100, life was very difficult. Every year at Christmas, Mr  Dendoncker would send me $US 300, which at that time was a really big fortune.  He continued to do this for 10 years, until my financial circumstances improved. When we were celebrating a festival, I would call him and send him some special dishes from my hometown. In my heart, he was the same as a relative.
He visited China five times over the years. During a visit to Xi'an when he was in his seventies he broke his legs in a fall at a ski resort and had to be carried by a stretcher onto the plane. After that, his wife thought they were too old for long distance travel.  But he still made the effort to visit me in Xi'an once more with his granddaughter. I visited him in Belgium in 2000, staying in his house for a week.
When my son went to Britain to study in 2002, our two families met in London. When the women went shopping, he and I went to a bar for a drink. Full of emotion he said, "Liu, see, we are back to the old times again." Suddenly I realised how much he had aged; his black hair was now grey. I had been planning to see him in August of 2014, but had to change my visit to April. We took a photo together on April 12 in front of his daughter's house in Brussels. He looked quite fit, and had even driven himself that day. "Liu, I've been to China five times, and you have only come three times to see me," he said. "You owe me two visits, you should come again." However, in the evening of April 18, he passed away.
It seemed to me that it must have been fated that I was able to see him just before he died. And despite my sadness, I feel that he was able to go so peacefully as a reward for his kind deeds.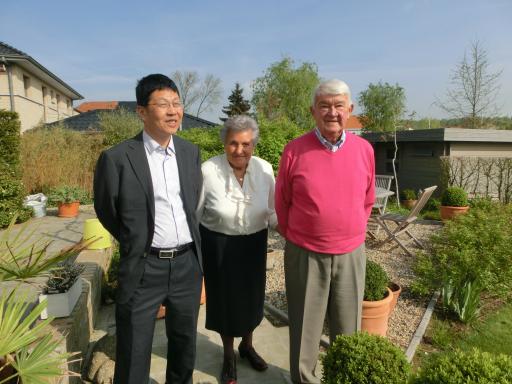 Despite the passage of time, many memories are still quite vivid. I can still recall the moment when I finished my internship and was preparing to leave Europe, the Vice Chairman of Bekaert's Far East Division said to me, "Liu, don't be sad. In the mid-1930s, I lived in the US, and barely had enough food and clothing. Given how quickly China is now developing, I am sure that you will have a house and car, and life will be very satisfying. " Back then, when my classmate Zhang Falin and I would see all the cars on the streets of Brussels, we both thought to ourselves that if we could buy a car in our lifetime, that would be good enough. Now, 20 years later, I've had three cars. Every time Mr  Dendoncker visited me in China he found my living conditions improved. I believe he was deeply proud of China's development over the years.
I am so proud of CEMI. CEMI recruited excellent faculty from Europe, and was always a world-class MBA programme. Though life in China was very difficult then, those behind CEMI truly understood how significant management education had been to Europe's post-war economic development and how it could benefit China's development. Motivated by an interest in and love for China, the professors shared with CEMI students the most advanced management theory and practices.
After graduating from CEMI, I taught at higher-education institutions and worked as a loan officer in a bank. My most recent post is General Manager at Xian Qujiang Cultural Industry Investment Guarantee Company, which is one of the top guarantee companies in Shaanxi Province. How do I build corporate culture? How do I lay the foundation for the business and focus its development? I learned the answers to these questions during my study at CEMI. I also learned a lot from Mr Dendoncker. His thrift, simplicity, dedication to his career, and his love for family and friends; all these things have influenced me, and have made me feel cared for throughout my life.
About China Europe Management Institute (CEMI)
During negotiations on strengthening economic and trade cooperation with the European community in early 1980, the State Economic and Trade Commission had the idea of introducing management training to China. At the same time, in Brussels, Professor Pedro Nueno, then Executive Vice President of the European Foundation for Management Development (EFMD), was discussing this same issue with his colleagues. After many discussions, both parties decided in early 1983 to collaborate on an MBA programme in China. In December that year, the China-EC Management Programme was officially launched, and was renamed the China-EC Management Institute (CEMI) in 1989.
CEMI turned out 247 Chinese MBA graduates between 1984 and 1993, and offered short-term training to more than 540 senior executives in that period. This deeply influenced China's economic reforms at that time. CEMI developed an international management education system that combined classroom teaching with social practices. The programme responded proactively to changes in the business environment, and is regarded as a pioneer among those in China's education circles. CEMI recruited first class faculty from Europe, which became the cornerstone for the excellent faculty now at China Europe International Business School (CEIBS). In addition, the more than 3,000 foreign language economic management books that CEMI sent to Shanghai made up the initial collection of the CEIBS library. When CEMI relocated to Shanghai in 1994, it marked the official founding of the China Europe International Business School, and since that time the traditions of CEMI have been further enhanced and developed by CEIBS
(Source: School History of China Europe International Business School)