By Lei Na
Zhang Qiang (CEIBS EMBA 2002) is no stranger to success in the Internet Age. In 1997 he was among the co-founders of online.sh.cn, one of China's first websites to offer news and local services, then went on to found the gaming site the9.com; both listed in the US on the Nasdaq stock exchange. He then turned his attention to developing a Chinese audio streaming service, and it seems that his skill at creating successful start-ups has produced yet another winner.
Launched in October 2011, Qingting.fm provides a platform that pulls together a wide variety of audio content from around the world, including broadcasts from more than 3,000 radio stations, audio books, magazines and newspapers, as well as some original programming. Besides making its App available on multiple digital devices, the company is now working with leading automakers to take its service into passenger cars.
"Among traditional media, print and video have been very well developed for digital," said Zhang, President of Qingting.fm, explaining how the idea for the platform came about. "I thought there was still a lot of room left to develop audio, particularly as we move into the mobile Internet era, as mobile offers many unique advantages for audio platforms."
The aim of providing the best user experience guided development of the App. "We believe the ideal App combines simplicity and personalisation with a wide range of functions, including a way for users to interact with one another," he said. "We aim to develop an integrated audio platform for mobile phones, automobiles, wearable devices and so on. We are devoted to providing the best voice to our users."
Zhang's philosophy has paid off so far; the company says it currently has 80 million users, making Qingting.fm China's largest audio streaming platform. That's twice the user base of Spotify, the globally popular music streaming service that was launched by a Swedish start-up in 2008 and is now estimated to be worth around US$ 4 billion. It's also significantly more users than Beats Music, a streaming music service created by Beats Electronics which drew a US $3 billion buyout offer from Apple in a deal announced this May.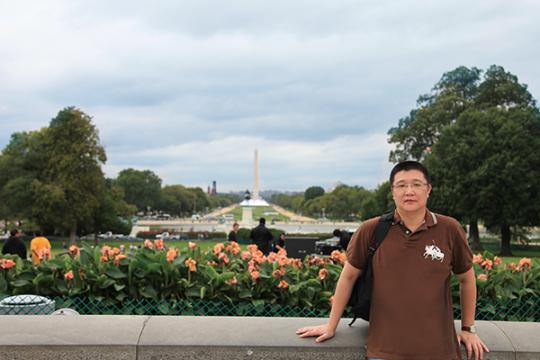 Zhang Qiang
The platform also caught the attention of the CEIBS-Chengwei Venture Capital Fund. Established in 2012, the fund aims to help CEIBS students and alumni with early-stage start-up companies to raise funds. It has three primary aims: providing equity financing for CEIBS students and alumni, promoting student and alumni entrepreneurial activities by leveraging business resources inside and outside of the CEIBS community, and supporting the school's teaching and research by investing in projects that will deliver a return on capital invested. The Fund's investment committee includes CEIBS Executive President Prof Zhu Xiaoming, President Prof Pedro Nueno, Honorary President and Chairman of the CEIBS Education Foundation Liu Ji, Vice President and Co-Dean Prof Zhang Weijiong and the co-founder of Chengwei Venture Capital Fund Mr Li Shimo.
"They have the perfect business plan, so they can raise funds successfully," President Nueno said of Qingting.fm.  When asked to explain what factors influenced the funds' decision to invest in the company Wang Hao the investment manager for Chengwei Venture Capital Fund said, "When it launched, Qingting.fm quickly managed to attract 5 million active users without spending a jiao on advertising." They were also impressed by the fledgling venture's knowledgeable staff, technological expertise, wealth of experience and penchant for quickly picking up new skills. Headquartered in the Pudong Lujiazui Software Park, the company now has hundreds of employees working on content and technology development, operations and marketing. Everyone sits together in a large open-plan office, including Zhang and company CEO Yang Tinghao. The only private space in the office is the broadcasting studio, where the company produces original programming for the platform, often with well-known Chinese personalities. "Qingting.fm has a flat and horizontal management structure," explains Zhang. "Some of the staff studied at top universities. Some have previous experience at companies such as Baidu and Google. No matter what their prior experience is, all have an equal chance to showcase their talents and leadership skills here."
Yang previously worked as Chief Technology Officer (CTO) of the US-based online video platform Hulu. After just two meetings with Zhang he sold his house in Beijing and moved his wife and three children to Shanghai to be CEO of Qingting.fm. "It was destiny that enabled Yang to make such a decision," Zhang said with a smile. "Our team members are quite diverse: some of them have returned from studying and working overseas, while others graduated from top domestic universities. We trust each other and are not concerned about individual, personal gain.  We share one common goal: to bring our vision into reality, and enhance the audio industry!"
CEIBS-CHENGWEI Venture Capital
The first tranche of the CEIBS-Chengwei Venture Capital Fund has US$ 100 million available to invest in early or growth stage businesses founded or managed by CEIBS alumni. The size of each investment can range from a minimum of US$ 500,000 to a maximum of US$ 15 million. 
Any CEIBS students and alumni entrepreneurs who are looking to raise investment funds for their start-up can submit a copy of their business plan to lamanda@ceibs.edu, or call +86 21 2890 5269 for a consultation. For more information about the CEIBS-Chengwei Venture Capital Fund visit the school website at: http://www.ceibs.edu/fund/