By Kelly Chen & Dora Tang
Chairman of the Zhongtian Development Group Co Ltd Lou Yongliang (CEO 2004) believes in lifelong learning. His relationship with CEIBS began in 2004 when he participated in the CEIBS Global CEO Programme. The business concepts he learned in this Executive Education programme have helped him steer Zhongtian Group to impressive levels of success. Under his leadership, the company, which focuses on construction, real estate development, as well as building roads and bridges, last year ranked among China's Top 500 enterprises and Top 50 private enterprises. In 2012 its output value and sales volume totalled more than RMB 50 billion. Zhongtian Group has also earned many awards for its emphasis on quality and integrity, including the first Shanghai Municipal Quality Construction Award (the Magnolia Award) in 1990, the China Quality Management Award in 2004 and the first Zhejiang Provincial Quality Award in 2010.
The Zhongtian Group's impressive financial accomplishments and long list of honours are complemented by a corporate culture that emphasizes social responsibility. The Group releases an annual Green Paper on Charity, and since 1996 it has donated more than RMB 250 million to charitable programmes – its donations in 2012 alone totalled RMB 20.6 million. Lou's philanthropy also embraces education and research. In 2012, Zhongtian Group invested RMB 10 million in CEIBS to establish the Zhongtian Chair in Management, to encourage research into the challenges facing private enterprises in China.
TheLINK recently sat down with Lou to talk about why he decided to endow a chair in management at CEIBS, how he handles business challenges such as talent management and team building, and what benefits he and his company have realized from CEIBS Executive Education programmes. 
TheLINK: How does a private enterprise like Zhongtian Group succeed in such a fiercely competitive market?
Lou Yongliang: Team building, quality control, as well as brand and culture are currently our major focuses.
Zhongtian Group insists on high quality and careful management for every construction project. Quality is everything in the construction industry. It is our baseline and demonstrates the true value of our company. However, for us, quality extends beyond construction. We are also committed to quality in our operation, team building, management, and service. We try to improve quality in a comprehensive and systematic way throughout the entire business operation.
In 2004 the Zhongtian Group became the second construction enterprise to receive the China Quality Management Award. During the assessment stage for this, we found we still had many shortcomings so we established the Office for Management Improvement in order to promote "business process reengineering".
Talent development is also crucial. A company's ultimate competitiveness lies in its employees, which are its greatest asset. Zhongtian Group currently has almost 6,000 skilled and managerial personnel. As the company develops and enters new areas, the company needs a great deal of talent.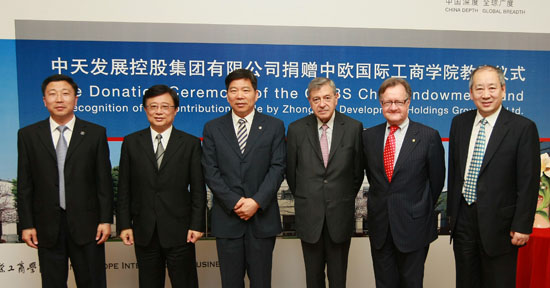 During a ceremony to mark the CEIBS Chair Endowment.
TheLINK: You mentioned that team building is one of your areas of focus. How are you improving this?
Lou: To encourage employees to take initiative, we have retooled our processes and procedures and placed more emphasis on incentives. In recent years, Zhongtian Group has introduced a series of policies aimed at motivating every employee and team to tackle the challenges of the market, which helps ensure the company's sustained development. These polices include dividends and stock options, and stock incentives. We call it our "multi-unit training plan". There is an old saying that "wealth brings people together". Fewer shares for me means there are more shares for my valued employees. Zhongtian Group requires many talented employees in order to continue to grow.
However, it takes more than money to attract and retain talent. We need to build a learning-focused organization in order to stay competitive. Zhongtian Group has developed many unique programmes to encourage this. For instance, we want nurturing managers who will feel protective of their subordinates. We look outside the company for talent when we believe an outsider's view may be helpful. While encouraging younger workers to learn from more experienced colleagues we also believe that "he who is better is the master". We also offer online training courses.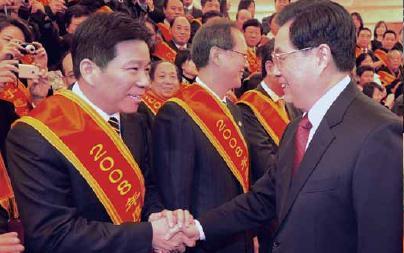 Earning recognition from Hu Jintao, China's former President.
TheLINK: Why did you opt to have your staff participate in CEIBS Executive Education programmes?
Lou: Talent development requires a systematic training programme and we have sent many senior executives and middle managers with key roles to participate in training programmes at CEIBS. Its comprehensive and international-standard training and its global view have all benefitted our managers in many ways, including business practices, problem solving, and communication skills.
I've heard that many of the Executive Education students at CEIBS are from foreign companies or state-owned enterprises. Private enterprises usually send the boss for business school training. Because of the expense, with high talent mobility private enterprises need to think carefully before deciding to spend several hundred thousand yuan to train a middle or senior manager. However, I think we should think long-term. To improve its management, an enterprise cannot rely on the boss alone. It requires the effort of the entire management team to implement new processes and procedures.
I think CEIBS is well worth the tuition paid. It has helped Zhongtian Group develop, and we will continue to collaborate with CEIBS.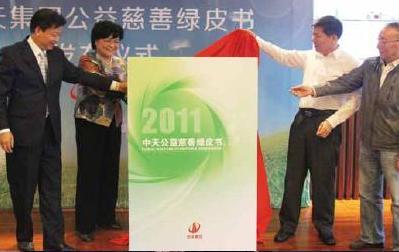 Green Paper on Charity released.
TheLINK: Why did you decide to endow a chair in management at CEIBS? Why did you choose private enterprises as the research topic?
Lou: Zhejiang has the most private enterprises of any province in China. Though they have been the pioneers for China's market economy, private enterprises have many management-related weaknesses. They need to quickly get up-to-speed on the ever-changing market environment and international standards. The merchants and private enterprises in Zhejiang Province must adapt and upgrade. This cannot happen without help from research institutions.
There are many reasons why I decided to endow the chair at CEIBS. First, I'm convinced that for a country to thrive it is critical to improve education. I read former British Prime Minister Tony Blair's memoir, A Journey. He regards education reform as one of his major accomplishments. Zhongtian Group is also active in promoting education. We have our own schools that offer international-standard education from kindergarten through high school. It's an honourable and noble cause.
CEIBS is a well-regarded institution; it teaches what an enterprise needs most to develop. I have been with CEIBS for many years and gained a great deal from the experience. It's truly a business school with "China Depth, Global Breadth". Judging from its reputation and by what I have heard myself from other alumni, CEIBS has greatly changed China's education landscape. I believe that in the future, it will make even more contribution to business education, as well as talent and corporate development in China.
CEIBS has always placed great emphasis on the development of private enterprises. Back in 2002, the CEIBS Centre of Chinese Private Enterprises was established. Now, CEIBS Executive President Prof Zhu Xiaoming holds the Zhongtian Chair in Management, which clearly demonstrates CEIBS' great concern for private enterprises in China. I have personally learned a lot at CEIBS, and hope more entrepreneurs will also benefit from what the school can offer.
By endowing the chair, I want to attract more academic support for research focused on private enterprises in China, in order to change the current "excessive-leading" but "poor-managing" situation that now occurs frequently in the private sector.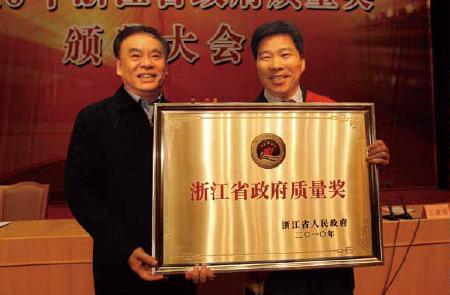 Receiving the Zhejiang Provincial Quality Award from Lv Zushan,
then Governor of Zhejiang Province.
 
TheLINK: How do you think CEIBS' teaching and research can help support Zhongtian Group's healthy growth, and the growth of China's private economy?
Lou: I hope CEIBS' teaching and curriculum design can follow the market more closely, and that it will add even more new case studies featuring Chinese companies to the existing body of classical case studies. This can benefit CEIBS as well. For example, cases can be developed on industries that have declined in China, and those that prosper. Cases can also be developed about companies that were once fast growing and healthy but are now struggling and on their last legs, and about companies that come from out of left field to take centre stage in a sector. I hope that the academic research done by expert professors can be even better geared to market conditions and corporate reality in China.
I also hope we will have the opportunity to develop research projects with CEIBS on the transformation of Zhejiang merchants. Zhejiang's private enterprises have fared quite well so far, but as the business environment changes, new challenges are constantly emerging.
 
TheLINK: Under your leadership, Zhongtian Group has supported many charitable programmes. How has this been meaningful to you?
Lou: Zhongtian Group has been very active in charity. This demonstrates our values of corporate social responsibility as well as personal responsibility.
A company must be honest and focus on quality in order to build a good reputation. We entrepreneurs can be compared to bees: on one hand, I collect honey from the industry, and make my fortune, while on the other hand I contribute to the ecosystem and give back, rather than just using resources. As the overall industry grows, honour, credibility, and overall quality improve. Everyone operates and competes in a more orderly fashion with fairer rules, and the environment of the whole society improves.
As an enterprise develops, its basic social responsibilities include paying taxes, creating job opportunities and providing superior products. Charity work cannot mitigate violations of laws and regulations or tax evasion, and mistreatment of employees.
Zhongtian Group insists on doing charity from the heart. We are sincere and honest and adhere to good corporate behaviour and values. "From the heart" means we do charitable works with a loving heart, and without hypocrisy. "With sincerity" means we are sincere to every recipient of our contribution and respect them, expecting nothing in return. "With honesty" means we are low profile, don't seek attention for what we do, and we work to make every project a success. In 2012 we donated a total of RMB 20.6 million towards charitable programmes. Much of this went towards student subsidies – in 2012 we provided subsidies to 2,068 students – as well as to poverty alleviation and disaster relief.
Zhongtian Group is also remarkable in that both the company and our employees are enthusiastic about public welfare and charity. Thousands of employees join our volunteer team; they organize and participate in various activities. Helping employees develop good values about wealth is instrumental in the sustainable development of the company.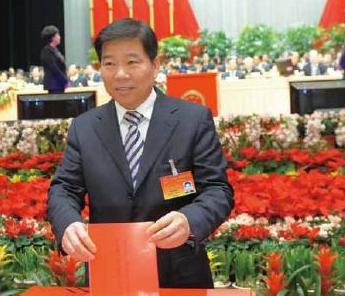 Voting in NPC's Zhejiang Committee session.
TheLINK: What does Zhongtian Group plan for the next five and ten years, as the economy and market environment changes?
Lou: We entrepreneurs must have a clear view of the market  so that we can capture all opportunities. The decade after the 18th CPC National Conference will be a great strategic opportunity.
The CPC Central Committee has said that urbanization is important to the future development of China. Since urbanization is closely linked to the core business of Zhongtian Group, this is good news for the company's future development. However, as China's reforms continue towards a more market-driven economy, China's society will become fairer, the market more orderly, and private enterprises will have greater space for development. This will also benefit Zhongtian Group. Ten years ago, the company introduced the concept of "Excellence in Every Project", and we gave our regional companies more operational autonomy. We believe that operations should be more localized in order to be more responsive to the needs of the market. Over the past decade, Zhongtian Group's annual production has grown from RMB 3 billion to RMB 50 billion, and our business has expanded beyond housing construction to include four areas of operation. This has laid a solid foundation for the future development of the group. Our current scale, strength and teamwork means that the company will see even greater development over the next ten years.
Zhongtian Group will not simply expand for the blind pursuit of scale. We want to develop advanced technologies and lead the industry towards more sustainable development. We want to improve corporate processes and procedures, and information technology. We will focus on smart buildings, energy-saving buildings, and green buildings, and a new area of focus will be the organic transformation of small towns.
Though I believe this strategy is correct, it will be difficult to implement. Zhongtian Group will need to get inspiration and knowledge from CEIBS, and I hope CEIBS will work together with us to help support the Group's development.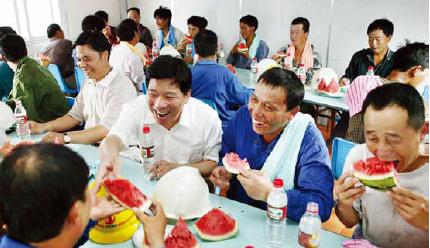 Lou with his employees.
Lou Yongliang
Lou Yongliang was born in Dongyang, Zhejiang Province. He has an EMBA from Zhongnan University of Economics & Law, he is a senior engineer, and a CPC member. He is Chairman of Zhongtian Development Holdings Group Co Ltd, a member of NPC Zhejiang Committee, Vice Chairman of Zhejiang Federation of Industry and Commerce, and Vice President of the China Construction Industry Association.
 
Zhongtian Group
 Zhongtian Development Holdings Group Co Ltd ranks among the Top 500 enterprises in China, and focuses mainly on construction, real estate development, as well as building roads and bridges. The Group comprises more than ten member companies, including Zhongtian Construction Group, Zhejiang Zhongtian Housing and Real Estate Group, Zhongtian Northwest Construction Investment Group, Zhejiang Zhongtian Decoration Group, Zhejiang New Jialian Electronics, and Zhejiang Transit Fluorine Silicon Material.
Zhongtian Group has won numerous awards, including the National Quality Award, National Civilized Unit, National Contract-Honoring and Credit-Keeping Enterprise, China's Excellent Corporate Citizen, and China Charity Award Enterprise.
Zhongtian Group strives to 'build better homes' while also building on its corporate values of social responsibility, sustainable development, honesty, practicality, and hard work.