New scholarships and expanded career support for our MBAs, an exciting London module for our FMBAs, networking opportunities for our EMBAs in China and Accra and educating Korean executives through our Exec Ed programme.
MBA
Its first ever summer school, millions of dollars available in scholarships, and an impressive career report for graduates have all made 2013 a fruitful year for the MBA Programme. 
Summertime Classes – CEIBS MBA's first ever Summer School got underway on July 3 with more than 20 participants from Asia, Europe, as well as North and Central America. The five-day full-immersion boot camp gave participants a taste of what it is like to do an MBA at China's leading international business school. 
New Scholarships – Over the next ten years, DDI Group and its subsidiary Shanghai Town & Country Club will invest a total of RMB 3 million to provide scholarships for CEIBS MBA students. And over the next five year, Longcheer Holdings Limited will finance 50% of the tuition for two CEIBS MBA students with a total investment of about RMB 2 million. About RMB 12 million in scholarships is available to the incoming class, ensuring that 70% of students can access financial aid.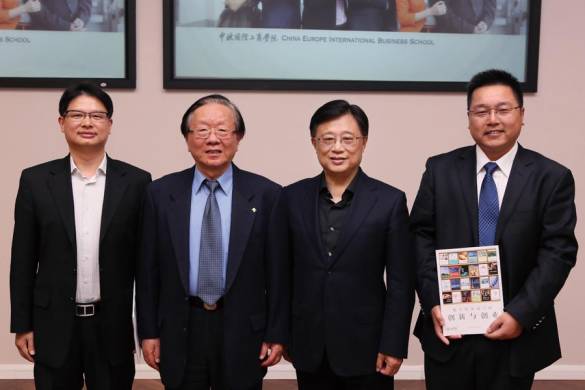 A+ Career Report – A look at full-time employment and summer internships for the 195 MBA 2011 students showed that during the recruitment season, 337 companies made 1,088 positions available to CEIBS MBA students through the school's Career Development Centre (CDC). An impressive 90.1% of MBA 2011 graduates found jobs within three months of leaving school, with an average annual salary of RMB 473,006 and 83.5% of students successfully undertook a career switch. Meanwhile, the CDC's Career Mentor Programme will see nine senior business leaders from a variety of industries work with 90 CEIBS MBA students from October 2013 to July 2014 to assist them with their career planning and job searches.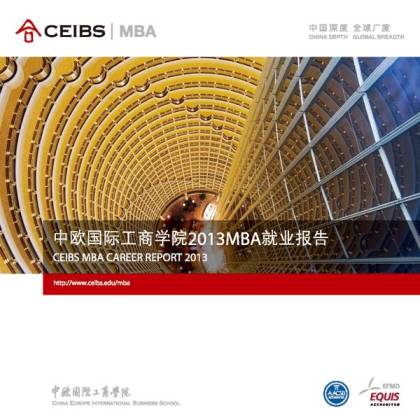 Study Tours & Treks – October was a month of travelling for MBA students. A group of 22 did a one-week study tour to Greece, led by CEIBS Professor of Operations Management Nikos Tsikriktsis, which provided deep understanding of the country through lectures, company visits and cultural events. Others spent two days in Singapore where they met with senior executives during company visits to DHL, OCBC Bank, Unilever, Abbott and Deal.com in order to get a better understanding of job opportunities in the Singapore market. Also, around 40 students participated in the school's annual Hong Kong Career Trek. During a two-day period, the group visited Blackstone Group, UBS, the Hong Kong Asia Society, Credit Suisse, Bloomberg, China Merchants Capital, Rothschild, Baring Private Equity Asia, and BASF. During these company visits they had the chance to discuss job opportunities and the market environment with executives working in various areas, including investment banking, private banking, asset management, sales and trading, and business development.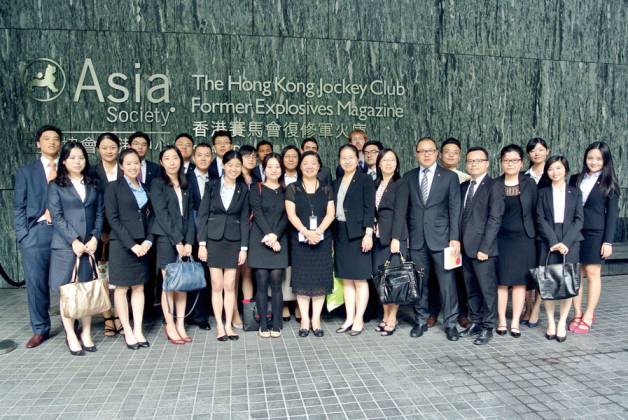 Finance MBA
New Beginning – On September 4, CEIBS Part-time Finance MBA welcomed 120 new students, outstanding representatives from China's finance industry who see the 21-month programme as the pathway to a successful career in the sector. This is double the amount of students who enrolled in the first year.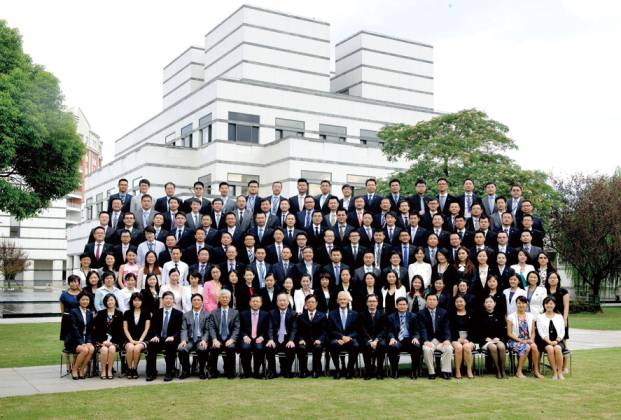 The New Batch – Enrolment began October 27 for the CEIBS 2014 Part-time Financial MBA (FMBA) Programme. More than 140 finance executives came to the CEIBS Shanghai Campus that day to hear Co-Dean and FMBA Programme Director Zhao Xinge (in photo) explain the enrolment policies for the 2014 intake. A total of 120 students, for two classes, are expected to participate in the 2014 class which will begin in September 2014. There are more rigorous admission requirements this year, with applicants now required to hold a bachelor's degree or higher. The tuition is RMB 458,000, a slight increase over the first year.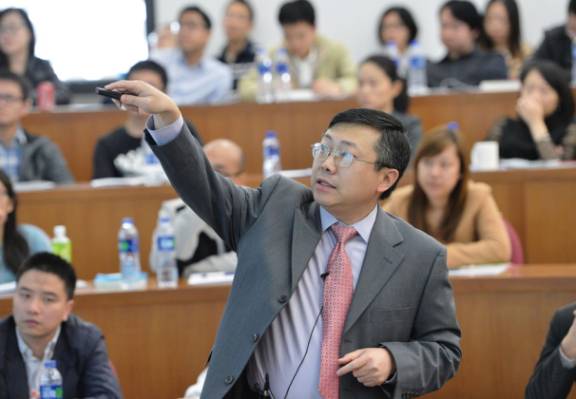 London Calling! – In late July FMBA 2012 students went on an Overseas Study Tour to London, accompanied by CEIBS Part-time FMBA Programme Director Prof Zhao Xinge. The tour included lectures at LBS, a culture-rich stop at Cambridge University and visits to globally renowned financial institutions such as the London Stock Exchange.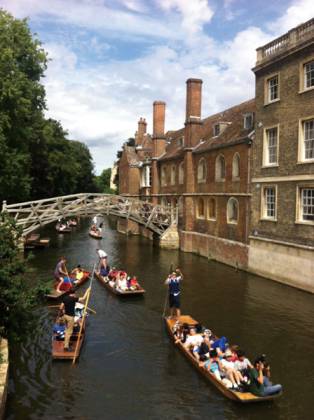 EMBA
Farewell – The 700 members of the EMBA Class of 2011 graduated on October 19 in a joyful ceremony that joined the Beijing and Shanghai campuses together via video link.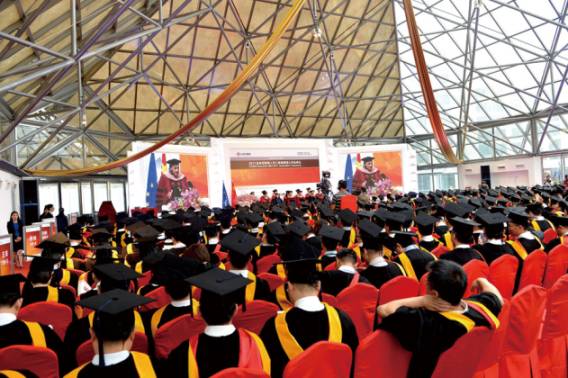 Welcome – On April 17, the 2013 GEMBA Opening Ceremony and Welcome Banquet was attended by business leaders from more than 10 countries who began their 20-month study journey at CEIBS. Three days later, more than 300 senior business leaders from across China attended the CEIBS EMBA 2013 opening ceremony at the Lui Che-Woo Auditorium at CEIBS Beijing Campus (in photo).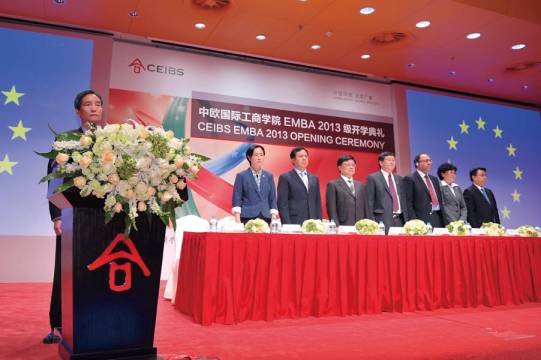 Reunited – More than 75 Global EMBA alumni gathered at the Shanghai Campus on May 11 to participate in Global EMBA Reunion 2013. The highlight of the day was an insightful lecture by CEIBS Professor of Management Arthur Yeung who spoke on "Building Organizational Capability for Strategic Execution".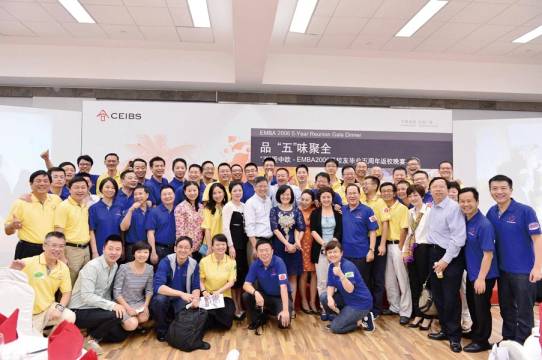 CEIBS EMBA alumni from the class of 2006 travelled from across China to gather in Shanghai from September 7-8 to celebrate the fifth anniversary of their graduation. The two days of lively activities gave them the opportunity to reconnect and renew friendships with one another and CEIBS professors, share their experiences since graduation, and reminisce about their time together at CEIBS.
Africa EMBA
Global CEO Programme - Participants in the IESE-Wharton-CEIBS Global CEO Programme completed the Accra module of their African Experiential Week on October 19. The programme consists of three residential modules spanning three continents: Asia, North America, and South America.
Executive Forum on African Development  Several European Ambassadors and senior business executives from around the world attended an Executive Forum hosted by the CEIBS Africa Programme on October 16, where CEIBS Sino-Europe Dialogue Chair Professor Romano Prodi gave the keynote address.
Congrats to New Grads! – More than 400 guests gathered at the Ghana College of Physicians and Surgeons on July 13 for the CEIBS Africa Programme's 4th Graduation Ceremony. It was a festive event that signalled the transformation of 28 EMBA students into members of CEIBS' extensive global alumni network.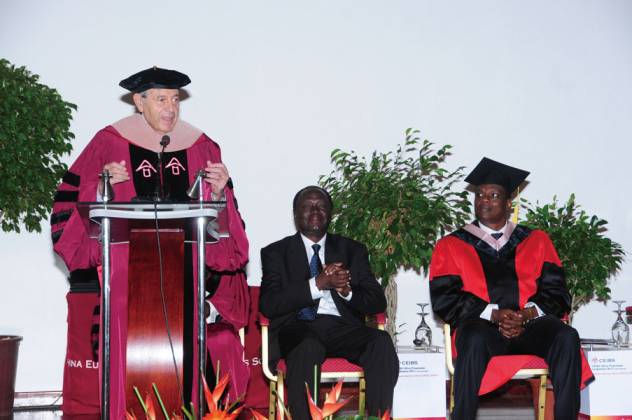 Executive Education
Almost 40 high-level executives graduated from the CEIBS-KMA South Korean CEOs' Chinese Strategy programme on July 4. That was also the day that the 3rd CEO Leadership Programme began with more than 50 CEOs, most of whom are alumni of the CEIBS EMBA, AMP and Global EMBA programmes. Throughout the year, the Executive Education programme also arranged forums in which faculty shared their expertise. These included Prof Jack Wood's June 17 lecture on the "Nature of Leadership" at CEIBS' first Executive Forum in Singapore.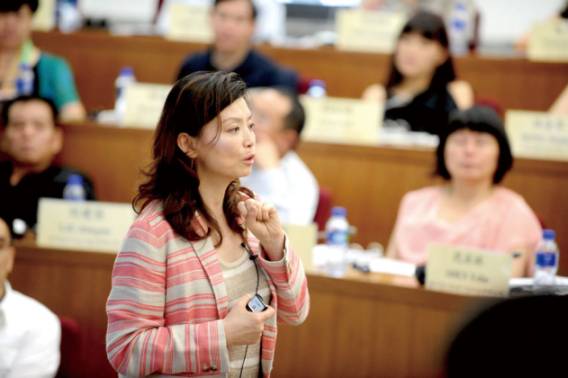 CEIBS Associate Dean and Bayer Chair in Leadership Professor of Management Katherine Xin delivers a lecture during the CEIBS-KMA South Korean CEOs' Chinese Strategy programme.