Prof. Oliver Meng Rui Gives Keynote at 2014 Forbes Mind Share Network Event
Monday, April 28, 2014
Prof. Oliver Meng Rui Gives Keynote at 2014 Forbes Mind Share Network Event
April 28, 2014. Shanghai - The value and legacy of family wealth in China was the topic of a keynote speech entitled "Family Businesses: China's Future" given today by Co-Director of CEIBS Kaifeng Centre for Family Heritage Professor Oliver Meng Rui at the 2014 Forbes Mind Share Network. Organized by Forbes China, the event focussed on exploring the evolution of the rich in China from "wealthy" into "elite" in both business success and culture. Discussions centred on the themes "Achieving Satisfaction and Enjoyment" and "New Life and Business".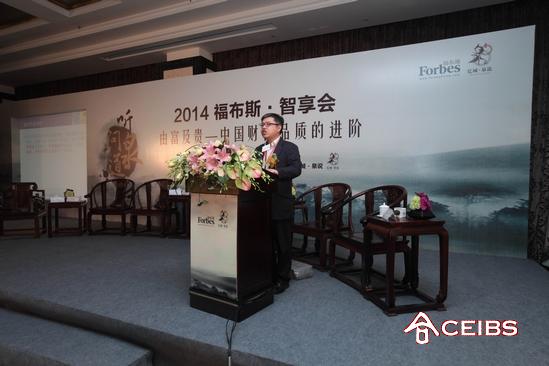 Prof. Rui spoke about the importance and complex challenges of business succession. He shared some case studies of family businesses around the world that have endured through several generations and explained the critical factors that determine a successful the business succession. He also spoke about governance strategies that can help ensure a smooth succession.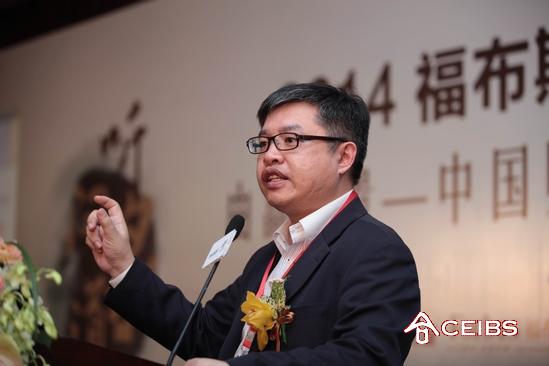 After his keynote speech, Prof. Rui attended the "Achieving Satisfaction and Enjoyment" roundtable, where he had a lively discussion with Mr. Zhou Jiangong, Editor-in-Chief of Forbes China, and renowned Chinese entrepreneurs like Mr. Chen Miaolin, Chairman of New Century Tourism Group of Zhejiang Province, and Mr. Chai Guosheng, Chairman of CNLIGHT Company of Guangdong Province. Another roundtable featured a discussion with second generation entrepreneurs such as Mr. Jacky Jing, Vice Chairman of Sedum Holdings Group and Executive Director of Hanking FOF, and Mr. Chai Hua, Vice President of CNLIGHT Company, on the topic "New Life and Business". It was moderated by Mr. Kang Jian, Managing Editor of Forbes China.