By Lei Na
On February 20, Dongfeng Motor Group announced its 800-million-euro share-purchasing deal with French automaker Peugeot Citroen. Under the deal, Dongfeng, the French government and Peugeot Holdings are equally the largest shareholders of Citroen with each holding about 14% of its total equity. This was the largest overseas acquisition in the history of China's auto industry. According to the forecast in a report released by KPMG's Global China Practice, 2014 will still see growth in China's overseas investment and acquisitions, one of the main goals of which is to solve the problem of over capacity of production. Recently CEIBS Department Chair of Finance and Accounting and Cathay Capital Chair in Accounting Prof Ding Yuan was a guest on CCTV-2's "Deal Time" where he shared his views on Dongfeng's acquisition, within the wider context of the successes and failures among China's previous overseas acquisitions.
For the cash-strapped Peugeot, he said, the Dongfeng deal – which resulted in the brand being delivered into foreign hands – was a necessity. Peugeot is a century-old family-run company, and one of France's two auto giants. However, with the onslaught of the financial crisis, its former strategic focus on the European market was its undoing, hence its serious cash flow problem and surplus capacity. For Dongfeng, despite a reasonable acquisition price (its bid was 7.5 euro per share against Citroen's current share price of 13 euro per share, and its peak at 60 euro prior to the financial crisis), it still faces great risk. Citroen lost 12% of the European market share in 2013, only 72% of its production capacity was in use, and they have a negative cash flow, all of which will pose considerable challenges for Dongfeng.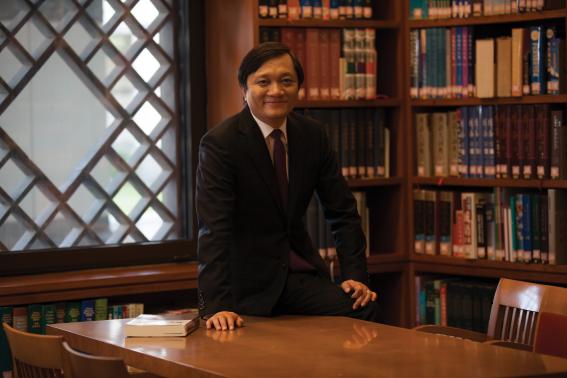 Prof Ding Yuan
Noting the significance of the purchase for the Chinese car company, Prof Ding explained that the key lies in whether Dongfeng can give full and effective play to its rights as a shareholder, and push Peugeot Citroen to shift its focus to emerging economies. An added challenge is whether Dongfeng can incorporate Peugeot's core technologies into its own operations and that of its joint ventures. To do this, Dongfeng has to think long and hard about the stance and interests of the various parties concerned: including the French government, trade union and the board of directors. Prof Ding pointed out that France is, traditionally, a country that believes in mercantilism and even in private family businesses, the government still has tremendous influence. Even within the new board, some believe it will be difficult for Citroen to turn a profit, and the jury is still out on whether Dongfeng can obtain Citroen's technologies.
Speaking in his capacity as Director of CEIBS' Research Centre on Globalisation of Chinese Firms, Prof Ding also explained the reason for Chinese firms' frenzy of overseas acquisitions. Since its launch in February 2013, the Centre has found that Chinese enterprises have now hit a developmental bottleneck with the ageing of China's population, the rise in labour costs, and the appreciation of the RMB. The profit margin in low-end markets, once enjoyed by China's enterprises, has been squeezed and many companies are looking for new ways to turn a profit. They are now looking overseas for better resources, technology and established brands. This is quite different from the transnational companies rooted in developed countries, as they have been infiltrating other markets with their mature technology and brands. There is greater risk in China's model than in the market-driven acquisitions by Western companies, hence the greater difficulty of management.
Last June, Prof Ding paid close attention when CEIBS alumni enterprise Jinsheng Group (Jiangsu) purchased all the equity and assets of Oerlikon Group's natural fibre and textile component business. He witnessing both the collaboration and clashes between the Chinese and Western management teams during the integration process. Prof Ding pointed out that in these deals the foreign and Chinese companies' expectations of the acquisition are usually different: foreign companies are mostly negative about the old company's growth prospects, while Chinese companies expect a "pie to cake" transformation, and their hope of realising this transformation lies in China, where they have both the capital and the market. If Chinese companies can combine these two advantages (capital and market) with the management abilities of foreign companies, the corporate value will manifest itself with a better and larger Chinese market, while other markets can be kept from dwindling.
In summarising the successes and failures of China's overseas acquisitions, Prof Ding noted that one major reason for failure is Chinese companies' traditional focus on visible assets coupled with their ignorance of invisible assets. This occurs not only at the corporate level, but also at the level of financing, etc. Another factor is Chinese companies' lack of experience in running multi-cultural transnational companies, an issue that can only be resolved over time and with patience. The key to success, he said, is "choosing the best" – forging a culturally transparent team among the newly formed company, with all participants having common interests and objectives. One example of a deal that worked, he said, was the collaboration between ICBC and South Africa's Standard Bank.