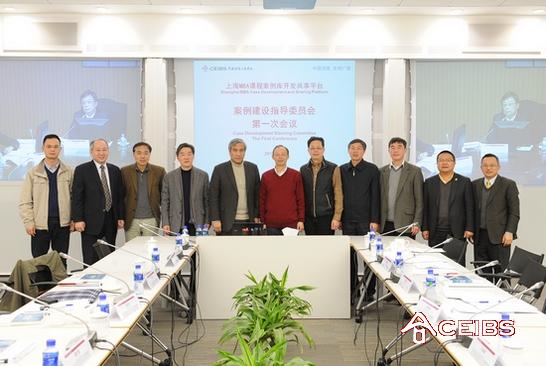 February 22, 2014. Shanghai - The first meeting of the Shanghai MBA Case Development and Knowledge Sharing Platform Steering Committee was held today at CEIBS Shanghai Campus. This platform is sponsored by the Shanghai Municipal Government which, as Mr. Shu Jinlong pointed out to the committee, expects that CEIBS will work together with other Shanghai-based business schools to create a platform that will develop case studies on Chinese companies that can be used in the classrooms of the top b-schools both in China and abroad. Mr. Shu is the Director of the Higher Education Division of the Shanghai Municipal Education Commission.
During the meeting CEIBS Executive President Professor Zhu Xiaoming, who is Director of the Steering Committee, shared some insights into the case development practices at CEIBS. Vice President and Co-Dean Zhang Weijiong provided an overview of the platform's features and suggested some development targets and approaches. Director of the CEIBS Case Development Centre Professor of Management Liang Neng spoke about the progress that has already been made in developing the platform. Prof. Liang has been named Secretary of the project's Steering Committee.
Other attendees included Dean of the Antai College of Economics and Management at Jiaotong University Zhou Lin, Dean of the School of Economics and Management at Tongji University Huo Jiazhen and representatives from other top b-schools and enterprises in Shanghai.