May 15, 2015. Beijing – The key leadership traits needed to manage the next generation, and the skills that Chinese executives must develop to position themselves for these future opportunities were the focus of discussions today at the CEIBS 2015 MBA Recruiter Appreciation Workshop.
"Leadership for the e-generation" was the title of the keynote speech given by Wendy Nicholls, Regional Head for North East Asia and Pacific, Hay Group, in which she identified six coming megatrends that will change our way of working and in turn change the leadership skillset that senior managers will require.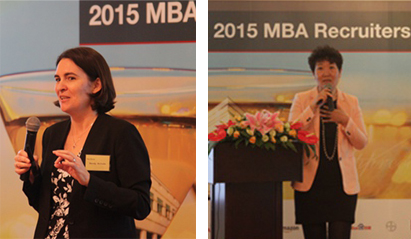 From left: Wendy Nicholls and Nancy Zhang
Nancy Zhang, President of Mobley Group Pacific Shanghai, spoke about how China's significance in the global market will create great opportunities for Chinese senior managers, if they can overcome some common challenges. She also shared her suggestions for ways in which Chinese executives can improve their skills to better position themselves for a global leadership role.
Organized by the CEIBS MBA Development Centre to thank leading Chinese and multinational companies who have recruited CEIBS graduates, the event drew executives from nearly 40 companies, including AB-Insurance, Amazon, Baidu, Bayer, Caterpillar, CFLD, CITICPE, CreditEase, Emerson, Google, Hay Group, McDonald's, Norinco, Novartis, Pfizer, Schneider Electric, Shell, and Tencent.

Professor Chen Shimin
In a brief welcome address, CEIBS Associate Dean and MBA Programme Director Professor Chen Shimin thanked the recruiters for their ongoing support of CEIBS MBA Programme. Director of Admissions and Career Services Yvonne Li, Assistant Director of the CEIBS Global EMBA Programme Isa Luo and Executive Education North China Account Director Wang Lei also participated. During the networking session the recruiters expressed their willingness to continue to cooperate with CEIBS, and praised the professional level, management skills and international perspective that CEIBS graduates bring to their companies.
The CEIBS MBA Programme is #11 in the Financial Times 2015 ranking of global business schools, and ranked # 1 in Asia. The rankings reinforce the CEIBS MBA's strength in salary percentage increase (#3) and career development (#9). The CEIBS MBA is also ranked #1 in Asia by Bloomberg Businessweek.
Global recognition of the high quality of CEIBS MBA graduates results not only from their overall skill, deep understanding of the China market and international perspectives but also reflects comprehensive support from the school and the CEIBS Career Development Centre (CDC). The CDC enhances students' overall career development capabilities and skills through the Career Development Programme (CDP), internships, and Integrated China Strategic Projects (ICSP). The CEIBS CDC has also initiated reciprocity programmes with a number of top global business schools (Harvard, INSEAD, LBS and LESE) to provide MBA students with a platform for exploring overseas opportunities through career treks and on-site company visits. The CEIBS CDC also closely tracks trends in the career market to help better prepare graduates. In response to local enterprises' increasing demand for talents, the CDC helps graduates leverage the growing trend towards internationalization among local small- and medium-sized enterprises.
The CEIBS MBA Programme is the first to establish a Career Development Centre in mainland China. We greatly appreciate the partnership we have with our recruiters. Those interested in learning more about recruitment opportunities with CEIBS can contact us at cdc@ceibs.edu or +86 21 2890 5142.