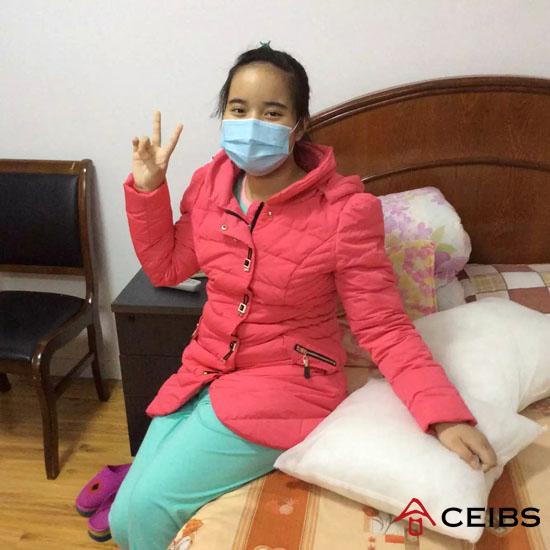 May 13, 2015. Shanghai – When they learned that the impoverished family of a 14-year-old student they tutored at Jiuqian Charity Centre was unable to afford the cost of an urgently needed bone marrow transplant, members of the CEIBS C.O.I.N. (Community Outreach and Inclusion Network) Club MBA 2016 stepped in to help raise funds to ensure the girl would be able to have the life-saving operation. Thanks to their efforts and the generosity of the CEIBS community, the club raised RMB 13,600 to assist the girl and many CEIBS students have donated online anonymously. So far more than RMB 400,000 has been donated through various channels.
For many years the C.O.I.N. Club has provided an English-coaching team to the Centre on the weekends. The girl, Xu Jia, participated in their programme in 2013. "Many of our student C.O.I.N. Club volunteers knew Xu Jia to be a very polite, smart and diligent girl. She should be doing what other 14 year-olds do - attending school, hanging out with her friends, and dreaming about her future. Instead, these kinds of activities have come to an abrupt halt since Xu Jia was diagnosed with MDS (Myelodysplastic Syndrome)," explains C.O.I.N. Club President Susan Wu. "Within several weeks, her health deteriorated rapidly, and she has suffered from fever and severe haemorrhaging. She requires continual blood transfusions, and the only cure is a bone marrow transplant. Though a suitable donor match was found, the cost of the operation is far beyond her family's limited means."
Thanks to the generosity of the CEIBS community and others, Xu Jia is now preparing for the final surgery needed to save her life. Anyone interested in helping can still make a donation online through the China Charities Aid Foundation for Children website.
You can choose to donate directly or via bank transfer, and note CEIBS in the remarks area. If you are not able to make your donation online, please contact Susan Wu at wshengshan.m16@ceibs.edu and the C.O.I.N. Club can assist you in making your donation. All donations will be used to pay the costs of Xu Jia's surgery and post-operative treatment. The medical bills will be verified by the China Charities Aid Foundation for Children before funds are transferred for payment.