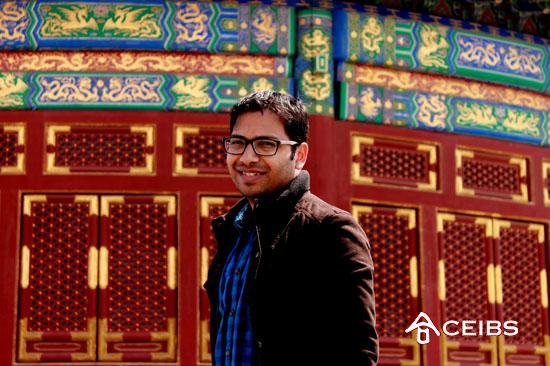 Birottam Dutta visiting Beijing's Temple of Heaven
April 30, 2015. Shanghai – CEIBS MBA 2016 student Birottam Dutta says he is looking forward to, "being among the current and future leaders of the world" next week when he travels to Zurich to represent CEIBS at the 45th St. Gallen Symposium. One of the most globally renowned student-organized forums, it brings together accomplished business and government leaders and young talents from around the world for a provocative exchange of ideas on topics of management, politics and civil society.  The theme for this year's event is "Proudly Small".
"I look forward to an enthralling week at St. Gallen," says Birottam. "From stimulating discussions with CEOs like Paul Polman on global economic outlooks to lectures from heads of state on how they view politics, diversity and an increasingly interdependent world, I expect to experience something memorable and enriching from the symposium."
The two-day symposium begins May 7. Birottam will have the opportunity to participate in discussions which will centre on the effectiveness of small entities – such as countries and enterprises – and how they can be a force for good in the world. For example some small states lead the global rankings in categories such as competitiveness, innovation and per capita wealth, some small companies make huge cumulative contributions to GDP, while start-ups look to bring the next "big idea" to life.
This will be the first of two trips to Switzerland for Birottam. He is also a member of the CEIBS MBA team which made it to the global finals of the Nespresso Sustainability Challenge 2015 which begin June 3rd at Nespresso headquarters in Switzerland. Birottam was born in New Delhi, India, and has a degree in Chemical Engineering. Prior to his studies at CEIBS he spent six years working as an engineering consultant in the energy sector and also worked pro-bono at a friend's start-up to learn how to build an enterprise from scratch. Once he completes his MBA he plans to return to his industry in a leadership position. "Living abroad has been a lesson in understanding my own self better" he says about his MBA at CEIBS.
Writer: Janine Coughlin