April 18, 2015. Shanghai – Hong Kong real estate mogul Ronnie Chan, who jokingly describes himself the Chief Political Officer (CPO) of his Hang Lung Group Limited, today shared his thoughts on everything from China's role in the global economy to Hillary Clinton's chances of becoming America's next president. He was speaking at CEIBS' first Master Class of the year, held at the school's Shanghai Campus.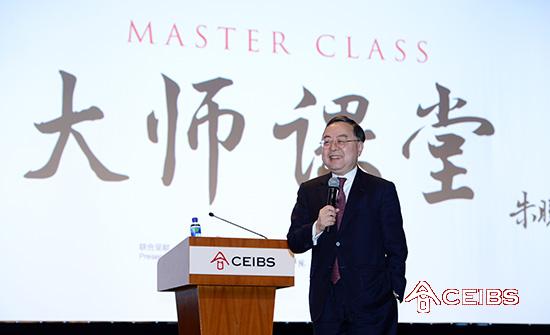 Hong Kong real estate mogul Ronnie Chan
In a two-hour address that felt like an intimate chat among friends, Chan often engaged the audience of roughly 1,000 CEIBS students, alumni and business people who had come to hear him speak on "A Global Perspective: The Future of China in the Next Decade". He often referred to lessons learned (by both sides) during his talks with the world's political or business leaders. He travels the globe, he says, to increase his knowledge of it. As his company's CPO, that's knowledge he uses to run his empire, which is valued at billions.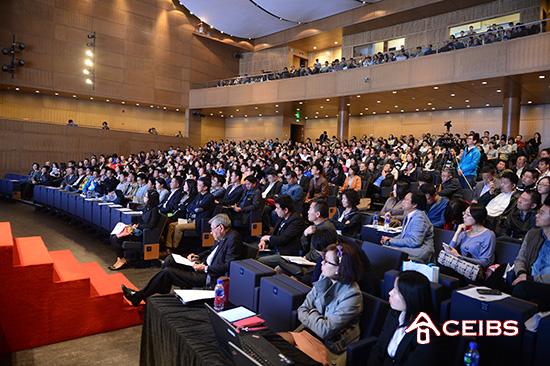 As he took the audience on a tour of the world from his perspective, Chan spoke of a weakened Europe, the result of an over reliance on a socialist welfare society; America's ability to keep politics and economic activity separate because of its huge pool of resources; Japan's aging population; Russia's depreciating currency, the impact sanctions are having on its economy, and it's single remaining asset – natural gas; as well as South East Asia's inability to compete with China. "Unless it makes a major breakthrough, it's unwise for South East Asia to compete with China. That's like me trying to compete with Yao Ming to play basketball," he said to laughter. "The good thing is that China's good neighbour policy is still very important."
He then outlined 20 key points about what he expects of the Chinese economy in the next two decades, covering everything from the further opening up of the country's capital accounts to China becoming an exporter of private capital. "Ten years ago China's SOEs went abroad for resources; in the past five years private capital has been going global. This will be an irreversible trend," Chan said. He also predicted rapid growth in technology and services; more and more countries using the RMB as a reserve currency; Chinese banks taking more positions globally, often by simply buying existing brands; and increasing importance of Hong Kong's financial markets as it meets the needs of the mainland.  
He also had words of caution for China, however, citing concerns about depletion of natural resources and pollution as well as the internal and external challenges that may have to be faced. These, he said, include a "hot" cyber war; unexpected results brought by science and technology; asymmetry in power or knowledge which leads to terrorism; natural disasters, pandemics, etc.  Focusing on China-specific issues, he told the audience that the country needs to continue the fight against corruption; its respected scholars and intellectuals must speak up and educate the wider population in order to avoid populism; more rigour is needed in academic institutions; efforts must be made not to seek out confrontation; care must be taken to balance social and business interests as taxes and the cost of doing business increase; and he mentioned the linkages between rural area reform and farmers' expectations.  "The future belongs to the young, and I hope you will become independent thinkers," he said as he ended his prepared remarks.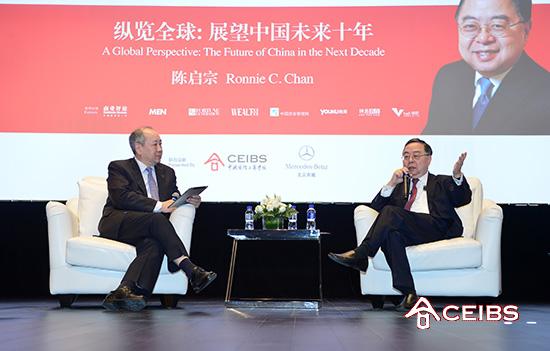 Q&A
During the Q&A that followed, Chan predicted that Hillary Clinton would not succeed in her run for the US presidency, saying Jeb Bush stood a better chance; downplayed concerns that foreign firms are leaving China (those who leave are short-sighted and unwise, and local firms will fill the gap, he said); and predicted that once the quality of local goods improves, locals will realise the wisdom of buying "made in China" at home instead of abroad.
Chan also fielded a question on the competition that e-commerce brings. High-end products will be impacted to a lesser extent, he said, as some experiences – for example going into a store where you can touch and feel the product while being catered to by a personal style advisor – cannot be easily replicated online. His strategy, he said, is to use technology to provide services that were not available in the past.   For example, mining data to provide clients in his swanky Shanghai mall Plaza 66 with recommendations from everything on where to park to what meal to select in a particular restaurant. "Ecommerce is a disruptive phenomenon that it would be stupid to ignore," Chan said.
The CEIBS Master Class series of lectures is being held throughout the year, bringing global leaders from various industries and sectors to share their views with the CEIBS community and the wider society. The series is one aspect of CEIBS' role as a creator and disseminator of knowledge as it fulfils its mission of educating responsible business leaders.