February 4, 2015. Shanghai – Over the last 5 years Jose Feliciano's passion for sustainability and entrepreneurship has taken him to the Antarctic, Egypt, Brazil, China, India and other exotic locations. Now the CEIBS MBA 2016 student's getting ready for his next big adventure: three full days of training at Al Gore's Climate Reality Leadership Corps from February 22-24. The event is being held in New Delhi and it will also be a chance for Jose to strengthen his network in India, where he's worked on sustainability and business projects in the past.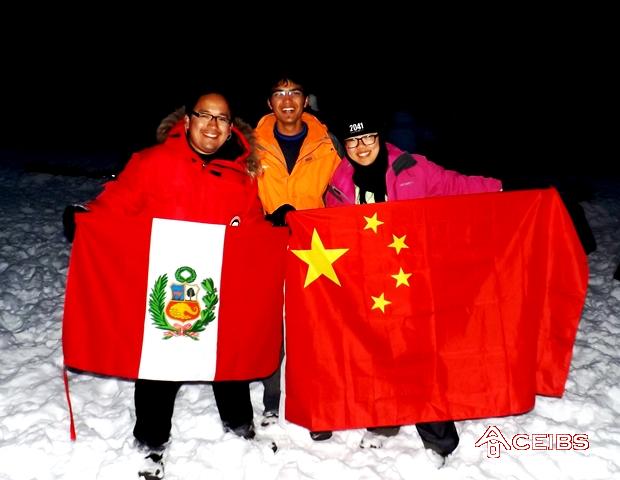 Jose (left) with other participants from the International Antarctic Expedition
It's his network within the sustainability community that led Jose to the Al Gore programme. A friend he made during last year's Antarctica trek told him how much he had personally benefitted from the course, and encouraged him to apply. With Jose's track record of volunteer work and putting together major projects in emerging markets around the world, his friend thought he would be the perfect fit for the programme. The organisers, who took about 3 weeks to tell Jose he was accepted, obviously agreed.
For 3 days, he'll be among the group of select individuals who will learn from Al Gore, the former US Vice President and Founder of the Climate Reality Project, how to get others to understand why climate issues are important. He'll also learn how to use a combination of science and solutions to engage and inspire others to act. There will also be tips from experts on strategic communications, climate science, and how to organise events at the grassroots level.
"I'm excited about the conference, not just because of the training I'll receive but also because it's a chance to expand my network of volunteers and entrepreneurs from around the world. Within that group I'll feel connected; I'll feel like we can do great things together!" Jose explains. He'll use the Chinese New Year break to participate in the event, but it's just one of the projects on his plate in addition to the challenging CEIBS MBA. He's working on a sustainability project in the Himalayas that will be a combination of learning about environmental and sustainability issues, adventure tours and creating social impact by providing electricity to locals. He's hoping the Climate Reality Leadership Corps will help him with the skills he needs to ensure this and other projects' success. "My long-term goal is to build different programmes and collaborations within the BRICS countries. I've already done work in Brazil, India and China. I want to create a global learning platform," he explains.
It's good that he's full of ideas and has a long list of projects he wants to accomplish. Part of the training provided by the Climate Reality Leadership Corps involves performing 10 "acts of leadership" within a year after the course is over. These can be anything from writing a blog to organising a climate change-related event or campaign. Jose's hoping he can organise events on and off the CEIBS campus. "In our classes we learn about the business side of things. While we do touch on sustainability issues, I think I could play a role in letting my classmates know that there are lots of opportunities in sustainability outside China. There's a whole world of opportunity out there," he says.