January 26, 2015. Shanghai – CEIBS MBA Programme has moved up six places, to #11, in the Financial Times 2015 ranking of global business schools, regaining its position as # 1 in Asia. The rankings reinforce the CEIBS MBA's strength in career development, value for money and the increasing number of international students and faculty. The CEIBS MBA is also ranked #1 in Asia by Bloomberg Businessweek.
"As a pioneer and leader in modern Chinese management education, CEIBS' role has always been the creation and dissemination of knowledge as we provide world-class business education. This is a role we will continue to play in the years ahead and our MBA programme is a vital part of these efforts," said CEIBS Executive President Professor Zhu Xiaoming in reacting to the FT ranking news.
Added CEIBS Vice President & Dean Professor Hellmut Schutte, "The CEIBS MBA is a great programme in a great location. We will not become complacent, but instead work steadily on providing our students with the world-class business education they have come to expect and deserve."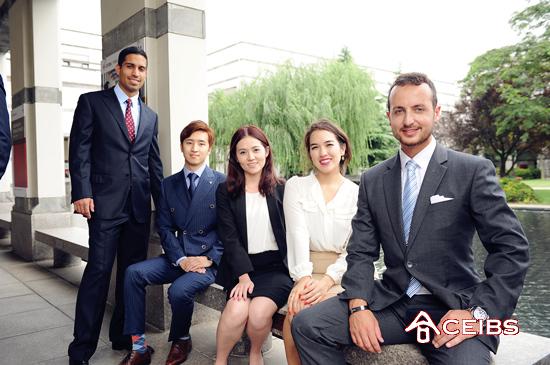 The CEIBS MBA continues to innovate and improve on its efforts to add value to the MBA experience. For example, entrepreneurship has been added as a third concentration and, beginning with the 2015 cohort, a Leadership Module has been integrated into the programme's first year. A third joint-degree programme has been added. The new programme is with the Cornell School of Hotel Administration; the other two are with the Fletcher School of Law and Diplomacy and the Johns Hopkins School of Public Health. The popular Overseas Electives Programme will see students travel next year to the US, Israel, France and Japan.
These initiatives are complemented by strong support from the CEIBS Career Development Centre (CDC) which regularly organises activities that facilitate employment opportunities for MBA students. The CEIBS CDC has also initiated a reciprocity programme with a number of prominent business schools (Harvard, INSEAD, LBS and IESE) around the world and provides platforms for CEIBS MBA students to explore overseas opportunities through career treks and on-site company visits.
According to CEIBS Associate Dean and MBA Programme Director Professor Chen Shimin, all these elements – academic and career support – have had a role to play in the rankings results. "CEIBS MBA programme has performed well in key international rankings thanks to the rapid growth of the local economy as well as on-going support from the school's faculty, students and alumni in terms of admissions, curriculum and career development," he noted.
Despite the challenging global job market, there has been significant improvement in several areas related to graduates' career progress, a category in which CEIBS MBA is ranked #9 globally by the FT. For example CEIBS graduates continue to be among those with the highest percentage salary increase (147%) over pre-MBA wages; they are being paid better, and are working for larger companies as seen in the 13-point jump in the weighted salary category. Meanwhile, there has also been a 13-point increase in the ranking (up to #20) for the number of CEIBS graduates employed within three months after their MBA.
"The important advantages that CEIBS MBA students bring to the job market are still evident, despite the challenging local economic situation," said MBA Admissions & Career Services Director Ms. Yvonne Li. Johnny Ho, who graduates this year, credits the CEIBS MBA with providing him with the skills needed to land a job with a leading global consulting firm. "I did not have any pre-school work experience in China, but during the CEIBS MBA I quickly learned about the development of Chinese businesses, and also improved my soft skills," he said.
Meanwhile, indicating the gains made in terms of the diversity of faculty and staff, the CEIBS MBA has moved up:
- 12 positions within the category of international students,
- 2 spots in international faculty,
- 3 places for international board, and there was a 2-spot increase in international mobility which looks at the global footprint of graduates' careers.
The annual FT survey of global MBA programmes is one of the longest-running, most rigorous, and best respected media rankings. This year the CEIBS MBA tops the list of Asian schools, regaining a position it held for six consecutive years from 2004 to 2009. Chinese business schools have made an overall impressive showing this year with six, including CEIBS, making the list. The others are: HKUST, University of Hong Kong, CUHK, Fudan and Shanghai Jiao Tong.
About CEIBS MBA Global Rankings:
#1 in Asia, #17 full-time MBA in the world (2014): Bloomberg Businessweek
#1 in China 2011, 2007 & 2006 (3 consecutive surveys): Bloomberg Businessweek China
#1 "Most Valuable Full-time MBA Programme in China" (for five consecutive surveys in 2005-2007, 2010, 2012): Forbes China
#7 Best International 2-year MBA Programme (#1 in mainland China), 2013: Forbes Magazine.
About CEIBS
The China Europe International Business School (CEIBS) offers a unique combination of China Depth, Global Breadth, taking advantage of its position as a leading business school in Asia to train responsible leaders. CEIBS' vision is to become the most respected international business school by linking East and West in teaching, research, and business practice and by promoting China's social and economic development through high-impact knowledge creation and dissemination. The school's origins as a joint venture between the European Commission and the Chinese government have allowed CEIBS to develop a unique positioning in offering truly world-class business management education with proven China expertise. After 20 years of phenomenal growth, CEIBS' impressive alumni base of more than 15,000 executives includes 2,000+ CEOs and top-level decision makers.
CEIBS is a not-for-profit joint venture established in 1994. Its predecessor, the China-EC Management Institute (CEMI), was launched in Beijing in 1984, offering China's first MBA programme.