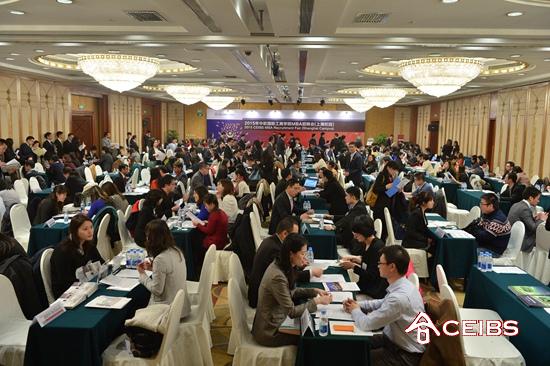 January 21, 2015. Shanghai – Attracted by the opportunity to recruit CEIBS MBA students, 80 local and multinational companies turned out for the CEIBS 9th MBA Recruitment Fair organised by the CEIBS MBA Career Development Centre (CDC). Financial Services, Industrial Products/Services, Consumer Products, IT/Telecom, Healthcare and Consulting Services were among the industries represented. Companies who attended included A.T. Kearney, Accenture, Bank of China Investment Management, Chrysler, Corning, Ctrip, Fosun, Henkel, Greenwoods Asset Management, Lufax, Maybank, Michelin, Philips and Softbank China Venture Capital. Many of CEIBS' long-term cooperation partners also attended, including Amazon, Ford, Eli Lilly, Education First, Emerson, Jaguar Land Rover, KPMG, Merck and Siemens.
Today's event kicks off the second round of recruitment for the MBA 2015 cohort. The first round saw CEIBS students receive offers from companies such as McKinsey, Bain, IMS, Microsoft, Tencent, JD, Apple, Dupont, Hilti, J.P. Morgan, UBS, Bayer, AB-InBev, Abbott, and Sanofi after impressing these companies during summer internships and campus presentations. Despite a slowdown in the domestic economy and increased competition, CEIBS MBA students are still sought after by recruiters for their "China Depth and Global Breadth" and flexible cross culture teamwork skills. Already one third of the MBA Class of 2015 have accepted full time job offers, which means employment for this year's graduates is on track to match and even exceed that of last year. International students have done exceptionally well in securing summer internship opportunities as well as full time offers. The excellent recognition of CEIBS and impressive reputation of its alumni are also reflected in the latest international ranking of the CEIBS MBA programme (Bloomberg Businessweek's #1 in Asia).
In his opening remarks at the Recruitment Fair, CEIBS Associate Dean and MBA Programme Director Professor Chen Shimin noted that the larger number of companies and improved quality of positions seen at this year's Recruitment Fair is evidence of the important advantages that CEIBS MBA students bring to the job market. He said this shows the confidence that recruiters have in the Chinese economy as well as CEIBS' ability to produce high-level talents.
Prof. Chen praised the school's faculty, students and alumni for their on-going support, and explained some of the recent developments in the CEIBS MBA Programme, which continues to innovate and improve on its efforts to add value to the MBA experience. Entrepreneurship has been added as a third concentration and, beginning with the 2015 cohort, a Leadership Module has been integrated into the programme's first year. A third joint degree programme has been added. The new programme is with the Cornell School of Hotel Administration; the other two are with the Fletcher School of Law and Diplomacy and the Johns Hopkins School of Public Health. The popular Overseas Electives Programme will see students travel next year to the US, Israel, France and Japan. 
 
During the Fair, MBA Admissions & Career Services Director Ms. Yvonne Li explained some of the recent activities organised by the CEIBS Career Development Centre (CDC) which facilitates employment opportunities for MBA students through its Career Development Programme, alumni recommendations and other efforts. The Career Mentor Programme, Peer Coaching Programme and industry mixers have been developed to promote MBA students for employment opportunities. The CEIBS CDC has also initiated a reciprocity programme with a number of prominent business schools (Harvard, INSEAD, LBS and LESE) around the world and provides platforms for MBA students to explore overseas opportunities through career treks and on-site company visits.
Full-time career development counsellors and international alumni networking opportunities are also organised to help international students realise their career objectives. The Career Development Programme (CDP) has also introduced modules tailored specifically to the needs of international students. These cover areas such as working in China, internships in China and working across cultures. The CEIBS CDC also closely tracks trends in the career market to help better prepare graduates. For example, in response to local enterprises' increasing demand for talents the CEIBS CDC held the 1st China Enterprise Forum in 2014. This helps graduates make the most of the growing trend towards internationalisation among local small- and medium-sized enterprises.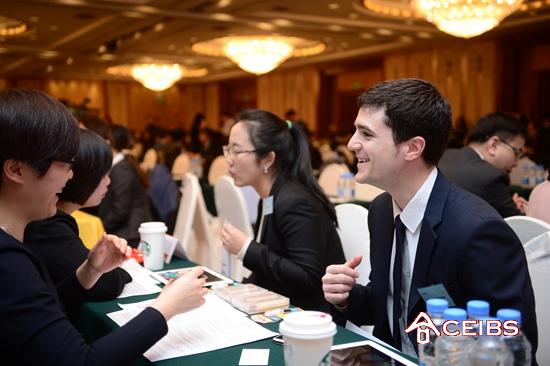 MBA Top-tier Global Rankings
The CEIBS MBA is ranked #17 on Bloomberg Businessweek's list of global full-time programmes, making CEIBS the highest ranked Asian school on the list. The rankings reflect which b-schools do the best job of preparing MBAs for careers after graduation, and provide them with the best education. Other major rankings for the CEIBS MBA Programme include:
#17 worldwide, full-time MBA Programme (2014): Financial Times;
#1 "Most Valuable Full-time MBA Programme in China" (for five consecutive surveys): Forbes China 2012;
The 2015 MBA recruitment season will last until the end of July 2015, and the 2016 MBA Internship Programme has already begun. For more details about the internship programme and full-time recruitment, please contact the CEIBS Career Development Centre (CDC) by email: cdc@ceibs.edu or telephone +86 021 2890 5142.