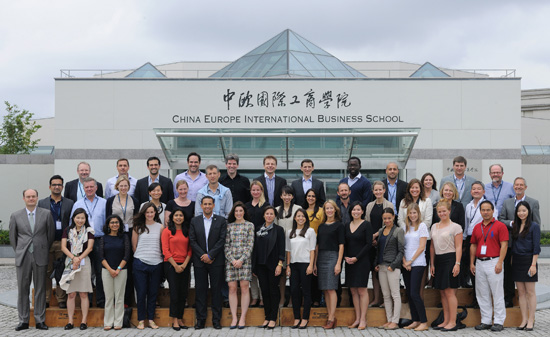 September 16, 2014. Shanghai – The CEIBS-World Economic Forum Global China Programme entitled "Engaging Constituents in China" concluded today. The four-day programme allowed the Fellows and Directors of the World Economic Forum to gain theoretical and practical insights into Chinese business and society through a combination of company visits and classroom lectures. Co-designed by David Gosset, Director of the Academia Sinica Europaea at CEIBS and Gilbert Probst, Director of the World Economic Forum Global Leadership Programme, it was held at the CEIBS Shanghai Campus. 
Lectures included:
- CEIBS Dean & Vice President Distinguished Professor of Internatioanl Management Hellmut Schütte on Competition between Local Companies and MNCs;
- Santander Chair in Economics and Finance Professor Xu Xiaonian on Macroeconomics;
- Zhongkun Group Chair Professor of Finance Henrik Cronqvist on The Global Financial Market;
- Director of the Academia Sinica Europaea and founder of the Europe-China Forum David Gosset on Defining the Chinese Renaissance.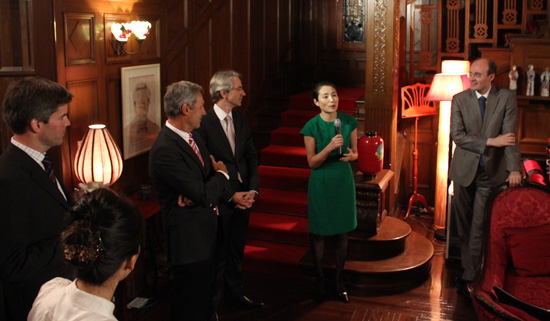 The Consul General of France in Shanghai, Mr Emmanuel Lenain (third from right) listens to Shanghai Tang's Gu Xiang give a presentation.
The Dean of the College of Defense Studies of National Defense University Xu Hui and the Director of the China Center for Contemporary World Studies Sun Haiyan gave talks and Founder and Managing Director of Chengwei Ventures LLC Eric Li, who is also  a member of the CEIBS Board of Directors, led a discussion on Chinese political trends. Participants visited the CELAP, Huawei and Shanghai Xiantai for discussions on the Party, Innovation and Urbanization. A conversation on Creative China with Chinese designers and Gu Xiang from Shanghai Tang took place at the residence of the French General Consul in China, Mr. Emmanuel Lenain. Mr. Lenain also shared his views on the dynamics of the Chinese economy with attendees.