By Mika Qu & Kelly Chen
In the spirit of the saying "Give a man a fish and you feed him for a day; teach a man to fish and you feed him for a lifetime", the 60 alumni of CEIBS EMBA 2004 Beijing Class 2 have established a sustainable charity venture to assist residents of a poor mountain village in Guanyang County.  Guanyang is in Guilin, part of Guanxi Zhuang Autonomous Region.
The Hegu Peach Orchard Ecological Agricultural Co Ltd is the culmination of more than two years of hard work by both the CEIBS alumni – who include senior managerial talents from SOEs, private businesses and government agencies – and village residents. Established with registered capital of RMB 3 million that was donated by the alumni, the company last year enjoyed the first harvest of its major product, organic chrysanthemum buds, which it sells under the brand name "King of Heavenly Chrysanthemum". Besides the buds, which are a local specialty, the company also grows the renowned Chinese black plum, golden camellia and Chinese Yew. The latter two are indigenous rare plants.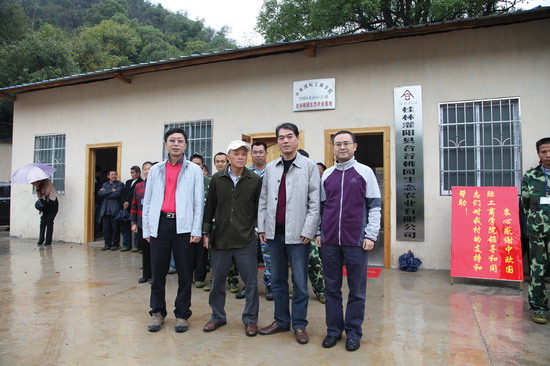 Alumni visit: Li Xiong (2nd left, EMBA 2002), President of CEIBS Guangzhouo Chapter, and Chen Jun (right, EMBA 2007)
Since the company was established in March 2012, per capita income in the village has risen from less than RMB 500 to RMB 1,400 as residents earn money through initiatives such as land leasing and planting as well as processing chrysanthemums. Hegu plans to allocate its profits towards improving the area through projects such as constructing a nursing home, installing a potable water system, and raising the quality of local education. There are also plans to raise more than RMB 8 million of additional investment funds.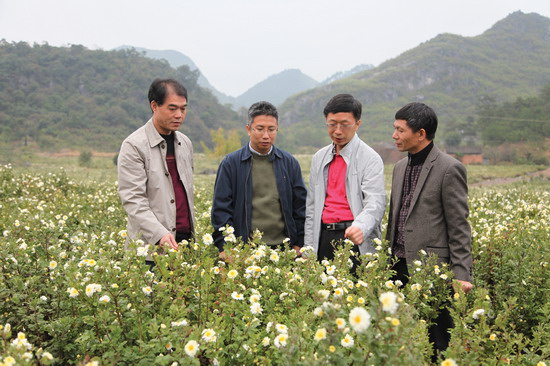 Site Visit: Brian Kong (2nd left), Deputy Chief Representative of CEIBS Shenzhen Office
The members of EMBA 2004 Beijing Class 2 have a long tradition of working together to champion charitable causes. They first began thinking of ways to help village residents back in October 2010. Initially they simply gave direct donations of money and goods, which were used to provide pensions for the elderly, complete construction of a road through the village, and renovate many old houses. However as they learned more about the village, they discovered it has rich natural resources that make it an ideal location for eco-friendly agriculture. The villagers had been unable to unleash the economic potential of the land due to their lack of funding and management experience.
Determined to find a sustainable way to help the villagers help themselves, the alumni decided they would all donate the seed capital needed to establish an agriculture company in the village, one that would bring long-term economic and social benefits to the area. Pooling their various areas of expertise they worked together with the villagers to launch the company.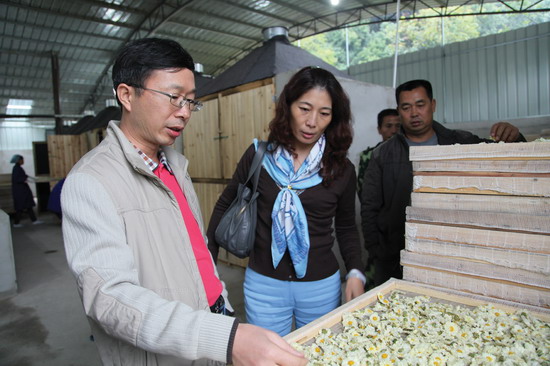 Tang Jianxin (left), and Yin Weihong (2nd left)
The group unanimously chose classmates Tang Jianxin and Tu Jianping to lead the launch, as they had the most familiarity with rural life. Vice President of China Soft International Group Liu Yingjie named the company; Lenovo Innovative Design GM, Lenovo Group VP, and Chief Designer for the Beijing Olympics Torch Yao Yingjia designed the company's logo, which incorporates the CEIBS logo with a stylized element that resembles both a heart and a peach; Huatai Insurance Group Director of Automobile Insurance Zuo Weidong and Yin Weihong, who is a TCM (traditional Chinese medicine) enthusiast, provided expertise regarding sales channels and other areas.
The alumni also chose several local villagers who had some experience in business management, farming and animal husbandry for the company's management team. Their familiarity with the local area and ability to communicate well with other villagers was even more important than their experience.
The enthusiasm of the CEIBS alumni has been an inspiration to local residents such as Jiang Zixiang, who helped with the branding of the company's products. The county's agricultural bureau also provided its support to the initiative by sending professional technicians to help solve technical problems, and helping coordinate some of the company's external communications.
Though they have faced many challenges in launching the Hegu Peach Orchard Ecological Agricultural Co, the EMBA 2004 Beijing Class 2 alumni believe the struggle has been worth it, as projects such as this provide an opportunity to put into practice what they learned at CEIBS in areas such as corporate management and investment knowledge. They are also happy knowing that village residents will enjoy the long-term benefits of their efforts to build a self-sustaining enterprise that raises living standards for everyone in the village. 
In their own words
I hope the "King of Heavenly Chrysanthemum" brand will become successful and residents of this poor mountain community will be able to lead happy lives. Our entire class has enjoyed this opportunity to help. As the saying goes, "rose given, fragrant hand". I hope the entire CEIBS community can do more to help those in need!
(Class member who named the project: Liu Yingjie)
Everyone dreams of an ideal world that offers something besides work; where there are generous people always willing to help others. The Hegu Peach Orchard is just such a place for us to realize this dream.
(Class monitor:  Ding Jie)
Though I have spent quite a lot of valuable time and energy on this project these past two years, it's given me great joy to see the progress we've made through our hard work.
 (Project director: Tang Jianxin)
I visited the orchard as a class representative during the chrysanthemum harvest season in 2012 and was inspired by the encouraging results. I think the project not only provides us with safer and healthier products, but also offers residents a better living environment. It's a win-win.
(Class member: Yin Weihong)
EMBA 2004 Beijing Class 2 adhered to CEIBS' motto of "Conscientiousness, Innovation and Pursuit of Excellence" and worked together to set up "the Hegu Peach Orchard" project, which has helped local residents earn a living. I am deeply moved by their innovation and kindness, and also by their hard work and persistence!
(Class coordinator:  Tan Lei)