By Janine Coughlin
Google, Bayer AG and General Electric are all top global players in their respective industries. Another notable commonality of these multinationals is that all were founded as partnerships. Google's Larry Page and Sergey Brin met when both were graduate students at Stanford. Bayer AG, which today is a leading manufacturer of materials for the healthcare, agriculture and high tech sectors, was founded 150 years ago in Germany when friends Friedrich Bayer and Johann Friedrich Weskott discovered an innovative way to manufacture synthetic dyes. General Electric was born when renowned inventor Thomas Alva Edison realized that the best way forward for his Edison General Electric Company was to partner with its biggest competitor, the Thomson-Houston Company.
In fact many of today's multinational giants were begun by entrepreneurs who decided that partnering up with others was the best way to make their ideas fly. Chair of the Department of Strategy and Entrepreneurship at CEIBS, Professor of Entrepreneurship Ramakrishna Velamuri, says this recipe for success is no accident.
"There is very strong research evidence that ventures set up by teams perform better. They have a higher likelihood of survival and success than those founded by single entrepreneurs," Prof Velamuri says. "In Silicon Valley, considered the Mecca of entrepreneurship, they say that you need very good teams to build great organizations. Even in the past, several great companies in knowledge industries were founded by teams – HP (Hewlett Packard), Siemens, and Hoechst, to name a few."
There are some obvious benefits to starting ventures in teams says Prof Velamuri. "First, success in knowledge industries requires a diverse set of skills, which no single individual is likely to possess," he explains. "In particular, stakeholders such as investors and strategic partners will hesitate to commit their resources to a venture that has a single founder, because of the risk of relying on a single individual for execution. Second, starting a new venture can be a very stressful experience. Entrepreneurs describe it as a rollercoaster ride, often with ups and downs on the same day; having someone who can share the stress with you, and whom you can talk to about the challenges is a very important advantage."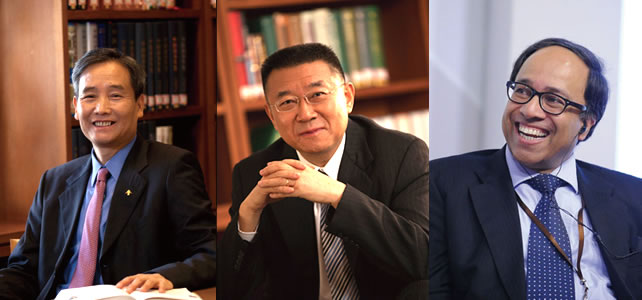 From left: Prof Charles Chen, Prof Chen Shimin, Prof S. Ramakrishna Velamuri
Business school study is well known for the excellent networking opportunities it opens up for fledgling entrepreneurs looking to meet potential business partners. However, many may not realize that an even more important component of business school learning is self-study. CEIBS' professors say that knowing one's self well is the key to being able to find the right business partners, and make those partnerships work, especially when under pressure.
"In a typical business school programme, students get to know themselves and their operating styles through diagnostic tools, such as the 360 degree evaluation. They obtain insights on their strengths and weaknesses and develop self-awareness, which has been shown to be critical to career success, whether as a manager or as an entrepreneur," says Prof Velamuri. "They understand which types of personalities and styles are complementary to their own; this knowledge helps them seek the right personality profiles as partners."
The emphasis on teamwork and collaboration in the CEIBS MBA and EMBA programmes also provides students with many practical experiences for honing team work skills.
"The CEIBS MBA Programme provides a platform and various opportunities for students' collaboration and they value the learning experiences very much," says CEIBS Associate Dean and Director of the MBA Programme Chen Shimin. "In the first academic year, students are assigned to different teams with mixed nationality and background. The teams get reshuffled after each term, so they can study and work with different students on various case discussions, group projects and assignments."
The CEIBS MBA curriculum also includes an Integrated Strategy Project (ISP) that sees students forming teams by shared interests, and working together over several months to develop innovative and practical solutions that address real-life, challenging strategic issues provided by the top-tier companies within CEIBS' corporate partner network.
In addition to coursework and projects, there are a variety of extra-curricular activities available that give students additional collaboration opportunities. "Besides the nearly 40 student clubs that offer students the chance to share interests and have fun while strengthening their leadership and managerial experiences, CEIBS MBA students organize two flagship events every year: the Being Globally Responsible Conference (BGRC) and InnovateChina," explains Professor Chen Shimin. BGRC is the largest business school organized CSR conference in the Asia Pacific. InnovateChina is an annual global business plan competition that was started by CEIBS MBA students in 2008. "Students gain valuable practice in professional and entrepreneurial skills from these events," he says.
The high standards of the admissions process also increase the likelihood that students can find a potential partner amongst their cohort. "Our EMBA programme attracts a diverse group of high level, experienced executives and entrepreneurs," explains CEIBS Associate Dean and Director of the EMBA Programme Charles Chen. "Participants are encouraged to learn from each other as well as from faculty. Those who are already experienced entrepreneurs have great personal anecdotes and advice to share. The experiences gained by working on projects together are also an invaluable way for participants to get a practical feel for that kind of working environment." 
Communication skills, which are especially vital when disagreements crop up, are also a part of the CEIBS curriculum. "The major drawback of starting new ventures in teams is the potential for interpersonal conflict. Business school courses provide students with frameworks and communication skills to deal with interpersonal conflict," says Prof Velamuri. "In the entrepreneurship courses, we emphasize choosing team members carefully and communicating with them openly and honestly. We also underscore the importance of written agreements that clearly specify roles, responsibilities and rewards."
What qualities should you look for in a potential business partner? "You must look for a partner with shared values and complementary skills," Prof Velamuri says. "For example, if you are passionate about the retail industry but have no prior experience in it, then it is important for you to find a partner who has retail experience. Team members must be chosen with the greatest of care, in much the same way as life partners are chosen, because the intensity of interactions between team members in the context of a new venture can often be greater than that between spouses."
Building a Successful Business Partnership
Besides ensuring that team members have complementary skills and shared values, Chair of the Department of Strategy and Entrepreneurship at CEIBS, Professor of Entrepreneurship S Ramakrishna Velamuri suggests entrepreneurial teams have the greatest chance for success together when they do the following:
- Team members must practice open and honest communication with one another.
- There should be explicit written agreements between team members that clearly identify everyone's roles, responsibilities and rewards.
- In particular, agreements should be dynamic rather than static, and must expressly provide for the eventuality that team members' circumstances and preferences may change over time. The team members must take into consideration that one or more of them may want to leave at some time in the future and must work out a mechanism beforehand to deal with the outgoing shareholders. The solution must prioritize the interests of the venture over those of the shareholders.
- Every team must have a leader. This is not easy for some teams to accept, especially if the team is made up of classmates who have become friends during their studies.