The launch included President Zhu's keynote speech on "CEOs & Artistic Cultivation" in which he explored the topic of architectural art. In his address, well-known Taiwanese anchor Cao Qitai drew on personal experience over the past 20 years in sharing his thoughts on learning and innovating.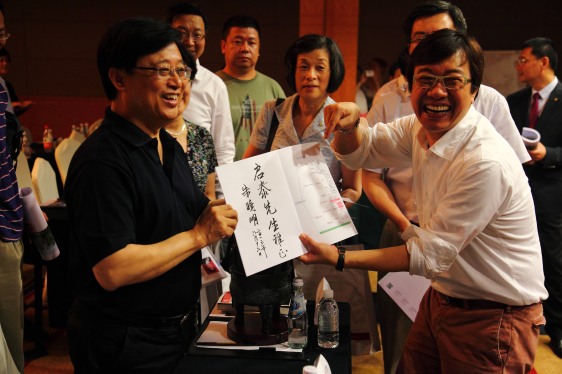 The launch was the culmination of nine months of preparation. Director Wang Qingjiang and Deng Sanhong of the Alumni Relations Office, along with EMBA Deputy Director Weldon Lai played a major role in the events leading up to the launch. Meanwhile, CEIBS alumni in different government offices – including Yu Beihua, Liu Haisheng and Chen Gaohong – provided the preparatory committee with encouragement as needed. During the launch ceremony Wang Qingjiang, who is also Secretary General of CEIBS Alumni Association, presented Chapter President Wu Zhuping with a certificate containing the names of the Xuhui Chapter's first board of directors. The board has 25 members.
Xuhui District, a geological and cultural centre of Shanghai, is characterized by a fusion of eastern and western cultures and the prosperous development of new industries. The Xuhui Chapter will focus on hosting events linked to mobile Internet, culture and art, real estate, medicine and health, etc.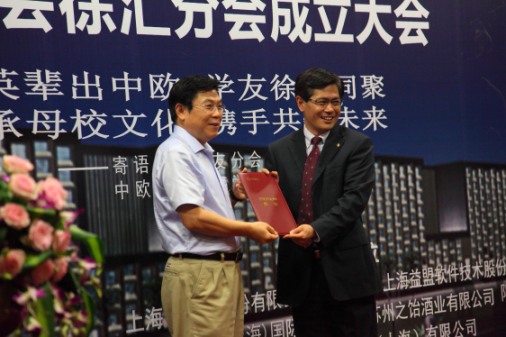 Thanks to Wang Feng (EMBA 1998) and Zhu Jianmin (EMBA 1998) for providing photos from the event.