Tuesday, June 13, 2017
Phenomenal Women
~ CEIBS Women Entrepreneurship & Leadership for Africa, Shanghai Module
June 13, 2017. Shanghai – It's hard to miss the group of impressive women who travelled all the way from Ghana and Nigeria to do the Shanghai module of CEIBS' Women Entrepreneurship & Leadership for Africa (WELA) programme. As they make their way around the CEIBS Shanghai Campus, their vibrant outfits match their level of excitement and eagerness to learn.
Their schedule shows full days, from June 5 to 13, a mixture of classroom lectures, company visits and excursions aimed at giving them the skills they need to understand the China market and grow professionally as individuals. The module includes classes on China's unique business environment, how to engage consumers through effective customer service, as well as marketing strategy. It also looks at managing talent, managing across cultures and vital networking skills that will go a long way towards ensuring the success of an enterprise or individual.  There are also company visits to Cooltech, Mary Kay, Li & Fung and Neoglory Jewelry Company, a panel on entrepreneurs in China, as well as an eye opening visit to Yiwu International Trade City. The Shanghai module is the final leg of a journey that began seven months ago with classes in Accra and Lagos. They graduate today.
Here are a few of the phenomenal women of WELA.
Thirst for Knowledge
Felicia Ofei
Nationality: Ghanaian
Company: Hot Morgaans
Position: Founder & CEO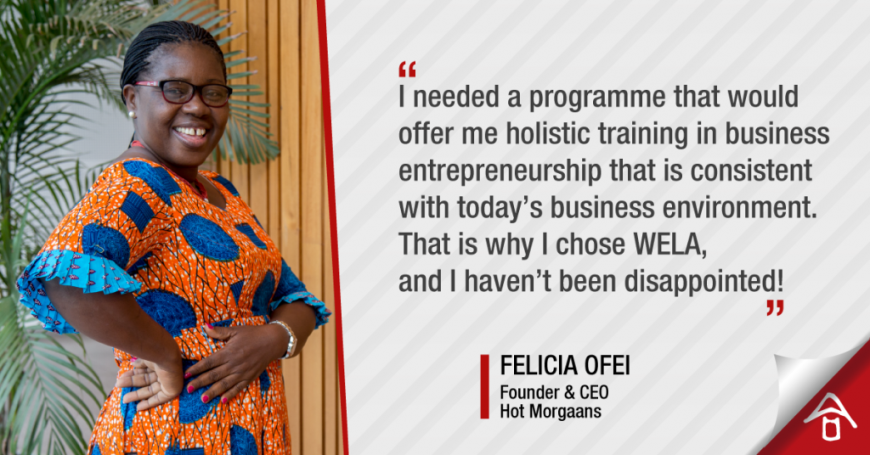 Ten years ago Felicia Ofei began a modest stationary supply store. Today, her daughter and son are the driving force behind the company and it has diversified into digital printing. Her children are in their early thirties but, recognising that their mother has a wealth of experience to offer, they still look to Felicia for guidance in the office. So she has turned to WELA. "They are the managers, but I am the consultant. So I need to arm myself, I need to develop myself because I already have the experience," says Felicia, with a smile. "Business evolves and most of the time the evolution is so slow and subtle that one will not notice it. And this is what makes so many businesses fade away. I needed a programme that would offer me holistic training in business entrepreneurship that is consistent with today's business environment. That is why I chose WELA, and I haven't been disappointed!"
She explains that the word "Hot" in the company's name isn't an adjective to describe its vibrancy but actually her son's initials. But yes, their company is vibrant, and she intends to keep it that way for many years to come. She will need to, as their family members tend to live a long time. Felicia's 97-year-old grandmother is still alive, so the 55-year-old CEO is keeping a watchful eye on her own diet to make sure she makes it to her nineties as well – and she's also making sure her company is healthy.  One way is by allowing the second generation to have a chance to make their mark; the other is by soaking up as much of the knowledge as she can from WELA. The course, she says, has helped build her confidence by helping her recognise what she has been doing right in her company so far. It is also showing her how she needs to improve in order to build a sustainable enterprise.
"I'm really gaining a lot from this Shanghai visit. I have been to China once or twice before but I never had the chance to get to these big industries," she says. "Yesterday we visited Cooltech and I asked myself, if I had come on my own, would I have the opportunity to visit this company? Would they accept me like they've accepted the WELA students? Would they have taken me around their factories and offices like they did yesterday? Would they open up those opportunities to me? I don't think so. So I have no regrets about WELA. In fact if there was an advanced course I would not hesitate to do it! I'm enjoying the learning."
African at Heart
Gloria Liu
Nationality: Chinese
Company: Day Day Up West Africa
Position: Founder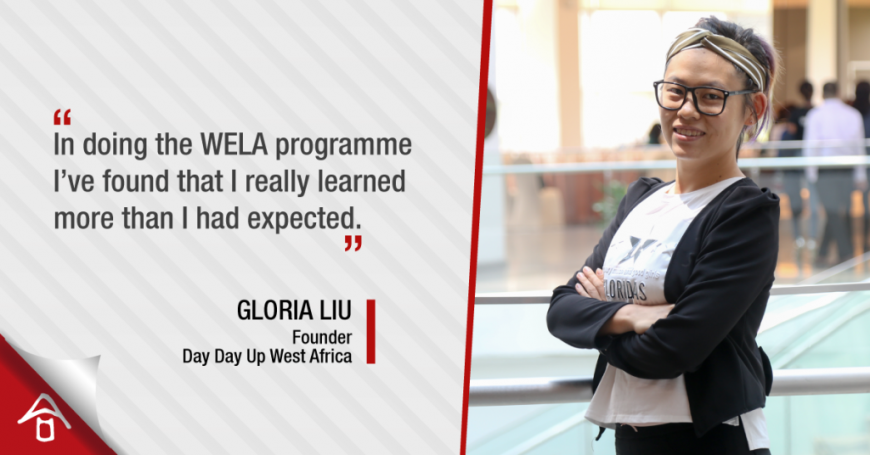 Wearing a striped headband, black leggings, and a short cropped black jacket over a white T-shirt, 31-year-old Gloria Liu stands out from the rest of her classmates. She's obviously not African. At least not by nationality – but she's Africa at heart. The Chinese national fell in love with Africa while working in Uganda. She's now lived in Ghana for four years and just launched her own start-up last year. One of her favourite things about living in Ghana: it's a lot easier to find a parking space than in China!
She originally thought WELA was an easier version of the CEIBS MBA, but she's been pleasantly surprised to find out how wrong her initial assessment was – and by how much she's learned. Here's what Gloria had to say about WELA and her future plans:-
"Thanks to the Chinese government's new policy, the Belt and Road Initiative, more Chinese businesspeople and entrepreneurs are going to Africa to set up their own business, so more and more people need my assistance.  More opportunities have come my way. I help my clients establish their companies. I also import vehicles from Canada and sell to the Chinese in Ghana.
I've been living in Ghana for four years. Before that, I worked in Uganda so I've gotten used to living in Africa. I think it's where I can make the best use of my skills.
At first I thought the WELA programme would be a kind of introductory course to the CEIBS MBA or EMBA, that it wouldn't be as intensive as the MBA. But in doing the programme I've found that I really learned more than I had expected.
Now I need to put the theories I learned from WELA into practice.I just started my own business last year, so it will take some time for me to gain the experience I need. And hopefully within five years I can apply for the CEIBS MBA. For now I need more business experience as a young entrepreneur."
Destined to Lead
Stella Asiedu
Nationality: Ghanaian
Company: Silver Star Estates Ltd
Position: Chief Executive Officer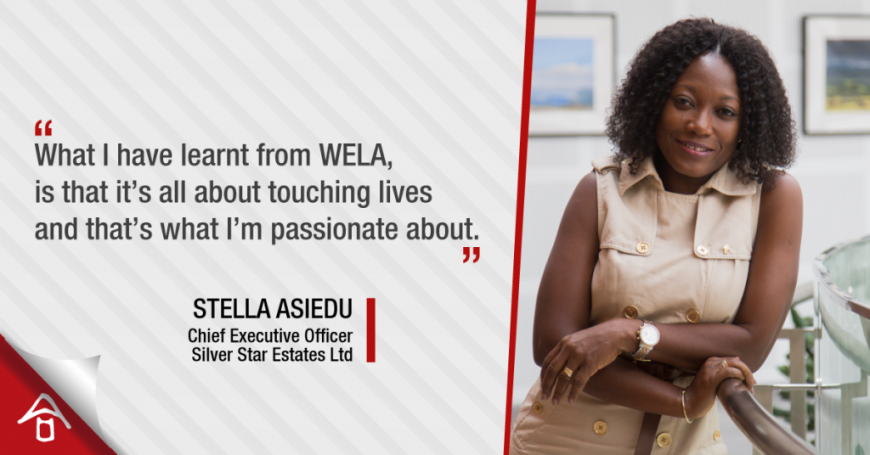 After 15 years in public service, Stella Asiedu got used to being a follower. Now her father has asked her to be the CEO of his real estate company and she needs to learn how to be a leader. "I really want to make a difference in the company. My father, the chairman, has managed it for some time so there is the generational difference. We talk about innovation all the time. This is an opportunity for me to go back and look at how we can be innovative and really put our brand out there."  She hopes to be able to successfully run the company and eventually take it global.
As the first born daughter, plus with her background in estate management, she was expected to become CEO and she has found that she actually enjoys being in the family business. She is hoping her other siblings will eventually come into the fold. "Now they work for other people but I think if I build something really good, they'll come," she says. She's well on her way. This is her first visit to China and she has been inspired by the architectural designs she has seen in Shanghai. When Stella looks at a Shanghai skyscraper her curious mind takes her to questions about its blueprint, how the project team worked with artisans to complete the project, and how she can apply these lessons to Ghana's real estate industry. 
"There are about 1.7 million people in Ghana who do not have access to adequate accommodations. So you can imagine where they live. You have make-shift houses, people live in shipping containers because they can't afford a home," she explains. "So the question is, how can you have an affordable building where everybody can afford to have a decent place? What I have learnt from WELA is that it's all about touching lives, and that's what I'm passionate about."
Go Big or Go Home
Estella-San Anavhe
Nationality: Nigerian
Company: Indulge Retail Stores Limited
Position: Managing Director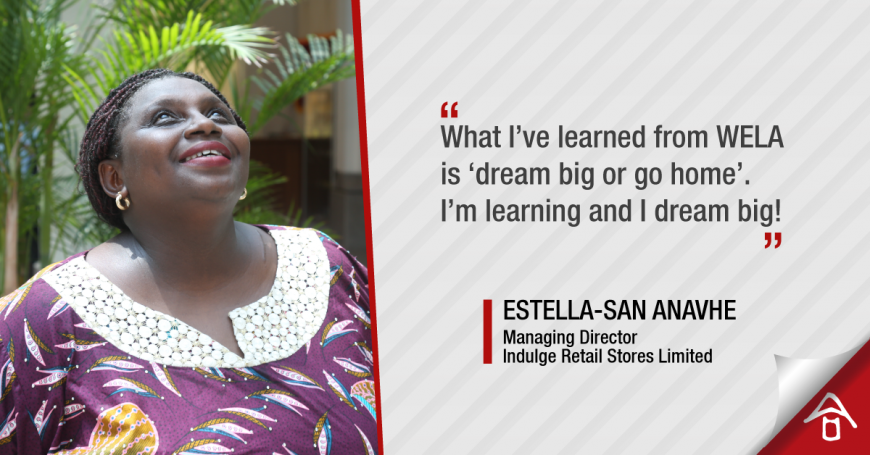 "The company started, about five years ago in my bedroom, with a phone call and a transaction less than $13 dollars. Over the years we have evolved into a retail store. We now have stock worth over $70,000, with no obligation or indebtedness to any financial house or institution.
We are a retail store that offers a wide range of products brands and services. We have built up quite a large customer base over the years. We sell practically everything, from fashion brands to books, accessories, bridal supplies, home essentials and much more. We are your quintessential retail or departmental store. 
We formally launched four years ago but a lot of our customers believe the company has been around a lot longer. We keep growing as we evolve with time and the trends and we hope to grow even more.
Why WELA
I enrolled in WELA because I know learning is a continuous process. A friend of mine graduated from WELA earlier this year and I noticed that her style of business had changed. She was doing very well. 
The programme had already started when I joined. I missed some classes and had to go for make-up classes to catch up with the modules. Within my first few hours in the class, it dawned on me that I had been running the business the wrong way.
I had been running it based on sentiments. 
Many of our customers owed us money. How we have managed to grow, I have no idea. Maybe it was goodwill. So that day, I calculated how much our customers owed. It was mind-boggling. It was millions of Naira and about US$8,000 [about 2 million Naira] was owed to the company just for that month.
So I learned that in order for a business to survive, we needed to be strict. That weekend I restructured the business model. It was difficult. Most of the customers left. But because of our pricing strategy they had to come back.
After every WELA module I tell myself I need to apply what I have learned to my company. Each time there's always resistance of course, but after two days it just flows and my staff would exclaim, 'Oh my God why have we not been doing these things all along?'  
WELA in Lagos, Nigeria, was fantastic. Coming to Shanghai has been an awesome experience. What I have learnt from WELA is 'dream big or go home'. I am still learning and I have big dreams! I have chosen a path, and that path is to keep dreaming big; much bigger than most people. Because I am a woman, I have to dream even bigger – and I refuse to go home. 
I have been telling a lot of women about WELA. I began from the first day I started the programme. My neighbours, my friends, my business partners, even my staff. I share my thoughts and the lessons learnt because it is not just about empowering myself, it is about empowering the next person behind you as you never can tell where that knowledge will be useful. It is all about empowering women. 
Success is an exhilarating experience. I started really small, now I think big. I will scale up fast and equipped with my WELA experience, I have chosen against all odds to Go Big."
The Social Entrepreneur
Naa Adobea Torkornoo
Nationality: Ghanaian
Company: Farmer Torks Greeneries
Position: Founder & Visionary & CEO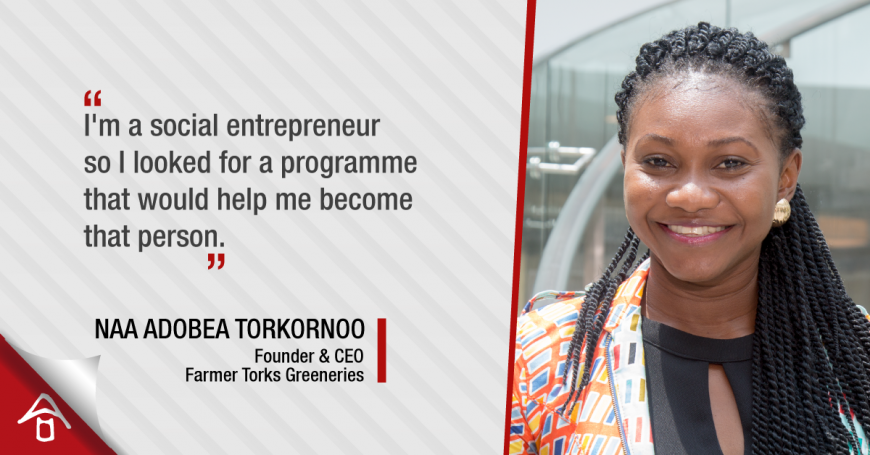 "At Farmer Torks Greeneries we're passionate about the environment and people, especially children. Officially we've been registered for three years now, but we've been operating for five to six years. Our goal, under our Horticultural Services and Garden Shop sections, is to enhance the ambience of homes, corporate settings, hospitals warehouses hotels etc. by using top grade natural plants both in and outside.  Our garden section offers a full service gardening experience; we provide everything our customers need to start gardening and we make the activity as easy as possible for all ages. 
The third aspect of the business, which is my favourite, is teaching children, young people and groups how to do organic vegetable gardening in schools and during vacation time. It can even be just for a day or two, just to get them as close to the environment as possible. It's all about environmental and self-awareness, that's what we do.
Why WELA
I know I'm a social entrepreneur so after my first degree I looked for a programme that would help me become that person. I saw a couple of master's programmes but they really didn't relate to what I wanted. I don't really remember how I heard about WELA or CEIBS, but everyone I spoke to who had done the programme said wonderful things about it. They talked about it with such conviction and passion. They said, 'You won't regret it, you'll gain much more than what you paid for it.' So I applied. 
I'm not an accounting person but the classes on accounting have helped me balance my books better. It's a practical programme so I also learnt about networking. They even cover grooming, having an executive presence, gravitas. It has been a worthwhile course.         
One thing from the course that's really going to help me is the lessons about customer service, managing contacts.  I think that is one thing that's going to turn a lot of things around for my company." 
The next WELA class begins in November 2017. Click here for more details.