MBA1998 Alumni Invest in CEIBS
Wednesday, August 27, 2014
MBA1998 Alumni Invest in CEIBS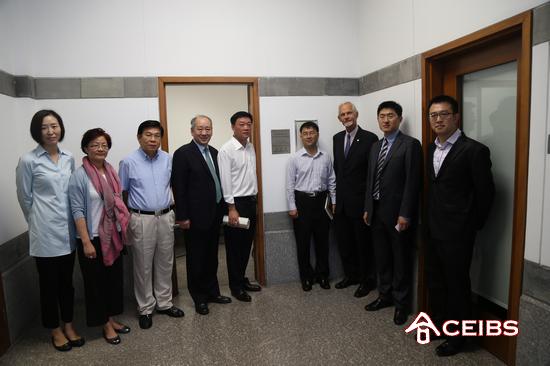 August 27, 2014. Shanghai – A ceremony was held today to rename Room A1.115 the "Meet 98 Discussion Room" in honour of MBA1998 alumni who together made a RMB 450,000 investment in their alma mater. In thanking the alumni for their generosity CEIBS Vice President and Co-Dean Professor Zhang Weijiong encouraged them to participate in the many activities being held this year to celebrate the school's 20th anniversary. Dean and Vice President Hellmut Schütte said that the investment will help CEIBS in its continued development and he encouraged the alumni to offer their ideas for the school's operation.
Speaking at the ceremony on behalf of his class, alumnus Qian Tao said he and his classmates were honoured to have an opportunity to contribute to the school's development. He said that the school taught them the importance of independent thinking and integrity which has played a crucial role in many MBA students' career success.
Several MBA1998 alumni have already contributed to the school's development through personal donations. In addition, Morningside Ventures, which was founded by three alumni from this class, last year invested more than RMB 1 million in MBA scholarships.