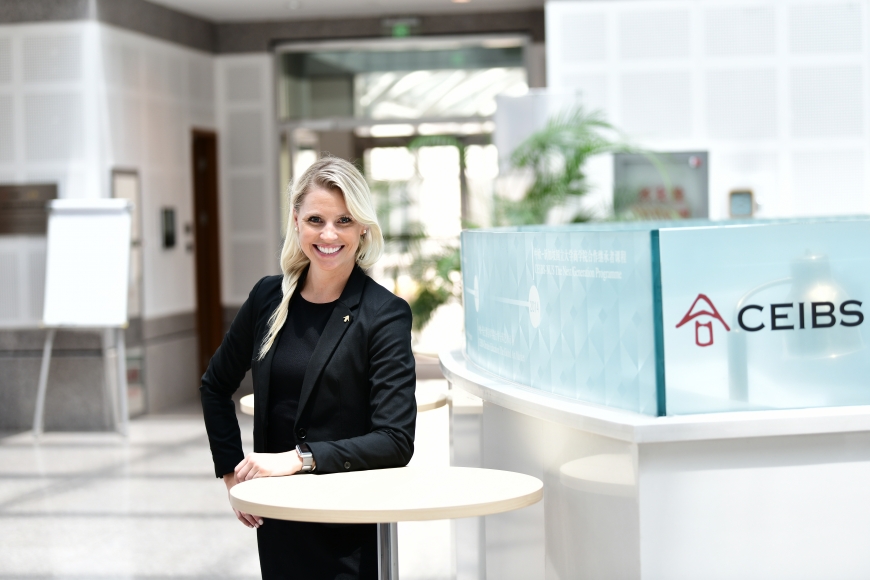 Relocating to China is often cited as one of the biggest life decisions made by international MBA students at CEIBS. Weighing the plethora of opportunities against cultural and language barriers often takes weeks and months. For some however, the luxury of time and in-depth research is never an option – such was the case for MBA 2020 student ambassador Emma Devine.
Emma was working for fashion retailer Abercrombie & Fitch in Florida when the opportunity arose to pursue an overseas assignment for the company. Having reached the final round of internal interviews, Emma was asked by the hiring panel where should could see herself working. Other colleagues in the running listed the fashion capitals of the world – Paris, Milan, London etc. – but Emma, priding herself on her ability to overcome cultural hurdles, said she was flexible and open to new challenges. Her phone rang later that evening. "Congratulations, Emma, you're going to China," the hiring manager said. "We'd like to offer you a two year contract to stabilise the leadership team in Shanghai and then open our flagship store in Hangzhou. You have 24 hours to decide and we need you to relocate in two weeks' time. Oh, and by the way, if you renege on the position, there will be $20k USD fine."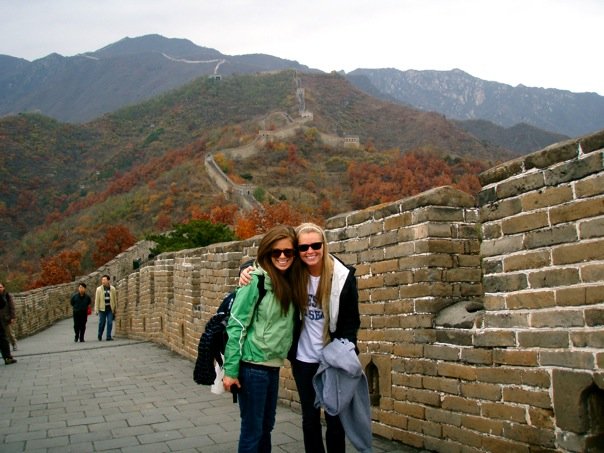 Despite not speaking a word of Mandarin, the pull of a global career coupled with her 'go all in' attitude meant there was only going to be one answer from Emma. "I remember thinking, even with the possibility of failing, this wasn't an offer I could pass up," she says. Nearly a decade on from that decision and now starting her second term at CEIBS, Emma took time out of her schedule to sit down with MBA Admissions. Read on to discover how she decided between an MBA in Hong Kong and Shanghai, some of the lessons she learnt from her leadership experience in China, and her personal CEIBS highlights so far.
Moving to China
Emma traces her gung-ho attitude towards diving into the deep end of China back to her 'Semester at Sea' experience during college. "I come from a family that doesn't really value travel.  I didn't own a passport until I was 21. When I heard about a programme that brought 1000 college students together on a cruise ship that circumnavigated the world, I knew I wanted to join. I lobbied my parents pretty hard to let me go, even dressing up in a business suit and presenting a PPT deck to them on the benefits of the programme. They finally agreed and the trip turned out to be a major turning point in my life. One day we would be learning about economic policy in developing countries, for example, and the next we would be docking in China to see the real life implications of these lessons. I returned to my sorority house a completely different person, my world view shifted, and I have been intrigued by the growth of China ever since," she says.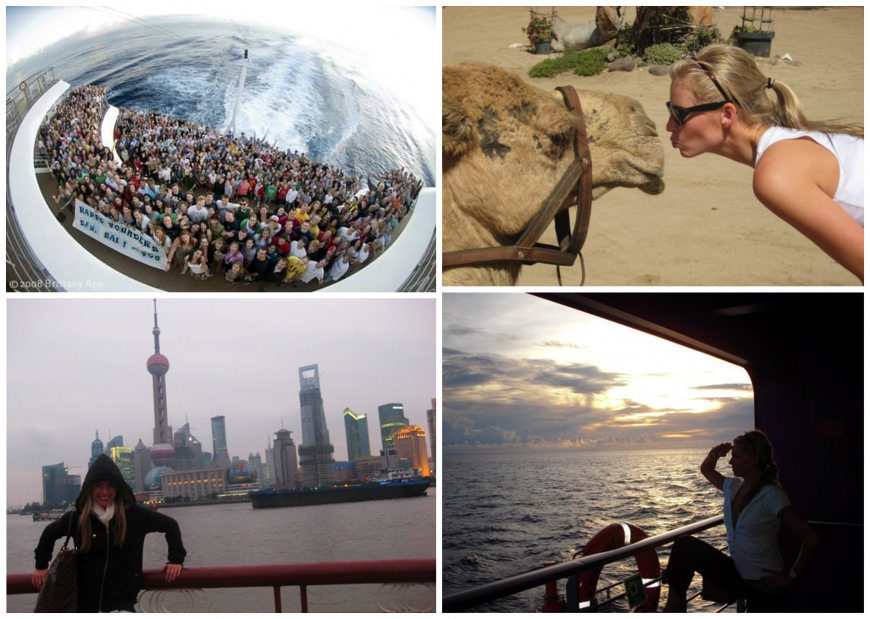 On the flight to China, Emma says her major concern was how her leadership style would translate to a Chinese context. She spent her limited hours researching the concept of face and how to manage in a high context culture. Ultimately, she would soon discover that reading about best practices in China was simply not enough. The key was making mistakes, learning from them, and going at it again. "My introduction to Shanghai was actually an extremely soft landing, as Abercrombie & Fitch put me up at the Ascot Hotel in Xintiandi. On day one, I decided to venture out to visit the store that I was going to be managing. I met the leadership team and set off back to the hotel with a renewed sense of confidence in my ability to complete the project. What I had overestimated was how difficult the return leg of the journey would be. The rain started to pour, I couldn't find a taxi, and even when I did manage to flag one down, I had naively assumed that everyone would either know the famous Ascot Hotel or at least speak English. "It's next to Cartier, you know, by Zegna," I kept repeating, all to no avail. After two hours, a sympathetic driver finally took pity on me and called a family member who was able to help translate. When I finally got back to the hotel, I walked through the lobby, grabbed a handful of hotel place cards, and then collapsed in my room. Feeling dejected, soaked, and jetlagged, at least I had completed one day. With a bunch of hotel place cards in my pocket, I had learnt something from my mistake and knew that tomorrow would be slightly easier," she recalls.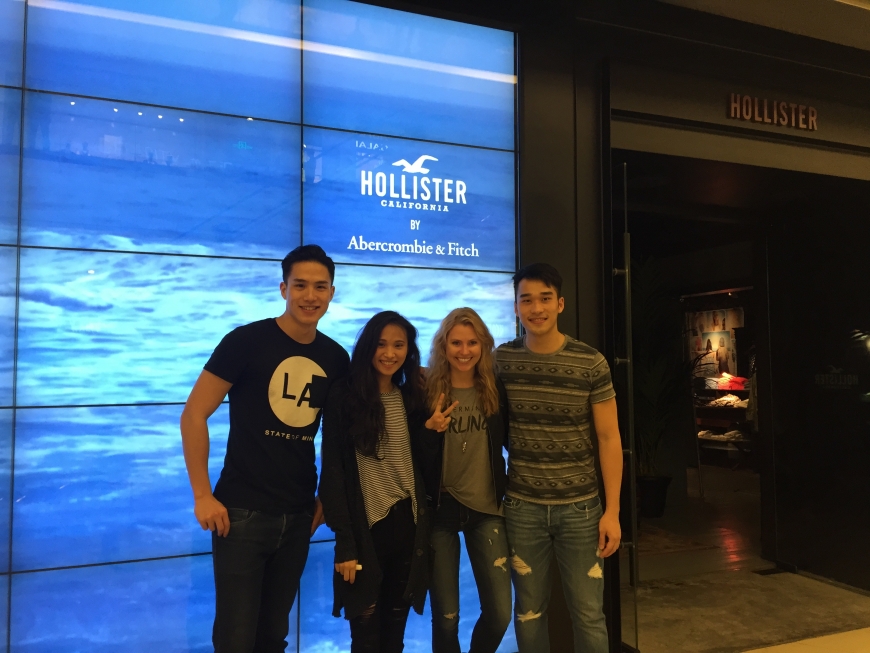 Emma's attitude towards overcoming the cultural hurdles she faced acted as a framework to help her grow and excel in the workplace in China. Once she had successfully stabilised the leadership team in Shanghai, Emma moved to Hangzhou with a three month deadline to find and recruit more than 200 people to run the store. "Abercrombie & Fitch was the new brand in town, so to find staff we visited university campuses and approached students directly to introduce our recruitment needs," Emma says. "I literally learnt my Mandarin on the streets of Hangzhou. Of course, I made mistakes along the way, but with each conversation I was able to better express what the brand stood for. Once we had a full roster of staff, the next challenge was how to ensure the store not only looked like Abercrombie & Fitch, but also had the feel of its US counterparts. This required a huge investment of time to explain the 'why' behind branding decisions and the vision of the company. By the time I left Abercrombie & Fitch, the Hangzhou store was the first in China to become fully localised, an achievement that I'm immensely proud of, especially given the hours I spent nurturing colleagues."
Hong Kong or Shanghai?  
After fulfilling the project with Abercrombie & Fitch, Emma was approached to join Apple in Hong Kong. Inspired by conversations she had with their management team about talent development and change management, she moved into a leadership role at the extremely busy Causeway Bay store. In her current role as student ambassador for the MBA programme at CEIBS, Emma is often asked to compare Hong Kong and Shanghai both from an MBA perspective and also in regards to their working cultures. "It's hard for me to pick a favourite as both locations are fast paced, dynamic, and constantly changing. Life in Hong Kong is easy – lots of healthy food, gyms, and a large expat community," she says. "In Shanghai though, I really appreciate the smaller and tighter expat community. Getting around the city is also much easier than when I first came, yet it still offers up these small adventures and challenges to overcome. I find this extremely motivating, both personally and professionally, and it's a big reason behind why I decided to come to CEIBS to do an MBA."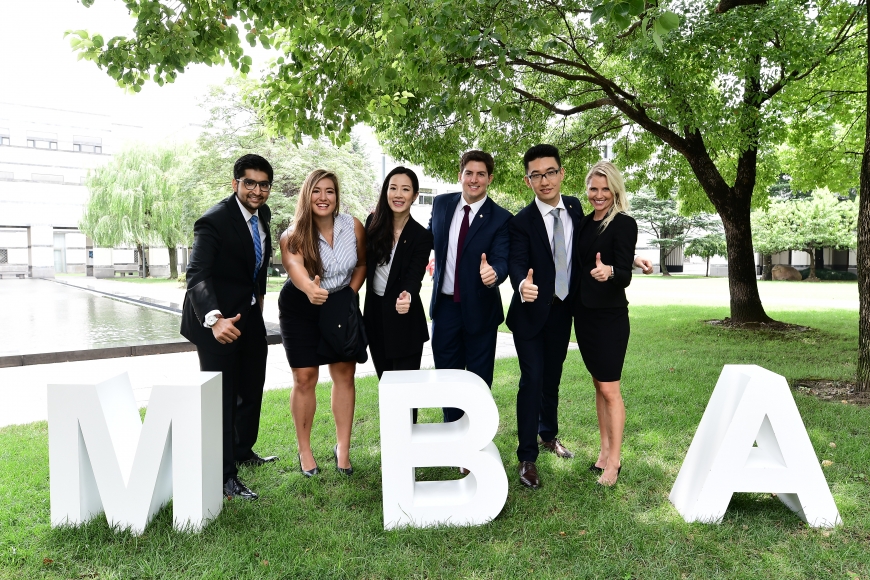 CEIBS so far
Since enrolling in August, Emma lists both the classroom experience and the career development support as two standout highlights from her first term on campus. "I had no idea I would be waking up excited about the prospect of sitting in a data analytics class, but all the classes have been great so far. I also really appreciate that no matter what lecture we are sitting in, the conversation always comes back to discussing how frameworks, concepts, and trends will play out in China. This was really what I was hoping to see when I read about the 'China Depth, Global Breadth' approach at CEIBS," Emma says. "From a career perspective, my dream company, Alibaba, came to campus in the first month. After the presentation, I was able to approach a vice president, MBA alum, and an HR director about their hiring needs and my background, which was truly an invaluable experience. We're also assigned a career counsellor from very early on who helps to arrange workshops on topics such as 'building your personal brand' and 'how to rock your LinkedIn profile'. As someone who is looking to pursue a career in consultancy or organisational design, these soft skills sessions offer very practical takeaways, applicable in both a China and global context."
Still very much at the start of her CEIBS journey, Emma is acutely aware that when she graduates in 2020, she will be celebrating her ten year anniversary in China. When she reflects on her colourful, rewarding, and challenging journey so far, she can't help but think how different her life would be right now if she had replied 'Paris' during her overseas assignment interview with Abercrombie & Fitch.
To hear more of Emma's story, prospects planning to apply for an MBA at CEIBS can reach out to her directly through the student ambassador outreach programme.