Thitita Jeeyasak (left) and Wipavee Watcharakorn (right)
By Rachael McGuinness
In 2007, MBA 2002 alumni Thitita Jeeyasak and Wipavee Watcharakorn took over Vachamon Foods.
Established by Jeeyasak's mother in 1992, it's a Thailand-based family business that imports and exports fruit to major retailers and wholesale customers. Over the past six years, the CEIBS grads have grown the business significantly: the number of employees has tripled and revenue jumped from US$6.5 million in 2007 to US$64 million in 2012. This year, their goal is to reach US$80 million in revenue.
In this interview Watcharakorn, Vachamon's Business Development Director, explains the company's long-term goals as well as the impact that CEIBS has had on how she and Company Director Jeeyasak manage their business.
TheLINK: What is the business climate like for women in Thailand?
Wipavee Watcharakorn: While men still dominate other sectors, there are quite a few high-profile women in the fruit industry. I don't think there is a significant amount of discrimination against female executives, but the number of high-ranking women is relatively low because most females spend much of their time raising children and looking after their family.
TheLINK: What have you done to grow the business? What were some of the challenges you faced?
Wipavee: Particularly since the 2004 free trade agreement between China and Thailand, many fragmented players have entered the fruit industry, and they often don't have good business management skills. They tend to make emotional decisions and sometimes this has negatively affected the industry, in terms of pricing. Because of the nature of the business, people can enter the industry quite easily, so it is important for us to be competitive in terms of product knowledge, costing, managerial efficiency and customer relations. We work hard to gain customer trust. It's crucial that we respond to their requirements quickly, and make them feel as if we are their partner and we can grow together. Our aim is to be a one-stop-shop where wholesale customers can find everything they need.
We had revenue of US$6.5 million in 2007 and US$64 million in 2012. In 2013, we hope to grow to US$80 million, and so we will need to have more workers and office staff.  When we took over in 2007, the company had 50 employees. We now have 157.  In terms of hiring more packing workers for the factory, we are studying the pros and cons of relying more on machines because managing labour is always problematic.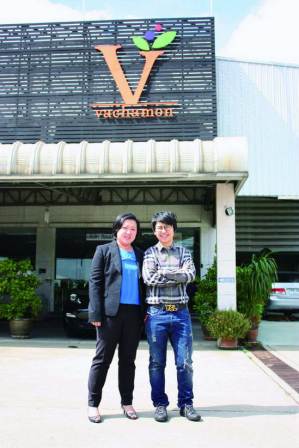 TheLINK: How did you decide to become business partners?
Wipavee: We were roommates and best friends at university, and we both made the decision to enrol at CEIBS. After that, being business partners just came naturally.
TheLINK: Why did you choose CEIBS? How did studying at CEIBS help you to develop Vachamon Food into a successful business?
Wipavee: Personally, I chose to study at CEIBS because I wanted to attend a world class MBA programme, and I was impressed by CEIBS' in-depth China knowledge and global outlook. At the moment, we have many Chinese suppliers, and living in China for nearly two years during the MBA programme has given us an edge in understanding the business culture of these suppliers.
The CEIBS MBA gave us a solid management foundation. The case studies were especially helpful, allowing us to learn from others' mistakes, as well as successes – we have been able to adopt the positive practices in our business while avoiding mistakes that others have made. CEIBS emphasises the importance of sustainable growth. We know that becoming successful is difficult, but maintaining that success is even harder. But I believe that the lessons we learned during the MBA will help to make our business last long and grow consistently.