Saturday, April 19, 2014
MBA 2009 Alumni Reunion
April 19, 2014. Shanghai - Nearly 80 MBA 2009 alumni gathered at the Shanghai Campus today to reconnect with one another and CEIBS and celebrate all they have accomplished in the five years since graduation. Some students even travelled from abroad to attend the reunion. The happiness of the attendees resonated throughout the newly opened Phase 3 of the Shanghai Campus where the event was held.
"Everything feels very familiar to me when I come back to campus, it's just like we never left," said alumnus Victor Lim, Director of Marketing and Sales at Jin Jiang International Hotel Management Company, who hosted the reunion. CEIBS Dean and Vice President Hellmut Schütte welcomed the alumni, and updated them on the measures the school has undertaken towards further internationalization. Associate Dean and MBA Programme Director Professor Chen Shimin gave an update on the school's recent milestones, including new faculty and research centres, the opening of Shanghai Campus Phase 3, and the MBA Programme's performance in global rankings. Prof. Chen expressed appreciation for the strong support that alumni have shown CEIBS over the years. He also said that the school would be happy to provide even more comprehensive support to MBA alumni in the future.

Dean and Vice President Hellmut Schütte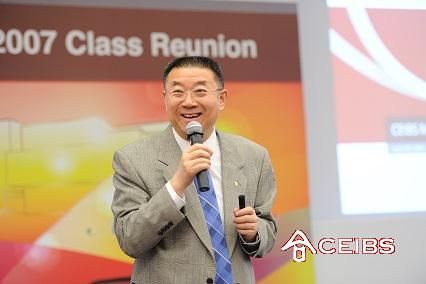 Associate Dean and MBA Programme Director Professor Chen Shimin
There are more than 180 MBA 2009 alumni, with around 40% from overseas. This class was especially notable for their work in initiating the INNOVATEChina global business competition, which has become a flagship event for CEIBS. The class also set a record for the number of alumni who have followed an entrepreneurial path since graduation.
Among the reunion highlights were two short videos that were shown, "CEIBS Welcomes You" and "CEIBS Break". The videos brought back fond memories for the students of their school days on campus. The festivities ended with a dinner, where everyone had the chance to reminisce about their days spent studying together and catching up on their lives today.