On September 13 more than 90 CEIBS MBA 2002 alumni and their families gathered in Hangzhou's ancient Liang Zhu town for a weekend celebration of their shared past, current accomplishments and dreams for the future. Those who were unable to make the reunion sent videos, letters and audio recordings.
Refreshed from a restful night after their arrival, the festivities began on the morning of September 14 with alumni gathering in small groups to get reacquainted; their catching-up continued through lunch. After the meal, CEIBS Associate Dean and MBA Programme Director Professor Chen Shimin updated the group about new faculty and recent initiatives such as the international counsellor administrative committee system, new training programmes and the newly built Shanghai Campus Phase III. The alumni also took the opportunity to express appreciation for the school's sponsorship of their weekend reunion.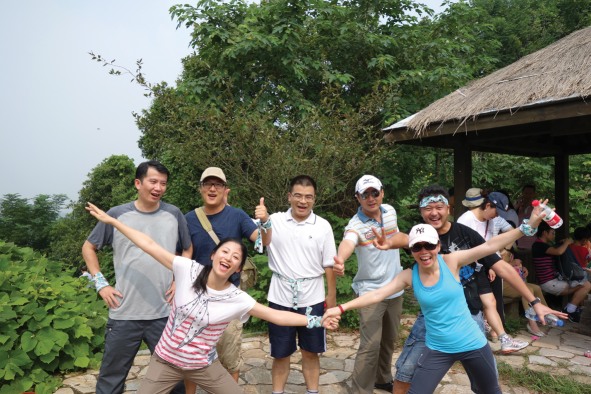 Everyone then participated in an inspirational session that saw around 40 alumni sharing their views in three-to-five-minute presentations that were reminiscent of mini TED talks. They covered a wide range of topics including travel, health, hobbies, emigration, public welfare practices, entrepreneurship, career issues, investment and financing. Among the presenters was Li Mu, who spoke about raising a child who became the science champion of Shanghai's college entrance examination. Li Lei spoke about his passion for long-distance running, which was inspired by Haruki Murakami's book, What I Talk About When I Talk About Running. He also shared his thoughts on Feng Zi Kai's meditation on the three levels of life: material, art and religion.
The following morning, alumni and their families participated in a mountaineering activity at Chayu Park that was designed by training master Xu Hong Bo. Everyone enjoyed the opportunity to relax and reconnect, while also experiencing nature and enjoying the breath-taking early autumn scenery in Liang Zhu.
It was all over far too quickly. However, the joys of the weekend will be forever etched in the memories of all who participated.