By S. Ramakrishna Velamuri
Organisations and managers from the for-profit private sector have traditionally attracted the greatest attention from management scholars and the media. With countries all over the world now moving towards more market based economies, managerial issues in state owned enterprises (SOEs) – or public sector organisations (PSOs) as they are also known – have started to elicit the interest of researchers. Through stock market listings and opening up hitherto state-dominated sectors to competition from private organisations, governments in many countries have tried to subject SOEs to the discipline of the market. As SOEs have come under the market's influence, a key challenge facing them is how to strike the right balance between social and economic (efficiency) goals.
The Indian Railways (IR) is one SOE that has already been the subject of a number of research studies. With revenues in the 2010-2011 financial year of US$ 21.3 billion, profits of US$ 1.4 billion, and a workforce of 1.33 million employees, IR plays an important strategic role in the transportation and logistics sectors of the Indian economy.
In keeping with its public sector status, IR's main goal has always been to serve the nation. It has sought to do this in two ways: first, by providing affordable transportation to people, especially the lower income sections of the population; and second, by transporting essential commodities, such as food grains and salt, at subsidized freight rates. Given the severe constraints under which it functions, in terms of its ability to increase passenger fares and freight rates, it is a remarkably well-managed organisation that has delivered substantial value to its stakeholders.
The table below provides statistics on inputs and outputs for the 60-year period from 1950-51 to 2010-11 (the Indian financial year goes from April 1st to March 31st).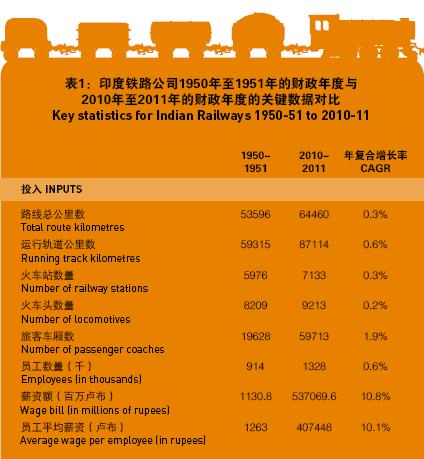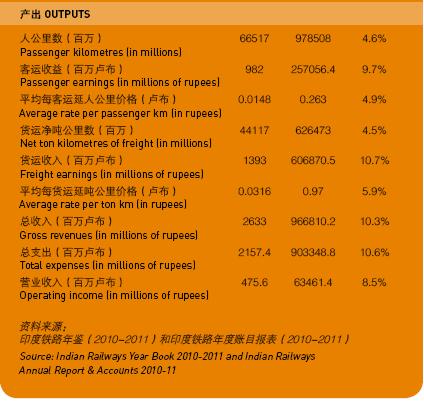 The table shows that in the 60-year period from 1950-51 and 2010-11 there were only modest increases in inputs utilized by IR. Route kilometres, track kilometres, number of stations, number of locomotives and number of employees increased at an annual rate far below 1%, and the number of passenger coaches increased at 1.9%. Technological advances, such as improvements over time in the tractive power of locomotives and the load carrying capacity of freight wagons, also contributed to keeping growth in inputs low. However, the wage bill of IR and the average remuneration per worker experienced annual growth rates of 10.8% and 10.1% respectively, compared to 6.63% average annual inflation in the country over the same period.  This shows that employees are one of IR's most important stakeholders and ensuring that they are well provided for in terms of remuneration and benefits has been a major concern for IR's management.
When it comes to the annual growth rate of outputs, the performance of IR has been stellar. Annual growth in passenger kilometres (4.6%), passenger earnings (9.7%), net ton kilometres (4.5%) and freight earnings (10.7%) have far exceeded growth in inputs and illustrates how IR's efficiency in the utilization of its tracks, locomotives, passenger coaches, freight wagons and stations has improved steadily over time. This higher growth in outputs relative to inputs also shows that investment in railways infrastructure has lagged significantly behind growth in passenger and freight traffic, resulting in severe capacity constraints today in both businesses.
The 4.9% average annual growth in passenger fares (per passenger kilometre) has been significantly lower than the annual inflation rate of 6.63%. This shows that passengers are another important stakeholder group of IR, and it serves their interests by limiting fare increases. Indeed, the passenger fare increase announced by the Railways Minister in January 2013 was the first in more than ten years. A reserved second-class sleeper berth in a slow "mail" train from Mumbai to Chennai (1283 km) costs less than US$9, whereas one from Delhi to Chennai (2175 km) costs less than US$12.50.
Safety has been another area where significant investment and efforts have been expended. Historical data are not available, but there has been considerable improvement in IR's safety record over the four-year period from 2007 to 2011, with accidents per million train kilometres decreasing from 0.23 to 0.14.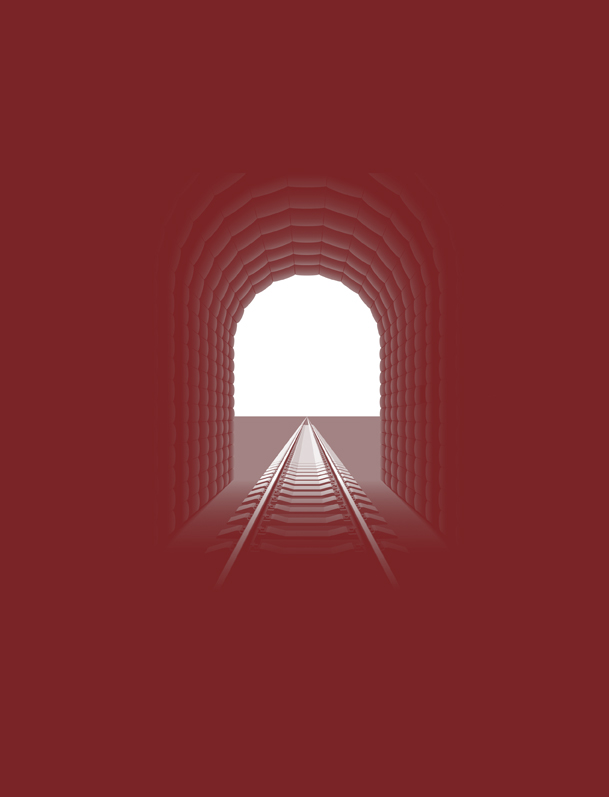 The computerization of IR started in 1986 with the setting up of the Centre for Railway Information Systems (CRIS), which gradually permeated more and more of the organisation's operations. In 2005, the online railway booking system for the public was launched. Currently, it can issue 2,000 tickets per minute and serve 40,000 users concurrently and these capacities will soon be increased to 7,200 and 100,000 respectively.
One area where IR has not made any progress to date is high-speed railways (speeds higher than 250 km/h), although it signed MoUs in 2012 with China, Spain, France and Japan to study different options. This draws frequent comparisons with China Railways (CR), which has in less than 10 years developed a longer high-speed rail network than that of all the other countries in the world combined. The current maximum speed on IR is 110 km/h, although experts observe that it should be possible to increase it to 160-200 km/h ("semi-high speed") on existing tracks, i.e., without the need to construct dedicated corridors.
There are clear benefits to high-speed rail, such as i) improvements in the productivity of passengers, ii) reductions in the cycle-times of journeys leading to fewer locomotives and coaches required for the same number of passenger-kilometres, and iii) the ability to transfer a significant amount of travel from road and air to train, which has a much lower carbon footprint.          
However, high-speed rail is not without its challenges. One major concern for IR management in introducing high-speed railways is affordability of passenger tickets. India's GDP per capita of USD3,900 is far lower than that of China's (USD9,800). IR's fare per passenger-kilometre is approximately 70% lower than CR's normal train fares (at current exchange rates). Given that high-speed rail tickets in China cost approximately three times those on normal trains, IR is worried that the passenger cost of the high-speed service would put it beyond the reach of the masses. It is also not clear that there would be sufficient demand from wealthier passengers at the prices that would need to be charged to recoup the investment in a reasonable time period. A second concern is how to finance the massive investment in the construction of dedicated tracks and purchase of rolling stock, which the World Bank has estimated at USD35-70 million per kilometre, although China seems to have constructed its high-speed lines at a significantly lower capital outlay. IR is not generating sufficient surplus to fund this investment, and the public finances of India do not permit transfers of such massive sums for high-speed rail. For these reasons, IR's progress on this front is likely to be careful and slow.
One reason for IR's success to date is the quality of its management. Direct recruitment to the managerial ranks (Grade A & B) is done through the Civil Services Examination conducted by the Union Public Services Commission, for which the success rate is around 0.3%. The selected candidates typically join IR in their early 20s in commercial, operations or administrative positions and work their way up the organisation, reaching the senior level after approximately 30-35 years of service. Training is provided on an on-going basis to ensure that knowledge and skills are being appropriately updated.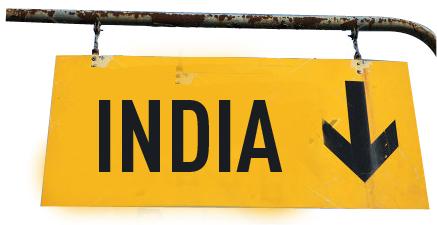 The company's success could have been even more impressive had there been a less rigid ticket pricing system in place. If the IR managers had been given the freedom to price passenger and freight services according to market needs, they would most likely have achieved higher levels of modernization of the organisation and offered more conveniences to passengers, such as higher speeds, more comfortable journeys etc. Unfortunately, IR has long suffered political interference, which has severely restricted its ability to raise passenger fares. As a result, it has had to continuously increase freight rates, making it less and less competitive in this business over time. IR's share of freight traffic has declined from 89% in the early 1950s to approximately 36% today. Experts have recommended that an independent rail tariff authority be set up, and given a mandate to set prices for freight and passenger services. At a minimum, IR should be allowed to use price increases to recover the higher costs it incurs year after year. IR is not the only Indian SOE that has achieved high levels of social impact while maintaining financial discipline. In sectors such as banking and steel, SOEs compete head on with private companies. In many cases, the performance of the SOEs matches and sometimes even exceeds that of their private counterparts. There are also numerous such examples of SOE success in other countries, such as China, where the scale of the state-owned sector is much larger than in India. Given their importance in emerging economies, it is imperative for researchers to understand the challenges SOEs face in striking the right balance between social and economic objectives.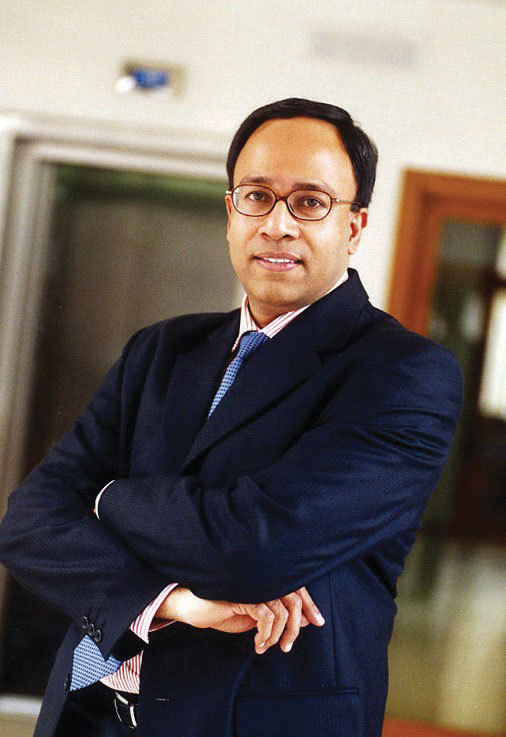 S. Ramakrishna Velamuri is  Professor of Entrepreneurship as well as 
Chair of the Department of Strategy and Entrepreneurship at CEIBS.