By Charmaine N Clarke
It's the stuff of most, if not all, young entrepreneur's dreams – going public, the IPO. It's validation for all the years spent building and nurturing an idea until it became a company that other people think is good enough to invest in. It's a seal of approval. It's also an excellent source of capital to push the limits of your dream even further. But what comes next, after the shares are sold and stockholders' expectations mount each year? During a Master Class at CEIBS on July 25, JD.com Founder Richard Qiangdong Liu (EMBA 2009) explained how he handles the pressure since his company began trading on NASDAQ this May. It's a combination of a determination not to fail and a certainty in the decisions he makes, even when the company lost RMB 1.7 billion in one year.  Read on for an edited version of excerpts from his speech and the Q&A that followed.
Failure is not an option
"Perhaps you all know that, over the past 10 years, among all the internet companies, the one that's triggered the most debate in the industry is JD… and me. In 2007, Capital Today invested USD$10 million in us and we built our own logistics network. There were all kinds of questions and debate on whether it was wise to build our own logistics network. Some people said the company would fail because of this. There's been a lot said about my company. So in the next hour-and-a-half, I'll talk about my thoughts on how the JD team succeeds and what kind of strategies and mind-set have led us to our decisions.   
The worst was when, in one year, we registered losses of RMB 1.7 billion. Some people ask me, "How could you sleep at night?" People also ask me if I was afraid. Of course I was worried, because tens of thousands of our brothers and sisters would lose their jobs.  And I would have to bear that disgrace for the rest of my life.  I watched the finals of this year's [football] World Cup and some players said, "This is the match of our lives. If we fail, we will bring disgrace that will be with us for our entire life." As an entrepreneur if you fail, if your company goes down, such disgrace will tail you for the rest of your life.
[Despite our fear of failure], we're determined to succeed. In the past 10 years we were never distracted by other's comments and criticisms, even when they came from our investors and shareholders. As long as we think what we're doing is right, then making a profit is not the issue. I don't believe there's a business model where you still fail even after you create value for your partners and customers. If that's the case, the blame doesn't lie with the business model. The fault is in execution [of the model] and management.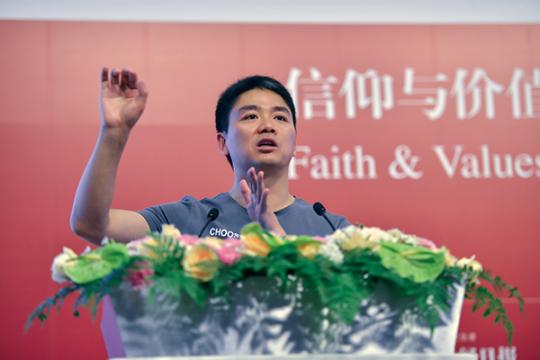 IPO pressures
Going public was not all that challenging for me. Throughout the entire process, I only did 1% of the work; the CFO and my other colleagues did the rest.  I only signed my name when needed. Before the roadshow I tried to bargain my way out of participating, and at the end I skipped Singapore, Europe and Dubai. I only went to the US. I wasn't being arrogant. It's just that I believe the most important thing for an IPO is your company's performance, so there's no need to emphasise too much on short-term fluctuations in share prices. The long-term share price is closely linked to the value created. So if you do something valuable, if your performance is good, your share prices will be just fine.
The key to creating value
Some 7 or 8 years ago, when we made the decision to build our own warehouses, we decided that we would like to cover all the 10 sections along the industrial value chain [creativity, design, R&D, manufacturing, pricing, marketing, transaction, warehouses, delivery and after-sales service]. Today we have not changed our philosophy but the difference is that we would like to provide services to more consumers and further penetrate into these sectors. In 2004, when I set up my e-commerce company, the largest competitor at the time was Amazon.cn. And they received a lot of financing from investors. At the time, Dangdang.com had just received its third round of investment, which was US$ 7.5 million.  I was all on my own with only one colleague; we had nothing. So we began by putting up ads on online bulletin boards. Why have we outstripped our competitors today? I think first of all, customer experience is the most important. We delivered 90% of our orders (except for those in some particularly remote areas). The customer experience we provide is far better than that of our competitors. Secondly, it's about creating value. Our operation costs are much lower than our competitors', as we are more efficient and more experienced and we managed more SKUs [stock keeping units] than others. In terms of our investments, we have three main focuses – lower costs, upgrade our efficiency and upgrade the customer experience. This is the ultimate framework. Anything that's irrelevant to these three focal strategies is then irrelevant to our work.
Quality control
We launched our JD marketplace model a little over three years ago. The platform's SKUs rely on third-party suppliers. Over the past three years, we were tip-toeing across thin ice and we screened products carefully. At the end of Q1 in 2014, we had nearly 30,000 vendors, although there are hundreds of thousands of online vendors out there.  If we suspect that one SKU is a counterfeit, we severely punish the online vendor in accordance with our contract. 
On our JD Mall, if you sell a fake product, you may face fines of up to RMB 1 million. We fine vendors who sell fake products based on their scale [of operation]. If a vendor sells a single fake product, the fine may bankrupt him. We are liaising closely with the National Administration of Industry and Commerce, a government authority. Through our technology and our analysis over user feedback and data, we volunteer information to the industry watchdog as soon as we suspect any malpractices. The industry watchdog might act and freeze the vendor's assets. We are also very strict on our own employees. If there's a fake product, the three levels of management involved will not see a salary hike for a year. If there are three cases within a year, the related team will be sacked. We have dedicated a lot of resources to screening products. JD has a team of 58 professionals, and they screen our online products day and night. It costs us a lot to do this!"
JD.com, Inc. in numbers
IPO
Company Name: JD.com, Inc.
Exchange: NASDAQ
Ticker: JD
Shares offered: 93,685,620
Share price: US$ 19
Offer Amount: US$ 1.78 billion
IPO date: May 22, 2014
Lead underwriter: Bank of America Merrill LynchUBS Investment Bank
Key financial figures
| | | | | | |
| --- | --- | --- | --- | --- | --- |
| Year | Gross Merchandise Volume (RMB) | Revenue (RMB) | Stock keeping units, SKUs | Active users | Orders |
| 2011 | 32.7 billion | 21.1 billion | 1.5 million | 12.5 million | 65.9 million |
| 2012 | 73.3 billion | 41.4 billion | 7.2 million | 29.3 million | 193.8 million |
| 2013 | 125.5 billion | 69.3 billion | 25.7 million | 47.4 million | 323.3 million |