By June Zhu
Irene Tang (CEIBS EMBA 2011) is now the General Manager of CBS Interactive China's (CBSI) Fashion Group and will soon take on the position of Strategic Development Director of the wider CBSI Group (China). A media executive since 2000, she has witnessed and experienced the historic changes brought about by the digitalization of the industry. She's currently responsible for three of the CBSI Group's fashion websites: onlylady.com, kimiss.com and haibao.cn. Among the three, Onlylady is the first one she took over and it has since become one of the top-ranked women's fashion and lifestyle platforms in China.
Onlylady began on May 25, 2002 as a beauty-product forum started by several female friends in Shanghai. It was also the first ever vertically integrated website for women in China. Over the next five years, Onlylady gained momentum and developed into a forum frequented by women in the South China region with an interest in beauty and makeup. In 2007, Onlylady was acquired by the CNET Networks, which in turn was acquired by CBS Interactive the following year. Onlylady successfully grasped the opportunities created by the rapid development of the Internet space in China. It grew from a company with annual revenue of several million and a staff of just over 20 people in 2007, to an Internet group that now has annual revenue of over RMB 100 million and more than 240 employees. Today the website covers four main areas: fashion, beauty, lifestyle, and forums that facilitate user interaction.
Tang became Onlylady's general manager in 2007, the same year the company was acquired by CNET. In fact from 2006 to 2008, she gained significant operational experience in Internet media, which has contributed to her wealth of knowledge about the current business environment and the future trends and challenges facing the industry. Read on as she shares her experiences at Onlylady and her thoughts about the Internet business.
TheLINK: How did you initially get into the Internet business?
Irene Tang: I've always seen the Internet business as one that has a lot of opportunities to offer, I've always been very optimistic about it. From 2002 to 2007, I worked with Hachette Filipacchi Médias. During that time, I was the only staff member who was constantly giving the boss in the China office suggestions on starting an Internet arm of the business. However, at that time the profit the company earned from its magazines was already quite impressive, and my suggestions were not implemented. Then in 2005, our headquarters in France decided that all its magazines should have a digital presence. This led to an overhaul of website development across all the company's offices around the world, and at the end of that year I was transferred to the new media department. Over the next two years I worked on the websites of magazines such as ellechina.com. However, I recognised that a magazine's website is always relegated to playing a supporting role in the company. I wanted to make a bigger contribution so when CNET acquired Onlylady, I took over as the company's general manager.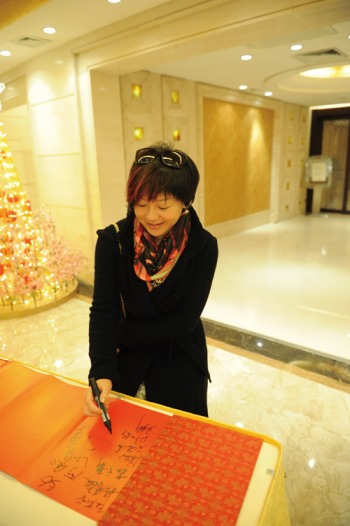 TheLINK: Based on your years of experience working on both sides of the industry, what's the difference between traditional and online media, and what advantages does online media have?
The experience of working with a magazine still has some impact on my current job, even today. I have been trying to incorporate some advantages and characteristics of the magazine approach into the Onlylady website. For instance, the content must be high quality with a certain level of professionalism and adequate depth, instead of just trying to attract readers by using pictures of pretty women or sensational headlines. Compared with magazines, websites must have more substantial content because users are looking for some degree of novelty. Part of the content should be original, which means that in addition to reporters and editors creating content, we also need to adopt a "User Generated Content" (UGC) model. For this, we developed quality customers who love to share their views, and even special reporters based in different cities across China.
TheLINK: What strategies have helped you sustain growth for more than a decade, in this ever-changing environment; and how do you retain and grow website membership?
Onlylady has at least 20 million members so far. Basic membership is available through online registration; with upgrades determined by how much personal information is provided and the level of participation in online activities. On our forum, there are some opinion leaders who actually have more expertise, in some specific areas, than editors and they regularly post blogs about what they have learnt from their daily experiences with make-up. It is an open platform. As long as your writing is good enough, there will be followers; over time, we have been able to create a project team for those "talents". The top talents can receive many benefits. For example, if someone likes some particular American or European brands, we will ask these brands for samples of their latest products and give them to the talent to try, and ask them to share their opinion with our members. We also reward them with visits to laboratories to improve their understanding of the brands, and we send them to cover fashion shows around the world. These top talents work for us full-time. We improve their appearance, give our client brands an opportunity to get to know them and convince them of the quality of their products, and then in turn they are able to influence their fans. So far we have four or five top people working for us, and they are recognized by both clients and users and are helping to bring people to our website.
We also keep on good terms with our members and have a group of loyal users. For their benefit, we establish the website content according to their life stages. For example, over the past 11 years, Onlylady's original target audience – urban women who have relatively high lifestyle requirements – have become wives and mothers. So they are not only concerned about themselves but also their families. Now, we are positioning the website more as a lifestyle platform, adding elements about family life and weddings into the existing information about beauty and fashion. In this way, we are building the website into a comprehensive platform for mature females. I always think the website should have its own unique attitude.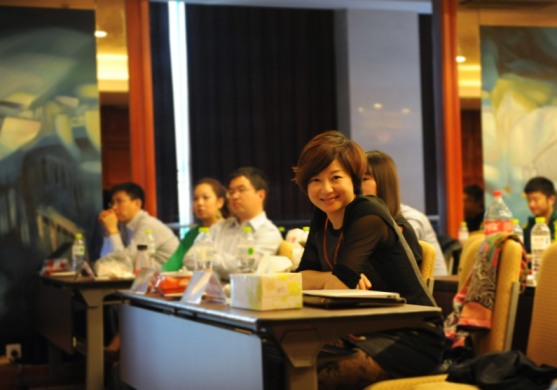 TheLINK: What is the relationship between Onlylady and other new media such as Weibo? Are you competitors, or are there some opportunities for collaboration?
Onlylady is a traditional website which needs to attract advertising clients by the quality of its content, but actually this kind of business model is already in danger. Therefore we must collaborate with micro blogs, instead of competing with them. Our strategy is to use micro blogs to publicize articles posted on the forum, and this enables us to attract new fans to our website. We provide more depth of content than micro blogs, but are weaker than they are in terms of fragmentation and timeliness. So if micro blogs want professional knowledge, we provide them with content related to fashion. We have not been able to establish a strategic partnership with Sina Weibo as Taobao.com has, but we are trying our best to find ways to work with Weibo. For example we do micro blog interviews, which give our followers the opportunity to get to know more about us. We now do this kind of activity regularly.
We not only sell advertising space, we also sell our influence. We've already signed contracts with more than 40 talents. From their micro blog personal pages you can see that they are all verified as "Onlylady talents" and some of them have over 400,000 fans. We ask them to answer questions from fans for one hour every day.
TheLINK: Has Onlylady ever considered entering the e-commerce business to develop a new revenue source, so that you are not just reliant on selling advertising space?
We used to have a section on our website called Fuli Club where Taobao sellers could pay to open an online store, and our members could enjoy special discounts. However, there was a conflict between advertisers and sellers. It was a C2C business model, and therefore we could not guarantee the authenticity of the products, which undermined our reputation. Advertising clients had a problem with this, which threatened to reduce our earnings from ads. So we eventually closed Fuli Club and decided to focus on media, content and users, and earning revenue from ads. Media and e-commerce are two different roads with completely different business models. Media relies on content to attract clients and earn revenue from advertisements. It has a neutral point of view. However, if you are a seller, then your approach will be totally different – you are more obsessed with how to sell your product. This will definitely cause the advertisers some concern, so we chose to be a media outlet with our own point of view. Also, we do not have the same capabilities as established e-commerce companies who can smoothly handle all aspects of purchases, storage, after-sale services, online payment and logistics, so why not concentrate on the things we are good at?
TheLINK: What are the challenges now faced by Onlylady, and how will you tackle them?
In the past, magazines were challenged by the Internet; now we are facing even bigger challenges: mobile Internet and video websites. This is why I will focus on strategy in the future. Consumers are increasingly using their mobile phones to access the Internet and the time spent surfing the web on a personal computer is decreasing. This obviously shows the ubiquity of the mobile Internet. In response, Onlylady has already developed two mobile Internet formats – html5 and an app. From time to time, we choose content from the website to put onto the app in order to satisfy users' tastes. Challenges can also be regarded as opportunities. Other industries besides media will gain a new life by taking advantage of the mobile Internet, and the key point is that you need to follow it closely and find the best point of entry. We have a lot of high-quality content, but there is no longer a strong demand for accessing news on cell phones. Understanding how to transform fashion-related content into something that can help users solve their daily problems will be the key to media's success. This is the main issue I need to consider in my new position.
Attracting users is also one of our challenges. Media is more fragmented, young people are becoming increasingly diversified, and they are not that keen on forums anymore, so how can we attract them to our website? Websites that offer video content have huge amounts of visitors, and are attracting increasingly more advertisers who are investing a lot of money into doing video commercials. This will definitely lure away our clients; it threatens to reduce our earnings and cause a decline in our growth.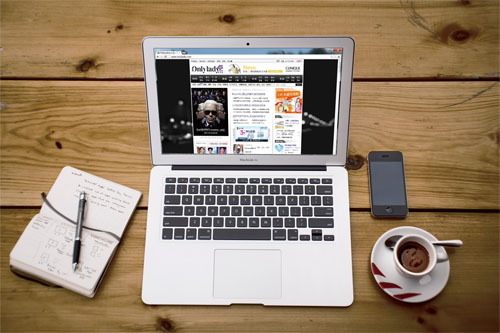 TheLINK: What does the future hold for Onlylady?
I hope it will keep up with the changes over time, and retain its market position. It has its own place right now, but past success can be the barrier to your future, because you may be constrained by the old model that brought you success. However, the environment is ever-changing, so you have to adapt to it, find the right position according to users' requirements, adjust your strategy. We have to focus on what we are really good at, maintain our sustainable core competitiveness, and make every move count.
TheLINK: With so many years of experience in the industry, what's your perspective on the overall Internet business in China?
I think the Internet is becoming more and more "down to earth". In the past IT was "geeky", but now it is changing everyone's life, and we cannot live without it. But I am more and more convinced that, in the future, the mobile Internet is what will change us the most drastically. I believe there will be something combining both PC and tablet, and mobile phones will be more intelligent and have more functions. From online-to-offline (O2O), some lifestyle websites such as the Dianping.com and amap.com will serve people in much richer ways. In my mind, with the increasing opportunities, people who first entered the Internet industry are not necessarily going to see huge growth in the coming years, but people with traditional businesses can improve their operational processes by using the Internet, and they can really accomplish a lot. Cross-border innovation will be increasingly common, for example Internet companies will be engaged in automobile and phone manufacturing.
TheLINK: How did studying at CEIBS help you achieve success in the Internet business?
I am now the Vice Secretary of the Shanghai Branch of the CEIBS Alumni Mobile Internet Association. The association is the result of the efforts of more than 20 CEIBS alumni, and President Zhu Xiaoming was invited to be the Honorary President. I was involved in the entire process of establishing the association. We frequently hold activities, almost every month. This takes a lot of time and energy, but it is worthwhile, because I can really learn a lot from the other alumni. Every time I face a challenge, I'll turn to my fellow alumni, and discussions with them are always very enlightening.
I also participated in Prof Arthur Yeung's Organizational Capability Learning Association (OCLA). It's a learning group where members often share and communicate with each other, and for me it's really helped me improve my management skills and broaden my horizons. Along with other members of the association, I regularly visit outstanding enterprises both at home and abroad to get a better understanding of how to achieve sustainable success by relying on strategies and organizational capabilities. For instance, we recently came back from Germany where we learnt a lot from the companies there. I'm also applying Prof Yeung's organizational theory to the management of Onlylady, it's been very fruitful.