Inspiring Innovation & Creativity in Education CEIBS Hosts International Teachers Programme
Friday, January 16, 2015
Inspiring Innovation & Creativity in Education CEIBS Hosts International Teachers Programme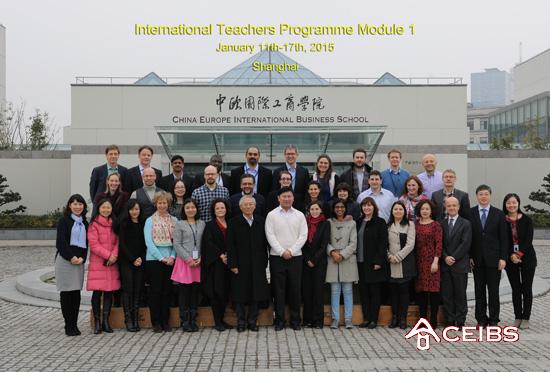 January 16, 2015. Shanghai – Business and Management faculty from institutions around the world gathered this week at CEIBS Shanghai Campus to attend the prestigious International Teachers Programme (ITP) organised by the International Schools of Business Management (ISBM), a group of 13 leading business schools located in Asia, Europe and North America. This faculty development programme aims to help educators develop their own unique teaching methods and style by cultivating their passion for education and making it as creative as possible.
The year-long programme combines distance learning with two modules at CEIBS. Participants also enjoy a variety of one-on-one coaching sessions throughout the year. The programme is designed to enable participants to refresh and develop their skills in order to increase their effectiveness in the classroom and bridge the gap between theory and practice. Topics covered this week during the module at CEIBS Shanghai Campus included:
-Course and Programme Design;
-Active teaching;
-Case-based teaching;
-Teaching in a dynamic cultural environment;
-Teaching for large groups;
-Technology-enhanced teaching and learning;
-Bringing research into teaching.
Discussions also included the economic and social environment in China as well as its politics and culture as seen through a business context. Participants will return to CEIBS in July for a module at the school's Beijing Campus.
The ITP has been serving high-calibre faculty and educators from around the world for more than 40 years. It rotates between member schools. In addition to CEIBS, which is hosting the 2015 and 2016 programmes, these include: HEC Paris, IAE Aix en Provence, IMD Lausanne, INSEAD Fontainebleau, Indian School of Business Hyderabad, Kellogg School of Management – Northwestern University, London Business School, Manchester Business School, SDA Bocconi Milan, Stern School of Business – New York University, Stockholm School of Economics, as well as the European Foundation for Management Development (EFMD). Co-Director of the CEIBS Centre on China Innovation & Professor of Strategy George Yip is Programme Chair for the ITP at CEIBS, and Associate Professor of Management Terence Tsai is Programme Director. The 2015 ITP is titled "Innovative Pedagogy in Challenging Times".