Innovation is Theme of Inaugural 20th Anniversary Forum in Beijing
Saturday, May 10, 2014
Innovation is Theme of Inaugural 20th Anniversary Forum in Beijing
May 10, 2014. Beijing – Senior executives from Alibaba Group, Tesla China, 58.com and CSC Group headlined the first in a series of "Passion•CEIBS•20 Years" forums that will be held this year to celebrate the school's 20th anniversary. Today's forum explored innovation; the guests spoke about how innovation is affected by the changing environment and how Chinese entrepreneurs developed their business models.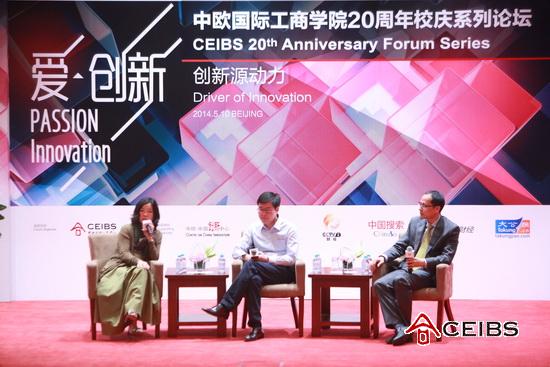 Ye Peng, Vice President of Chinese internet giant Alibaba Group, spoke about how the development of technology, especially mobile internet technology, has revolutionized communications and redefined businesses, products and markets. He encouraged entrepreneurs to think about how to grab business opportunities in today's rapidly changing business environment.
The Global Vice President of Tesla in charge of Tesla's China business, Veronica Wu spoke about her company's pioneering experiences in the US in selling its electric cars. She said that rather than prioritizing profits, Tesla aimed to promote the development of electric vehicles and reduce drivers' dependence on fossil fuel. Tesla's mission is to pursue innovation in safety and drivability, in order to provide consumers with a high quality car and service.
Yao Jinbo, EMBA 2010 alumnus and CEO and President of online platform 58.com, which is sometimes described as China's Craig's List, said that entrepreneurs must have a deep passion and commitment to their work, and a long-term vision.
President of CSC Group Shan Xiangshuang is an inventor whose private equity fund has supported the innovation and entrepreneurship of hundreds of companies, dozens of which have been listed. He said investors put a high value on entrepreneurs who have virtue and tenacity.
The forum was moderated by Co-Director of the Centre on China Innovation at CEIBS Associate Professor of Management Han Jian, along with CEIBS Assistant Professor of Entrepreneurship Gong Yan.